In the Fall of 2011, the Commission on Wartime Contracting reported that between 30 and 60 billion dollars had been lost in Iraq and Afghanistan through contracting "waste and fraud." This caused considerable uproar over the general state of contractor accountability and provoked a White House memorandum to federal agencies. Yet, more than two years later, inadequate contractor oversight remains a pressing issue.
At the start of this month, the Department of State's Office of Inspector General released a report warning that the department could not account for 6 billion dollars in contracting money over the last six years. The alert further addressed the federal government's inability to track the growing number of contractors hired to replace government employees. Shortly thereafter, the Department of Defense's Office of Inspector General revealed that the department has not maintained its database of high-ranking military officials who consider joining defense contracting companies upon leaving.
Research on DoD's contracting experience from the Government Accountability Office and Government Business Council (GBC) sheds light on the underlying cause of continued difficulty ensuring contractor accountability. In June 2013, GAO reported improved DoD oversight capacity and an increase in the number of submitted contractor performance assessments, but cited continued difficulty obtaining needed information. A GBC and Kronos research report from March of this year explores this issue in greater depth, investigating the extent to which DoD collects information on contracted personnel activity. Through a survey of 335 senior DoD employees, GBC found that though a majority of respondents believe defense agencies know how many contracted personnel they have, the information collected on their activities is inconsistent. They collect varying types of information on activity, and few believe they collect information on costs per employee and links to budget accounts.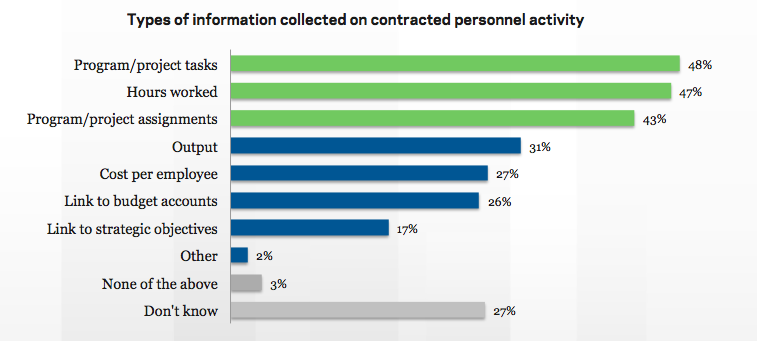 Moreover, respondents revealed that the most common source of this information is the contracted businesses themselves, and less than one quarter (22%) say their department or agency uses an automated tracking system.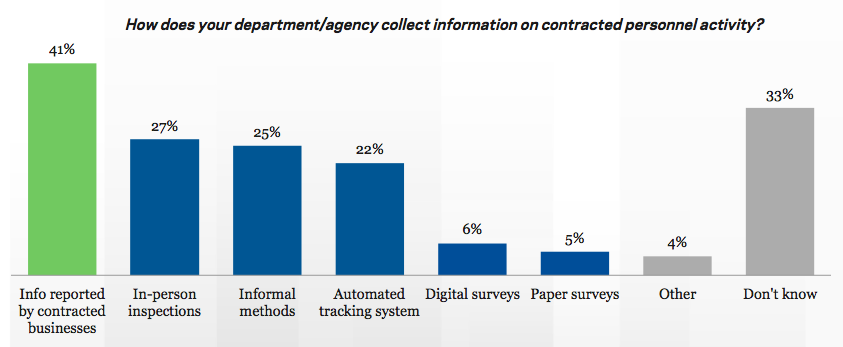 On aggregate, the evidence suggests a more nuanced issue at the heart of government contractor oversight. Not only do DoD and other federal agencies not collect enough information, but the types of information they do collect, as well as the sources of that information, may not be commensurate with oversight needs.
Click here for the full GBC report, "Ensuring Defense Contractor Accountability."