A New Publication for New Challenges in Defense
Announcing the impending launch of Defense One.
The Defense Department is facing more than its share of challenges these days, from implementing the sequester to transitioning out of Afghanistan to dealing with the shift to the Asia-Pacific region. It's a time of transformation in national defense, and the hunger for information about the challenges the nation's defense leaders face is large and growing.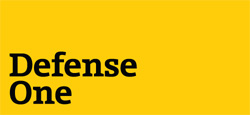 At Government Executive Media Group and Atlantic Media Company, we've decided it's time for a publication that addresses these challenges head-on and aims to be a source of indispensable reporting and analysis about the future of defense. We're calling that publication Defense One , and we're launching it this summer .
It'll be a leading-edge digital offering that will be optimized not just for desktop computers, but tablet and mobile devices, too.
We've been covering defense for a long time in the pages of Government Executive magazine, on GovExec.com and at our tech-focused publication, Nextgov . That ranges as far back as 1996, when James Kitfield won the coveted Gerald R. Ford Prize for national defense reporting, to 2012, when our special issue on the future of defense was a finalist for a Jesse H. Neal Award from American Business Media.
We're going to bring that expertise to bear in assembling a staff of experienced editors and reporters for Defense One . At the same time, we'll leverage the high-quality journalism related to national security already produced across Atlantic Media, an organization that is leading the way in launching digital publications aimed at influential audiences. In this case, the audience will be the entire national security leadership community -- Defense leaders, members of Congress and their staffs, contractors and think-tank analysts.
We'll be focused on four key trends: budget uncertainty, emerging national security frontiers, new management paradigms and opportunities brought by emerging technology.
We're well on the way toward building Defense One , and we'll have an exciting announcement soon about its editor. In the meantime, the upcoming launch already is garnering a lot of attention from the likes of the Nieman Journalism Lab , Adweek , and Mashable .
Sign up here for updates on Defense One .