Author Archive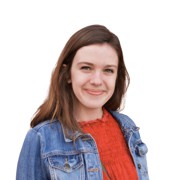 Natalie Alms
Staff Writer
Natalie Alms is a staff writer at FCW covering federal technology policy, service delivery, customer experience and the government's tech workforce. She is a graduate of Wake Forest University and has written for the Salisbury (N.C.) Post. Connect with Natalie on Twitter at
@AlmsNatalie
.
Natalie Alms is a staff writer at FCW covering federal technology policy, service delivery, customer experience and the government's tech workforce. She is a graduate of Wake Forest University and has written for the Salisbury (N.C.) Post. Connect with Natalie on Twitter at
@AlmsNatalie
.
Tech
Government agencies are currently wrestling with how exactly to verify Americans who want to access federal programs and services.
Tech
Certain cyber and IT federal employees will be able to rotate to other agencies under a new law signed Tuesday.
Tech
Having technologists on the team assessing potential projects and active TMF investments has been a key change over the past year, program leaders told FCW.
---
Management
The money, coming from the $1 billion investment in TMF made by the American Rescue Plan Act, will help implement the executive order on customer experience.
Oversight
Federal agencies need to contend with outdated tech, identity proofing and data issues while also helping identity fraud victims, inspectors general told a House panel on Tuesday.
Management
The agency's CIO told auditors that the short-lived problem arose from a "one-time user error."
Workforce
The program, run out of the General Services Administration, is meant to help government woo early-career tech talent.
Management
The government watchdog says more than $78 billion in improper unemployment insurance payments were made in fiscal year 2021, and cited fraud, poor customer service, inequitable access, legacy tech and staffing shortages as key drivers of failure.
Workforce
The EEOC had to offer mediation sessions online because of the pandemic and the agency wants to keep the virtual option for the future.
Workforce
One recommendation: establish cyber excepted service authorities, like the Department of Homeland Security's newly launched cyber hiring initiative, government-wide.
Management
The WIC program struggles with participation and retention rates, but a new push is afoot to identify eligible recipients.
Tech
Officials at the Homeland Security Department say that change management efforts will help scale the Cybersecurity Talent Management System.
Workforce
Employees at Maximus call centers working on Centers for Medicare and Medicaid Services contracts, conducted a two-day strike this week seeking pay and better healthcare coverage.
Management
Some of the department's worker protection agencies, like the Office of Federal Contract Compliance Programs, also have a role to play in rolling out the Bipartisan Infrastructure Law, Labor Secretary Marty Walsh told lawmakers.
Workforce
The U.S. Digital Service has also been embedding in agencies to help build internal competency-based hiring abilities in federal agencies.
Tech
Blockers to implementing service improvements frequently center around policy and process requirements, top tech officials said at the Code for America Summit on Tuesday.
Tech
USPS is working with the General Services Administration on more in-person options for Login.gov, according to a new whitepaper from the U.S. Postal Service's Inspector General.
Tech
Immigration and Customs Enforcement has used facial recognition to search through the driver's license photos of one in three adults in the U.S., according to a new report by Georgetown Law's Center on Privacy and Technology.
Oversight
The AI Training Act, which passed the Senate last December now has a House companion from Reps. Carolyn Maloney (D-N.Y.) and James Comer (R-Ky.).
Management
Recipients have to invest time and energy to obtain government services and the burden of compliance can take a toll, especially in marginalized communities.