Hold the Fries, Please
The Agriculture Department ditches deep fat fryers in lieu of healthy options at office cafeterias.
By Kedar Pavgi
In early February, the Agriculture Department announced plans to remove all of the deep fryers at its two primary cafeterias in Washington. Gregory Parham, acting assistant secretary for administration, said in a news release that the move is meant to "improve our cafeteria to enhance the quality and healthfulness of food available for our employees."
Officials also view it as a way to make sure the department practices what it preaches—that is, the 2010 Dietary Guidelines for Americans.  The recommendations suggest eating healthier by reducing sodium and fat intake and consuming more fruits and vegetables.
Change is hard, of course, so staff dietitians will be on-site at USDA's cafeterias to address employees' questions.
Food service managers are concerned that employees might take their business elsewhere, perhaps satisfying their cravings at nearby fast food restaurants.  I.L. Creations, the company that runs the USDA kitchens and others at the Energy and State departments, told The Washington Post that popular items at their facilities include fried chicken, catfish and French fries. The new menu will feature whole wheat pasta and bread, as well as more vegetables.
In July, critics in Congress accused the department of disparaging rural America's contributions to the country's food supply when it instituted a Meatless Mondays policy in its cafeterias to encourage healthy eating and combat global climate change. But so far, there has been little criticism of Agriculture's newest scheme to go healthy.
The proof will be on the plate as employees take a bite into their new food options. Minus the fried spuds, that is.
Protecting The Ex
Democrats and Republicans don't agree on much related to federal spending these days. Reinstating lifetime Secret Service protection for former presidents, however, is a rare example of accord. President Obama earlier this year signed into law bipartisan legislation that will add to the taxpayer-funded tab to keep presidents and their families safe after they leave the White House.
The move overturns a 1994 law that rescinded lifetime protection for former presidents if their term began after Jan. 1, 1997.
A 2001 Government Accountability Office report sheds some light. In fiscal 2000, it cost $23.7 million to provide Secret Service protection for former presidents and their families; from fiscal 1977 to 2000, the price tag was $335.2 million, according to GAO. The Congressional Budget Office in 2008 estimated it would cost about $4 million in fiscal 2009 to protect former vice presidents and their families—the No. 2 has received protection before through temporary legislation or executive order.
Former presidents can chuck their Secret Service detail if they want. President Richard Nixon did in 1985.
- Kellie Lunney
Trust But
E-Verify
More employers are using DHS' ID system to track immigration status.
The number of employers digitally checking the immigration status of job applicants is growing as lawmakers contemplate requiring all companies to use the Homeland Security Department's e-Verify system. The online identification app has become part of the larger immigration reform debate, and many businesses and job seekers complain that the system's documentation records are riddled with inaccuracies.
In It for the Long Haul
Many federal employees are feeling the weight of sequestration and potential furloughs, but neither compares to the load carried by some at the U.S. Forest Service and other land management agencies—and without complaint. Four-legged feds across the country haul everything from camp equipment to firefighting gear to scientific instruments used to gather data on national forests, according to a Forest Service blog post in December 2012. At Shasta-Trinity National Forest, for example, pack mules and horses schlepped 142,000 pounds of cargo , covering more than 1,100 miles in 810 trips last year, the blog post said. Now that's a heavy burden.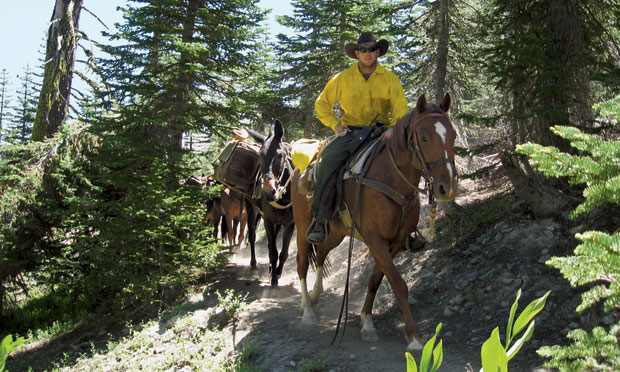 Forest Service workers haul firefighting equipment in northern California. Forest Service