Promising Practices

A forum for government's best ideas and most innovative leaders.
Watch Curiosity's First Year on Mars in This Hypnotic Two Minute Time-lapse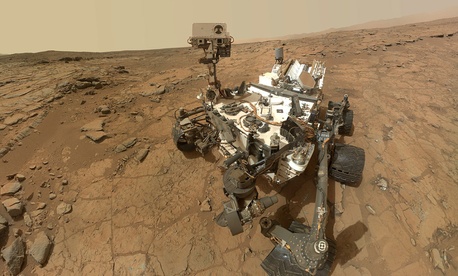 NASA/JPL
Hard to believe it's almost been one year since Curiosity Rover, "Mohawk Guy" and "7 Minutes of Terror" all became part of the vocabulary we immediately associate with NASA.
On Aug. 6, 2012 Curiosity touched down in Mars' Gale Crater, marking a significant achievement in unmanned interplanetary exploration. To commemorate the rover's year meandering the red planet, NASA's Jet Propulsion Laboratory (JPL) released a series of 548 images captured from a fisheye camera mounted on Curiosity's underbelly. Strung together, the two minute time-lapse shows Curiosity exploring the Martian surface, collecting soil samples and drilling rocks, all while the background scenery hypnotically changes from alien landscape to alien landscape.
Congrats to Curiosity on your year away from home! Share your reflections on Curiosity's year with the JPL team on Twitter via the hastag #1yearonmars
See the time-lapse below: