Pay & Benefits Watch

Key developments in the world of federal employee benefits: health, pay, and much more.
Retirement Claims Backlog Could Be Eliminated by Year's End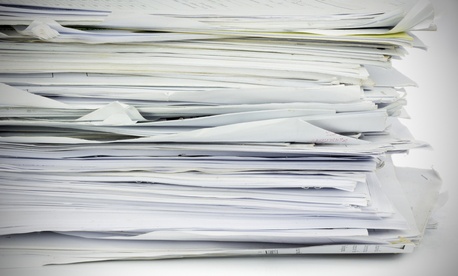 Gloszilla Studio/Shutterstock.com
The Office of Personnel Management continued to chip away at the retirement claims backlog last month, decreasing it by 12 percent between April and May, and processing more applications than expected.
The backlog at the end of May was 14,551 claims -- the lowest it has been since December 2013, when there were 12,637 applications in the queue. The agency typically receives an influx of new retirement claims at the beginning of the year on top of the current backlog. OPM also received 1,631 more new claims in May than it expected, and processed a total of 10,498 applications last month, 1,498 more claims than its projected goal.
Since January, the agency has processed a total of 50,803 retirement claims.
It is possible OPM will come close to eliminating the decades-old backlog by the end of the year; it's only June and the backlog is already down around where it was in October and November of last year. OPM originally attempted to eliminate the backlog by the summer of 2013, but sequestration forced the agency to scale back its ambitions.
In March, a bipartisan group of senators blasted OPM for wasting taxpayer dollars by continuing to use an outdated system to process claims. The lawmakers wrote a letter to OPM Director Katherine Archuleta after The Washington Post published a scathing report on the inefficiencies of the agency's claims processing.
Clearing up the retirement claims backlog has been an ongoing struggle for OPM and a constant source of frustration from federal retirees and members of Congress who are hearing lots of complaints from their constituents. Things appear to be looking up: The agency's goal was to reduce the number of outstanding claims to 14,642 by May, and it beat that target by 91 claims.
Official Time Amendment Rejected
House lawmakers on Tuesday rejected a spending bill amendment that would have eliminated the use of official time by federal employees participating in union activities at the Transportation and Housing and Urban Development departments. Rep. Phil Gingrey, R-Ga., offered the unsuccessful provision to the Transportation-HUD appropriations bill, which later passed the House. The International Federation of Professional and Technical Engineers, which does not represent any employees at the agencies that would have been affected, nevertheless sent a June 10 letter to House lawmakers urging them to oppose the provision.
The 1978 Civil Service Reform Act requires federal employee unions to provide representation for all employees in their collective bargaining units, even those who do not pay union dues; as part of that arrangement the law allows union representatives and agencies to bargain during official work hours. Legal activities include participating in labor-management workshops, negotiating contracts and other collective bargaining agreements, and representing employees in grievances and disciplinary actions.
"Official time is thus used exclusively for agency-related business whereby the perspective and wisdom of rank-and-file employees can be better harnessed for the benefit of the government," wrote IFPTE President Gregory Junemann in the letter.
Employees cannot use official time for internal union business, including solicitation of new members or partisan political activity.
Republicans in the House and Senate have introduced several proposals in the last few years to ban or restrict the use of official time. In 2010, federal employees worked more than 3 million hours of official time, costing the federal government more than $137 million. In 1998, union representatives worked more than 4.3 million hours on the taxpayers' dime, with a cost of $108 million.
"Union representation for employees working their way through administrative procedures is a cost-effective process for administrating and adjudicating agency policies, instead of having the government needlessly end up paying costly third party attorneys and arbitrator fees," Junemann said.
Burial Benefits for Domestic and Civil Union Partners
The Veterans Affairs Department now will provide burial benefits to the domestic and civil union partners of gay veterans under a new rule issued on June 6. The National Gay and Lesbian Task Force, which asked VA to recognize all relationships for the purposes of burial payments earlier this year, praised the department for the decision. "Now many more LGBTQ military families will be able to grieve the loss of loved ones who have served, without having the additional stress of worrying about funeral expense," the group said in a statement. The LGBTQ acronym stands for lesbian, gay, bisexual, transgender, questioning.
VA can only recognize legal unions that are valid in the state where the couple lives for benefits purposes.
"Congress must do more to untie VA's hands," the task force said. "That's why we're calling on U.S. senators and U.S. representatives to change the discriminatory law that keeps so many of our military heroes from getting the benefits they deserve."
The group said that the new rule "may be the first time a federal agency has expanded so-called 'spousal' benefits to include domestic partners and those in civil unions."
(Image via Gloszilla Studio/Shutterstock.com)