IG: Customs shelling out millions in workers' comp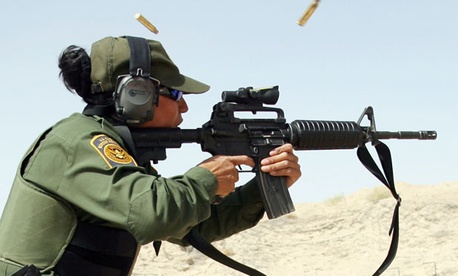 An agent practices at a U.S. Border Patrol firing range

Victor Calzada/AP
The Customs and Border Protection agency racked up more than $62 million in workers' compensation payments in 2010, due partly to inadequate oversight, according to the Homeland Security Department's inspector general.
CBP's poor management of compensation case files, incomplete reviews of bills and Labor Department reports, and missing documentation from claimants call into question the accuracy of millions of dollars in workers' comp claims during the past five years, the IG concluded in a new report.
"We attribute these deficiencies to CBP's organizational structure, which may not be suited to effectively manage the number of [Federal Employees' Compensation Act] cases, and to the lack of policies and procedures that would ensure effective case management," the IG report said.
FECA provides compensation for wage loss and medical care for those injured or killed on the job, helps employees return to work, and pays benefits to survivors. It covers 2.7 million federal employees and postal workers, and paid out $1.9 billion in wage-loss compensation, impairment and death benefits, and $898 million in medical and rehabilitation services and supplies during the 2010 chargeback year, which ended on June 30, 2010. The funds come from the Employees' Compensation Fund, and most agencies repay the money through chargeback bills from Labor.
The IG cited specific cases in which CBP failed to properly oversee its workers' comp program, at taxpayers' expense. For example, in the agency's 2009 chargeback bill, there were 110 instances in which the claimants' Social Security numbers did not match CBP's records. In addition, one claimant received workers' compensation totaling $45,581 over two years -- after the employee returned to work.
CBP lacked a uniform system for managing cases, using paper and electronic files in documentation, and housing the information in various locations. In its response to the IG report, the agency said it is moving completely to a Web-based system by 2014, and has filed claims electronically in its eComp system since 2009. CBP officials agreed with all the IG's recommendations for improving oversight of the workers' comp program.
The agency also has beefed up its review system, James Tomsheck, CBP's assistant commissioner in the Office of Internal Affairs, said in response to the report. CBP has recouped $3.4 million from other DHS agencies for erroneous 2009 workers' comp charges and has corrected mistakes related to Social Security numbers, he added. The agency also is developing a plan, to be completed this month, to review all disability cases where medical evidence indicates that employees could return to work. In 15 of 140 case files the IG reviewed, medical reports showed that the employees' doctors had cleared them to return to work, yet CBP paid those employees $951,195 in workers' comp.
The IG recommended CBP conduct a workload analysis to ensure it has sufficient staff to effectively manage FECA cases. A 2007 change in policy resulted in 14 injury compensation specialists responsible for managing 11,299 compensation cases on the 2010 chargeback bill -- an average of 802 cases per specialist. CBP plans to complete an assessment this summer of its workload and staff to improve claims processing.
Many agencies have struggled with effectively managing the federal workers' compensation program. Earlier this year, the Government Accountability Office released a report concluding that the program remains vulnerable to fraud, mostly due to limited access to data.
Under FECA, employees disabled on the job can receive 66 2/3 percent -- or 75 percent for those with dependents -- of their basic salary tax-free, plus medical-related expenses. The 66 2/3 percent rate is comparable to most state systems, but many federal recipients, including those past retirement age, receive the 75 percent compensation rate. Claimants cannot receive FECA benefits and certain other federal disability or retirement benefits at the same time; they must have benefits reduced to eliminate any duplicate payments. There is no age limit for receiving FECA benefits.
Many have criticized FECA, saying it is too generous and should be reformed so that employees receive lower benefits and return to work faster. The 1916 law has not been amended since 1974.
The House in November 2011 passed legislation that aims to provide greater support for some feds injured on the job and to make the workers' compensation program more accountable. On the Senate side, the Homeland Security and Governmental Affairs Committee approved a postal reform bill -- also in November -- that includes provisions related to FECA. One measure, taken from legislation that Sen. Susan Collins, R-Maine, introduced in February, would convert employees on workers' compensation to the appropriate retirement system when they reach retirement age. It also would set the maximum compensation rate at 66 2/3 percent in most instances.