New lines of attack opened against GSA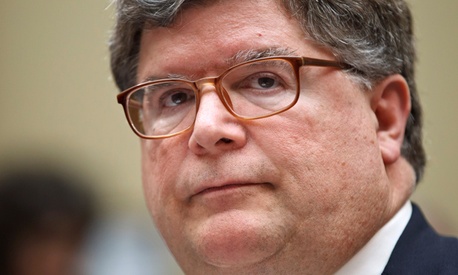 GSA Inspector General Brian Miller

J. Scott Applewhite/AP
Congress' departure for its August recess has not silenced the voices attacking the General Services Administration for its handling of excess federal properties or for overspending at a 2010 training conference in Las Vegas.
On Monday, the House Transportation and Infrastructure Committee held a field hearing in Miami at a federal building and courthouse that has sat vacant for five years, and a right-leaning government transparency nonprofit released an investigative memo arguing federal Office of Government Ethics could have headed off the lavish 2010 GSA conference that triggered a scandal this spring.
Reporting the results of a Freedom of Information Act request filed in April after unflattering details of GSA's Western Regions conference were made public, the advocacy group Cause of Action sent President Obama and members of the press a memo accusing the governmentwide ethics office of mismanagement, superficial reviews of GSA and failure to detect ethics abuses that waste taxpayer money.
"Warning signs presented to OGE officials were ignored," said Dan Epstein, executive director of Cause of Action, "and an OGE investigation bafflingly found GSA to be in compliance with ethics rules in 2010 during the time GSA employees were engaged in conflicts of interest and wasteful spending that violate both the letter and spirit of the standards of official conduct."
One reason the over-the-top conference was not canceled while in the planning stages, the group concluded, was GSA for four years lacked a required designated agency ethics officer. The ethics office may have failed to uncover this fact because it reviewed only five of GSA's 11 regional offices for compliance with applicable laws, regulations and policies, according to Cause of Action.
"In November 2010, one month after the Western Regional Conference," the group said, "OGE reported to GSA Inspector General Brian Miller that 'GSA's ethics program appears to be effectively administered and in compliance with applicable laws, regulations and policies.' "
Cause of Action, which describes itself as a "nonpartisan organization that uses public advocacy and legal reform tools to ensure greater transparency in government, protect taxpayer interests and promote economic freedom," asked the Obama administration to abolish the OGE and to assign its duties to inspectors general.
A spokesman for the Office of Government Ethics said in a statement that "the [group's] memorandum reflects a lack of understanding of OGE's authorities and mission. Laws and regulations regarding appropriations, travel, personnel and government contracts are administered by a variety of agencies and are outside OGE's purview. OGE is not an investigatory agency, but routinely works closely with inspectors general."
In Miami, meanwhile, House Transportation Chairman John Mica, R-Fla., and Public Buildings Subcommittee Chairman Jeff Denham, R-Calif., continued their campaign to pressure GSA to speed the sale of excess federal properties. "I am continuing to call attention to the outrageous losses on federally owned assets with incredible but squandered potential to generate revenue," Mica said in a news release. "Today's hearing in an empty federal building in Florida continues our year and a half campaign to turn federally owned properties, sitting idle for years and bleeding the taxpayers by the millions, into productive assets."
The hearing in the empty David W. Dyer Federal Building and U.S. Courthouse was designed to dramatize how $1.2 million has been wasted since its occupants vacated and moved to the new Ferguson Courthouse across the street. That new building is housing fewer judges than anticipated, the lawmakers said.
Witnesses included David Wise, director of the Government Accountability Office's physical infrastructure team, who reiterated results of a June GAO study that found inaccuracies in the federal database used to report the condition of excess federal properties.
The agency's Public Buildings Service regional commissioner, John Smith, defended GSA's record in selling buildings in the Southeast Sunbelt Region, stressing it keeps some properties with the intention of finding other federal tenants because "owned assets" are more cost-effective than long-term leasing. On the Dyer building, he said, "the utility infrastructure, parking, courtyard and tunnels are shared between buildings, and the cost to separate the connections and create two separate stand-alone operations is estimated to be in excess of $10 million."
GSA spokesman Dan Cruz told Government Executive that Dyer is the only vacant GSA building in the region.
Frank Hull, a judge on the U.S. Court of Appeals for the 11th Circuit in Atlanta, testified that GSA should use caution in closing the old Dyer courthouse because it would affect the physical plant and the security in the surrounding buildings.
Anticipating the hearing, GSA on Thursday issued a request for information in FedBizOps soliciting ideas on how to redevelop the Dyer courthouse, noting the "the beautifully preserved Spanish-Mediterranean Revival was constructed in 1933" and is listed on the National Register of Historic Places.
"We are looking forward to receiving solid ideas from the development community," said Shyam Reddy, administrator of GSA's Southeast Sunbelt Region. "We stand firm behind our commitment to ensuring the property is repurposed in a way that benefits the local community and extracts the highest return to the American taxpayer."