Washington agencies remain open with unscheduled leave, telework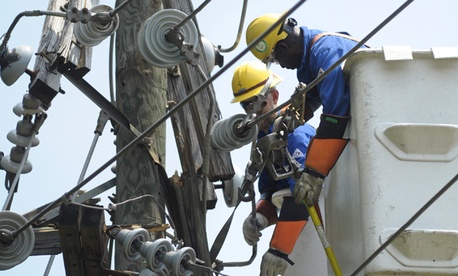 Suburban Virginia utility workers try to fix electrical problems after last week's storm. Thousands of people are still without electricity in the Washington area.

Cliff Owen/AP
Federal agencies in the Washington, D.C., area are open Thursday, but employees continue to have the option of taking unscheduled leave or telework.

Federal facilities were largely unaffected by severe storms that ripped through Washington and its suburbs late last week, but electricity has not been fully restored in the area.

As of late Wednesday, about 28,600 people in Montgomery County, Md.; 11,000 in Northern Virginia; 4,700 in Prince George's County, Md.; and 1,600 in the District of Columbia still were without power, according to the Washington Post.

Throughout this week, except for yesterday's Independence Day holiday, agencies have remained open under the unscheduled leave and telework policy.