Fedblog

Government Executive Editor in Chief Tom Shoop, along with other editors and staff correspondents, look at the federal bureaucracy from the outside in.
Ex-GSA Chief Releases Tell-All on Conference Spending Scandal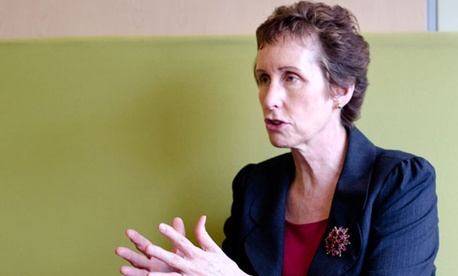 Caitlin Fairchild/GovExec.com file photo
Martha Johnson, who lost her job as administrator of the General Services Administration following last year's scandal on lavish conference spending, has a new book out.
Unlike her recent novel, this collection of insights titled "On My Watch: Leadership, Innovation, and Personal Resilience," includes some frank talk about the politics and managerial lapses that rocked her agency and led to her replacement by incumbent Dan Tangherlini.
In an interview with the 68,000-member employee knowledge network Govloop, Johnson elaborated on statements from the book such as the one saying she would mourn the GSA top job for the rest of her life.
"I still feel that way now," she said. "It was such an extraordinary opportunity, you can count the number of people on your hands and toes who get to head such an impactful organization. There was so much we could do strategically to impact the government. The environment, taxpayer spending, innovation -- we could impact all those things. To have that opportunity for a couple of years and then to lose it was devastating."
Johnson's anger at her abrupt departure was eased, she said, through a support network of contacts who sent her banana bread, flowers and wine or advised her to "get a grip, you will be fine." Others called her to express their own unhappiness and "shouldered" some of her anger. "More directly I was shocked and stunned and I felt as if things had gone haywire," she said. "I also felt that politics were stepping in and there is just no way around that at times and we can see how that slams into performance."
Johnson is still content to continue flying the flag to boost an agency she believes is innovative, but which has "always struggled because it is about a dozen or so business lines. It is almost like a big holding company, so you have a lot of different things going on."
At least one reader is impressed. A commenter on Amazon.com who read the book wrote that it was "fascinating and devastating to walk in Ms. Johnson's shoes during a perfect storm of political events. I come away …reassured, having learned that loyalty, dignity, and good manners are still on tap among SOME of our government leaders."