Fedblog

Government Executive Editor in Chief Tom Shoop, along with other editors and staff correspondents, look at the federal bureaucracy from the outside in.
For Sale: Air Force One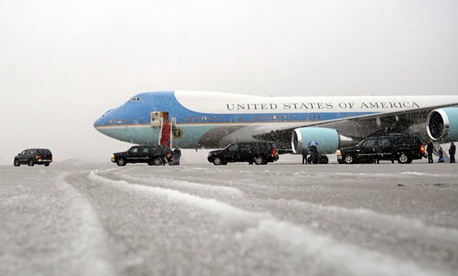 Cliff Owen/AP file photo
Still looking for that perfect Mother's Day present? You could always go with Air Force One.
That's right, the General Services Administration is offering up a DC-9 aircraft that used to serve as the president's official plane.
"Presidential history for sale!" GSA tweeted from its official account Thursday. "Former Air Force One/Two DC-9 up for auction."
The plane is currently located at Patrick Air Force Base on the east coast of Florida. While the Presidential Seal seems to have been removed, it retains its distinctive blue and white paint job with "UNITED STATES OF AMERICA" written on the side.
Not sure if this is the right Air Force One for you? Go check it out; GSA is allowing on-site inspections by appointment.
You better do it soon, however; the auction starts May 15 with an opening bid of $50,000.