Fedblog

Government Executive Editor in Chief Tom Shoop, along with other editors and staff correspondents, look at the federal bureaucracy from the outside in.
Nudging Shinseki Out at VA?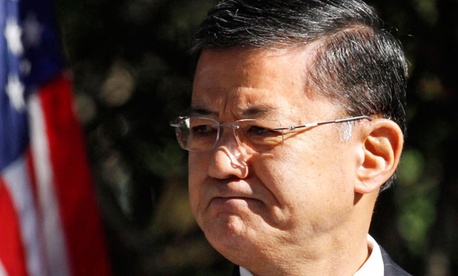 AP file photo
The Veterans Affairs Department has been hit on multiple fronts for its burgeoning backlog of unprocessed veterans' health care claims, taking shots from everyone from House Veterans ' Affairs Committee Chairman Jeff Miller, R-Fla., to Time magazine's Joe Klein.
But perhaps the most blunt assessment appeared Thursday on the op-ed page of The Washington Post.
An essay titled "Time to Shake up the Dysfunctional VA" by Rep. Duncan Hunter, R-Calif., and Pete Hugest, chief executive of Concerned Veterans for America -- both of whom served in wars in Iraq and Afghanistan -- calls for Veterans Affairs Secretary Eric Shinseki to step down.
The piece notes that despite a $25 billion influx of cash from Congress since 2009 and a shield from sequestration, Shinseki has been unable to deliver on his pledge to tackle the claims backlog. The VA is "projected soon to hit a grim landmark of 1 million unprocessed benefits claims, with roughly 600,000 of those more than 125 days old," the authors write.
"Eric Shinseki is a patriot and an honorable man who has served this country faithfully in and out of uniform," they say. "We have the utmost respect for him and his service, but his tenure at the Department of Veterans Affairs has not produced results." <p>