Promising Practices

A forum for government's best ideas and most innovative leaders.
Michelle Obama's Oscars Moment Was Pretty Controversial, Actually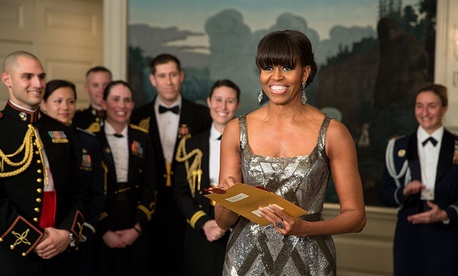 White House/Pete Souza
It began as a seemingly awkward Jack Nicholson introduction of the very long list of nominees, but the Best Picture denouement at a very long Oscars ceremony on Sunday turned into a surprise appearance by Michelle Obama, via satellite from the Governors' Ball in Washington, D.C.—where earlier she had sat next to Chris Christie—to introduce and announce the winner, Argo.
"These nine movies took us back in time and all around the world. They made us laugh, they made us weep, and they made us grip our armrests just a little tighter," Obama said. "They taught us that love can endure against all odds and transform our lives in the most surprising ways, and they reminded us that we can overcome any obstacle if we can dig deep enough and fight hard enough and find the courage to believe in ourselves."
After telling Nicholson to hang on a second, the First Lady was handed an envelope to announce the winner:
Of course, the event provoked strong reactions: