President reverses Obama's efforts to make the government more green.
Read more 5:07 PM ET Leave a comment Pablo Martinez Monsivais/AP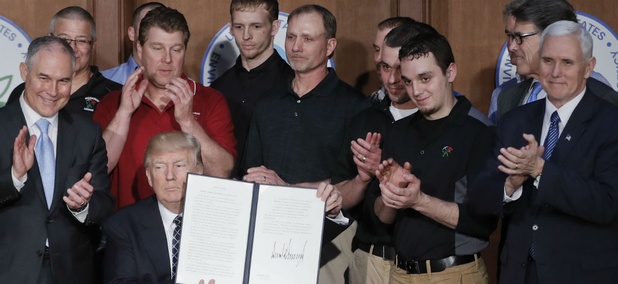 LATEST NEWS
Management
Trump's Travel Ban Wins a Round in Court A judgment last week in Virginia provides a template for other courts—including the Supreme ...
sponsor content
Seeing the IT Road Ahead with Riverbed When you serve as CIO for a federal agency, there are many IT challenges. One of the most fundamental ...
Route Fifty
Virginia Governor Sets Veto Record Also in our State and Local Daily Digest: Oroville Dam repairs slow going; Utah gov. eyes public lands; ...
TSP TICKER
| FUND | G | F | C | S | I | |
| --- | --- | --- | --- | --- | --- | --- |
| MAR 28 CLOSE | $15.2732 | $17.5852 | $32.6816 | $42.4109 | $26.6125 | |
| DAILY CHANGE | 0.0010 | -0.0359 | 0.2351 | 0.3200 | 0.2100 | |
| THIS MONTH (%) | 0.18 | -0.16 | -0.08 | -1.15 | 3.64 | |
| FUND | L 2050 | L 2040 | L 2030 | L 2020 | L Income | |
| --- | --- | --- | --- | --- | --- | --- |
| MAR 28 CLOSE | $17.1771 | $30.0108 | $27.9311 | $25.1813 | $18.7225 | About the TSP Ticker |
| DAILY CHANGE | 0.1057 | 0.1616 | 0.1282 | 0.0751 | 0.0267 | Monthly Returns |
| THIS MONTH (%) | 0.72 | 0.65 | 0.59 | 0.45 | 0.3 | TSP Site |
MORE FROM GOVERNMENT EXECUTIVE MEDIA GROUP