Fedblog

Government Executive Editor in Chief Tom Shoop, along with other editors and staff correspondents, look at the federal bureaucracy from the outside in.
By Charles S. Clark
April 21, 2017
Environmental Protection Agency Administrator Scott Pruitt made news on April 13 when he visited coal miners at the Harvey Mine in Sycamore, Pa., where he announced a new "Back to Basics Agenda" for the agency. Within days, a poster showing Pruitt with the miners went on display in the lobby of EPA headquarters in Washington's Federal Triangle with the new agenda: "Protecting the environment; engaging with partners; and creating sensible regulations for economic growth."
The new battle plan "means returning EPA to its core mission," Pruitt said at the Pennsylvania rally. "The coal industry was nearly devastated by years of regulatory overreach, but with new direction from President Trump, we are helping to turn things around for these miners and for many other hard working Americans."
Though few EPA employees would be surprised by the post-election shift in focus—Trump wants to cut the agency's budget by 31 percent and lay off 3,200 employees—the poster hasn't exactly raised morale among staff, according to insiders.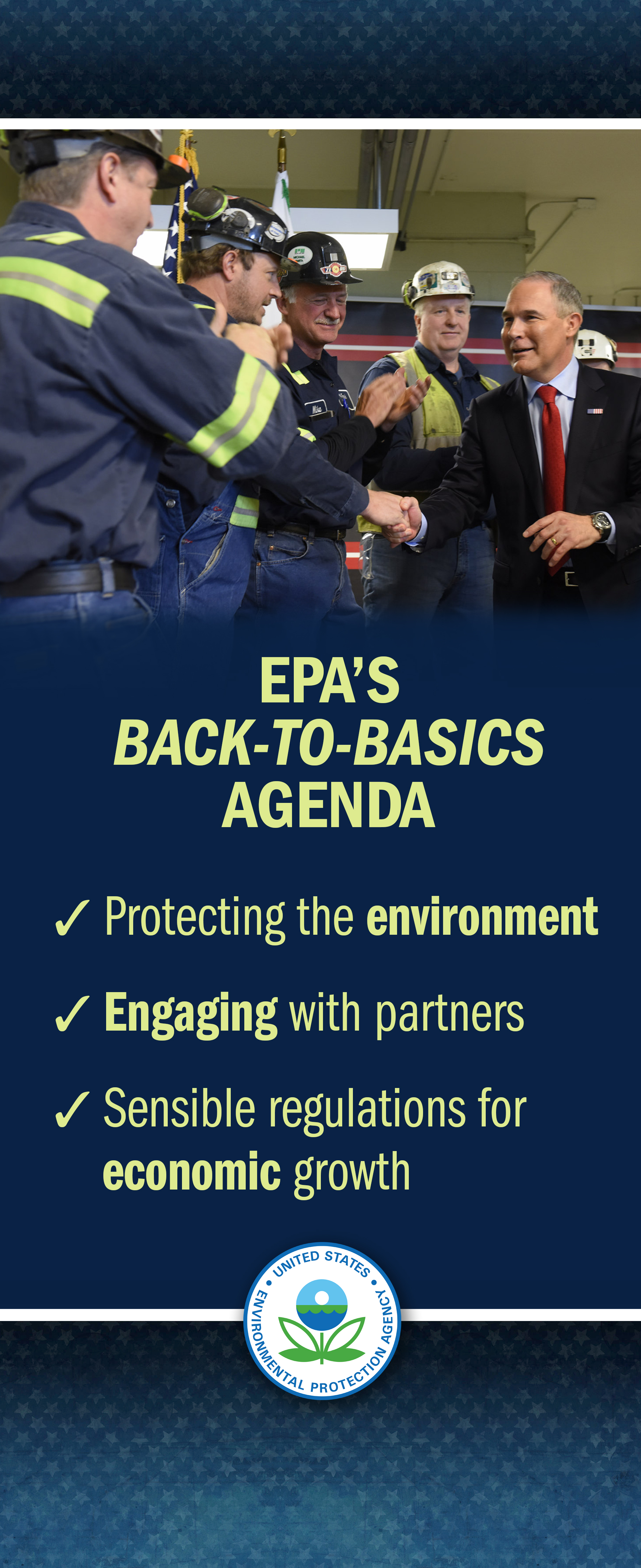 The notion that EPA would be bringing jobs back to the coal industry—a major pollutant in decline largely because of competition from natural gas—is tough to stomach for people...
By Charles S. Clark
April 5, 2017
Internal Revenue Commissioner John Koskinen on Wednesday gave a National Press Club talk on the "April Madness" that is tax filing season for his employees processing form 1040s from the nation's 152 million filers. Below are some of his eye-opening numbers:
$74 million. Amount in refunds issued so far out of 93 million 2017 returns received (average amount: $2,900)
87 percent. Share of taxpayers who file electronically
3 million. Number of 1040 forms completed by hand
500 million. Visits to IRS.gov in 2016
6 million. Visits to IRS.gov in one recent day
40 million. Number of times the IRS2Go smartphone app has been downloaded
63 million. Number of calls to IRS call centers last year
8 million. Number of letters received IRS received last year
1 million. Number of malicious cyberattacks on IRS daily
46 percent. Reduction in identify theft victims reported in 2016 compared with 2015
$6.5 billion. Amount in fraudulent refund claims on 1 million returns the IRS prevented last year
$290 million. Extra appropriations funding in 2016, which allowed IRS to hire 1,000 temps
$239 million. Amount President Trump in March proposed cutting from IRS
17,000. Number of employees IRS...
By Ross Gianfortune
March 28, 2017
The news that President Donald Trump named his son-in-law Jared Kushner to head the new Office of American Innovation gave the Late Show's Stephen Colbert plenty of material to work with during a segment Monday night. Kushner already has a full plate in the White House managing the Middle East peace process, he noted, taking a swipe at the administration:
The government desperately needs an overhaul. I mean, somebody keeps putting totally unqualified people in charge of really important stuff and that's gotta stop.
Kushner's inherited family's business success suggests the new office should more accurately be called "The Bureau of Obvious Nepotism," Colbert joked:
You know he's got great business ideas. Like being born into a wealthy real estate family or marrying into a wealthy real estate family. Why hasn't the government tried that?
But it was another aspect of the predictably anti-Trump monologue that might give government workers pause. Colbert took issue with Kushner's statement that the office would "achieve successes and efficiencies for our customers, who are the citizens." While government agencies themselves (under the Obama administration no less) have long been thinking of citizens as customers (see countless examples...
By Katherine McIntire Peters
March 24, 2017
Are federal employees "panicked" after a conservative media outlet published names of government executives the outlet believes are hostile to President Trump's agenda and should be fired? That was the headline of a March 22 story in Politico that cited a Feb. 18 report published in Breitbart News, the former professional perch of Stephen Bannon, President Trump's chief strategist.
The Breitbart story listed what it called the top 10 "holdover Obama loyalist bureaucrats President Trump could either fire immediately or remove from their current positions." What was alarming to some is that six of the 10 were not political appointees, but career civil servants—four at the State Department, one at Health and Human Services and one at the Administration for Children and Families, which is part of HHS. What sins did these public servants commit? They worked, apparently successfully, to implement programs supported by a president—just not this president.
It's not a secret that the Trump administration is pushing very different policies from the previous administration. But the civil service was established expressly to ensure that government jobs were awarded on merit, not political patronage. While there's widespread understanding that civil service reforms are...
By Katherine McIntire Peters
March 20, 2017
The nonprofit Bipartisan Policy Center doesn't mince words in a new report about the Defense Department's antiquated approach to managing troops and civilians:
"If the military personnel system errs on the side of instability and frequent turnover, the civilian personnel system has the opposite problem. Civilian employees may remain in their positions almost indefinitely—typically regardless of their level of performance."
Ouch.
The report, "Building a F.A.S.T. Force: A Flexible Personnel System for a Modern Military," focuses mostly on the uniformed side of the equation, but it prescribes a fairly radical cure for what ails the civilian side. For starters, the authors want to take the Office of Personnel Management out of the picture.
The civilian workforce is sometimes viewed as incidental to military operations, but there are more civilians working for the Pentagon than there are uniformed troops in the Navy and Air Force combined. The 770,000 civil servants who support the services are managed under 66 different personnel systems, according to the report. That's probably 65 too many, the authors concluded.
Roughly two-thirds of defense civilians are managed under the General Schedule civil-service personnel system. It's a rigid, rule-based system...