Fedblog

Government Executive Editor in Chief Tom Shoop, along with other editors and staff correspondents, look at the federal bureaucracy from the outside in.
By Tom Shoop
June 23, 2017
Last year, in the inaugural weeklong Fedstival, Government Executive and Nextgov convened leading federal officials and thinkers to share ideas about tackling government's biggest challenges.
Now we're deep into planning for Fedstival 2017, which will take place from Sept. 18-22 in Washington. The series of events culminates in Bold Friday, during which federal innovators from all corners of government tell about the important work they're doing in a series of rapid-fire presentations.
At last year's Bold Friday, experts from the National Defense University, the Office of Management and Budget, the U.S. Agency for International Development, the National Park Service and many other federal organizations shared stories of their cutting-edge work. This year, a new group of federal leaders, selected by a panel of Government Executive and Nextgov editors, will take the stage to tell their peers and colleagues how they're making a difference in technology, management strategy and workforce development across government agencies.
If you or someone you know fits that bill, we want to hear about it. Nominations are now open for this year's Bold Friday presentations. This is your chance to highlight the important work you're doing, share your ideas...
By Tom Shoop
June 2, 2017
Last year, Government Executive's sister publication Route Fifty, which focuses on state and local government, debuted the Navigator Awards to identify and highlight ideas and innovations that are being put into practice across the country.
The Route Fifty team carefully evaluated a pool of team and individual entries, choosing 50 finalists, and then 10 winners. They were honored at a special event in Pittsburgh in November 2016.
Route Fifty is bringing the Navigator Awards program back in 2017 and is actively seeking a new crop of great individuals and teams to honor in the following categories:
State and Local Executive Leadership
IT and Data Innovators
Agency and Department Leadership
The Next Generation
Government Allies and Cross-Sector Partners
Winners will be chosen on the basis of demonstrated ability to turn a great idea for improving public sector services at the state, county or municipal level into reality.
As Route Fifty Executive Editor Michael Grass notes, the program focuses "not just on good ideas in state and local governments, but how those ideas have been implemented and the impacts they've had."
After finalists are identified, 10 winners will be announced in a ceremony in Charlotte, North Carolina, during the National...
By Charles S. Clark
May 16, 2017
When Congress slogged through the post-recession enactment of the 2010 Dodd-Frank Financial Reform Act, lawmakers basically punted on how to handle the government-sponsored enterprises known as Freddie Mac and Fannie Mae.
Both were taken into emergency conservatorship by the Treasury Department (costing taxpayers some $187.5 billion before they returned a profit to the Treasury). But a stalemate over the next step continues. Some conservatives press for privatization, and others for greater transparency. Some liberals favor re-routing the GSE profits into underserved housing markets.
Just released from Johns Hopkins University Press is perhaps the first juicy insider account of an executive's experience during the 2008 financial meltdown at one of those private mortgage funding companies that many think of as quasi-government agencies.
» Get the best federal news and ideas delivered right to your inbox. Sign up here.
"Days of Slaughter: The Fall of Freddie Mac and Why it Could Happen Again" is a non-technical narrative and diagnosis of capitalist greed by Susan Wharton Gates, a 19-year Freddie Mac employee who resigned mid-recession as vice president of public policy (she now teaches business and public administration at Georgetown and Virginia Tech universities).
Her blow-by-blow account of Freddie Mac's boardroom...
By Eric Katz
May 15, 2017
A federal employee working at the Nuclear Regulatory Commission was named Miss USA on Sunday evening, and pledged to spend her year with the crown encouraging more women to join government and eventually, agency leadership ranks.
Kara McCullough, a 25-year-old chemist in NRC's Office of Nuclear Security and Incident Response, represented Washington, D.C., in the annual competition. McCullough grew up in the federal ranks as a military brat, with her father serving as a Navy chief petty officer. In addition to her NRC employment, McCullough volunteers annually at a science fair hosted by the Food and Drug Administration as a judge.
McCullough said she would be an ambassador to bring more women into government science, technology, engineering and mathematics positions. She noted that in her experience in federal service, women are often underrepresented.
» Get the best federal news and ideas delivered right to your inbox. Sign up here.
"Personally, I want to see more women possessing leadership positions in private and government energy and health sciences agencies; not just conducting laboratory research," McCullough said after her victory. "As a woman scientist in the government, I have witnessed and been in many meetings where the ratio of men to...
By Charles S. Clark
April 21, 2017
Environmental Protection Agency Administrator Scott Pruitt made news on April 13 when he visited coal miners at the Harvey Mine in Sycamore, Pa., where he announced a new "Back to Basics Agenda" for the agency. Within days, a poster showing Pruitt with the miners went on display in the lobby of EPA headquarters in Washington's Federal Triangle with the new agenda: "Protecting the environment; engaging with partners; and creating sensible regulations for economic growth."
The new battle plan "means returning EPA to its core mission," Pruitt said at the Pennsylvania rally. "The coal industry was nearly devastated by years of regulatory overreach, but with new direction from President Trump, we are helping to turn things around for these miners and for many other hard working Americans."
Though few EPA employees would be surprised by the post-election shift in focus—Trump wants to cut the agency's budget by 31 percent and lay off 3,200 employees—the poster hasn't exactly raised morale among staff, according to insiders.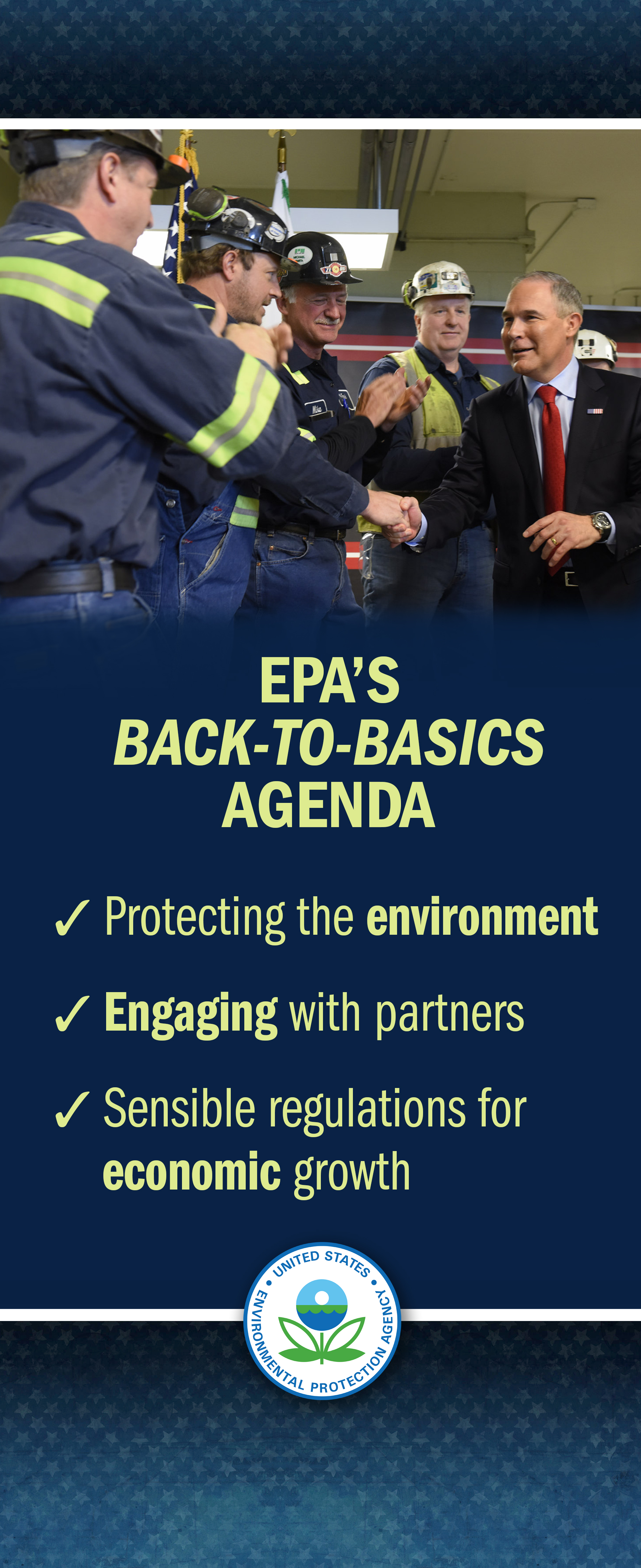 The notion that EPA would be bringing jobs back to the coal industry—a major pollutant in decline largely because of competition from natural gas—is tough to stomach for people...