Promising Practices

A forum for government's best ideas and most innovative leaders.
By Chelsea Matzen
December 9, 2014
It's amazing to think the Corner Alliance Government Leaders Blog has been in existence for over a year and a half now! Even after all this time though, we are still learning new tips and having lessons learned reinforced. I recently listened to Trent Dysmid, of the Bright Ideas podcast, interview Amanda Nelson, the director of marketing at RingLead about tips she had for blogging. Nelson was previously involved with content marketing at salesforce.com. In the interview, she discusses some of the best tips she has learned to manage a successful blog. Her points were in line with many of the practices used in the Government Leaders Blog but what struck a chord with me was her suggestion to invite other experts to write for your blog. Having other experts in your market write for your blog will expand your reach and improve your authority within the community.
With a lot of inspiration from the interview and our own experience, here are the eight tips Corner Alliance recommends to government leaders managing their own blogs. What tips hit home for you?
(Image via Redshinestudio/Shutterstock.com)
By Sonali Kohli
December 9, 2014
Spending half your waking hours away from work in traffic during your commute is clearly a huge downer. But those bummed out feelings can spread into your larger outlook on life, according to new research.
The findings are from a new report from Canada's University of Waterloo, published in the World Leisure Journal (pdf), which analyzed the time diaries of 3400 Canadian driving commuters who had participated in the 2010 Canadian General Social Survey, and found that people who have a long round trip commute—an hour and a half to two hours—reported lower levels of satisfaction with life, and increased feelings of time pressure, says co-author Margo Hilbrecht, the associate director of research for Canadian Index of Wellbeing.
Those feelings are exacerbated by driving in heavy traffic. In rural areas, for instance, people with longer drives actually enjoy themselves. Driving at the speed you want, unimpeded by traffic jams and surprise sig alerts, can actually be very pleasant; Drivers have time to listen to music, or to think uninterrupted, Hilbrecht tells Quartz. By contrast, thepressure and feelings of dissatisfaction rise with longer drives for urban dwellers who is rushing to get kids to school and make ...
By John Kamensky
December 8, 2014
The selection of the next secretary of Defense is in the headlines. But there's a new senior-level Defense Department position that will be important in the coming years, and who is appointed will matter.
Years ago, career executive David O. "Doc" Cooke was informally called the "mayor of the Pentagon." He was responsible for the internal administration and management of the Pentagon and had broad influence on its operations. He liked to remind people that he served every secretary of Defense since the department was created in 1949. While he died in 2002, the role he served has been expanded to focus on transforming the department's thousands of business systems. The Defense Department has made a committed effort over the past decade to better integrate its mission support business systems across the department to both improve services and reduce costs. With recent commitments to reduce the size of headquarters, the pressure to act quickly is even greater.
The Government Accountability Office in 2007 called for the creation of a top-level Defense management position—a chief management officer—to provide focus and sustained leadership in the transformation and integration of the mission support functions of the department from relatively ...
By Jessica Love
December 5, 2014
Can research on marriage help us sustain a more satisfied workforce?
Eli Finkel wants to know. Widely recognized for his work on intimate relationships, in 2013 he joined the Kellogg School as a professor of management and organizations. He also is a professor of psychology at Northwestern University's Weinberg College of Arts and Sciences.
Finkel's new business ties arise from a strong hunch that the relationships we build with people share some key similarities with those we build with organizations. "Principles or phenomena that have interested me are interesting to me in other contexts too," says Finkel. And the business world may soon have reason to return the interest.
Motivated Cognition
Consider, for one, the value of commitment in the workplace. Management scholars have identified links between commitment to an organization and positive outcomes, both for the organization and for individuals (findings that should come as no surprise to anyone). But does this commitment actually change how we interpret our experiences at work—and therefore how we respond to everyday challenges?
Here is one of many places where studies on intimate relationships may prove relevant. "There's a lot of research in the marriage literature, the dating literature ...
By Derek Thompson
December 5, 2014
American families are grappling with stagnant wage growth, as the costs of health care, education, and housing continue to climb. But for many of America's younger workers, "stagnant" wages shouldn't sound so bad. In fact, they might sound like a massive raise.
Since the Great Recession struck in 2007, the median wage for people between the ages of 25 and 34, adjusted for inflation, has fallen in every major industry except for health care.
---
Young People's Wages Have Fallen Across Industries Between 2007 and 2013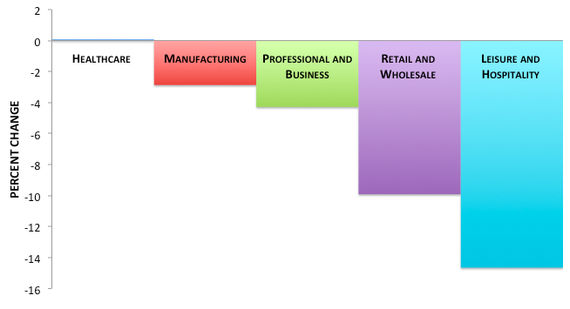 ---
These numbers come from an analysis of the Census Current Population Surveyby Konrad Mugglestone, an economist with Young Invincibles.
In retail, wholesale, leisure, and hospitality—which together employ more than one quarter of this age group—real wages have fallen more than 10 percent since 2007. To be clear, this doesn't mean that most of this cohort are seeing their pay slashed, year after year. Instead it suggests that wage growth is failing to keep up with inflation, and that, as twentysomethings pass into their thirties, they are earning less than their older peers did before the recession.
The picture isn't much better for the ...