Promising Practices

A forum for government's best ideas and most innovative leaders.
By Siraj Datoo and Gideon Lichfield
November 8, 2013
If conference calls and even Skype conversations never feel quite the same as sitting in a room with someone, it's because we communicate a vast amount of extra information with every part of our bodies, from the arch of our eyebrows to the movements of our feet. Researchers have devoted a lot of time to studying body language, and Quartz turned to some academic papers to compile these explanations about the impact of various body positions.
1. While expansive and open postures suggest power and confidence…
A 2010 paper by Columbia University's Dana Carney and her colleagues looked at what people infer about your social power from your body language. It found that people considered more powerful speak faster; interrupt more; have more vocal pitch variation and more relaxed voice; have lowered brows; nod more; and use more hand gestures. In addition, "high-power individuals were believed to have more erect posture, lean forward more, have open body position, and orient their body towards the other." To express high power you should also avoid touching yourself, whether to scratch your head or just to quickly sort out your hair.
2. …and can even lower your levels of stress…
Testosterone ...
By Tron Jordheim
November 7, 2013
"People are people" the old saying goes. That means everyone brings their own personal baggage with them to work. People make poor choices, act rashly and defend their own comfort zones. People have agendas all their own that often have nothing to do with the work agenda that you, as the manager, are promoting.
Sometimes the selfish and petty things people do are no surprise. Some employees repeat a behavior that has been seen before many times if you let them. Infighting, jealousy, jockeying for position and defending turf are pretty normal behaviors. Sometimes the selfish and petty behavior is quite a surprise.
In contrast, every workplace has people who perform well, take care of themselves, are supportive of others on the team when needed and keep below the radar.
The best managers try hard to motivate and guide their people to meet agreed-upon goals. Procedures, protocols and guidelines are put in place to help keep things fair and organized. Feedback, motivation and direction are given. But at the end of the day, good managers realize that there is no good way to manage people.
But since managing people is the key to any business success, you have to try ...
By Alan Pentz
November 6, 2013
We've all been dismayed by the failures of Healthcare.gov. I wrote a recent blog about my frustration with government contractors who seem unable to take responsibility for their failures. But that leaves me with the question of why so many government projects fail.
To be honest, most projects fail in some way--and big ones fail more. That goes for government as well as the commercial sector. But the government suffers from unique hurdles. You could cite the lack of a profit motive, the lack of qualified IT personnel or the complicated procurement system that might repel the best of the best in the IT field as the root of government's problem. While each of these hypotheses is valid, I feel there's another problem--one deep at the core of the way our government works.
To me the biggest problem has to do with emphasizing process over product. Because we have a divided system of government with many dispersed power centers, it is often difficult to agree on what a "good" outcome is. Even if the outcome is deemed good, one side or the other still wants to beat it up for political gain. In a commercial ...
By John J. Hudak
November 6, 2013
The recent government shutdown reignited a common Congressional tactic: attacking the federal workforce. Federal employees become convenient punching bags for legislators trying to take out their political, policy and personal frustrations. When a problem arises: blame a bureaucrat. When you don't like a policy: demonize an agency. When you oppose a proposal: scare the public about federal power. When a legitimate transgression occurs within an agency: generalize the problem to every federal worker.
The attacks are hackneyed, almost always the product of hyperbole, and can have serious effects on the efficiency, effectiveness and morale or hardworking federal employees. Here are five common and unnecessary ways the workforce comes under attack.
1. Pay Freezes
With the exception of a last minute concession during the recent budget agreement, federal workers have faced pay freezes for the past several years. "Pay freeze" is a mild enough term that departs from economic reality. As costs rise, federal workers face an effective pay cut. Congress and the President argue in tough economic times, pay raises are a luxury that America cannot afford. However, the freeze has economic consequences for workers. Is the policy harmless? Hardly. It creates a problematic incentive structure where the most ...
By Mark Micheli
November 5, 2013
Listen to the story:
Download this episode | Subscribe on iTunes
To learn more about how technology is changing the way government interacts with citizens, register for free to attend NextGov Prime Nov. 20 – 21 in Washington, DC.
On Aug. 6, 2012 a robot that had for months been quietly hurtling through space blasted out a triumphant communiqué: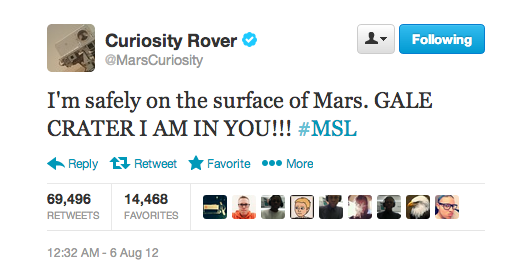 The message, which followed the now famous "Seven Minutes of Terror," was quickly retweeted nearly 70,000 times. Of course the message didn't come from the robot itself, it came from the social media team at NASA's Jet Propulsion Laboratory manning its Twitter account. Not only did the tweet announce that Mars Curiosity had arrived on Mars—it announced NASA's stature as the model for how government can engage citizens through social media.
Social media's story is now an old one. Platforms like Facebook, Twitter and YouTube have changed the game, altering the way people share information and interact with brands. The press release, once the gold standard for getting your message out, is now antiquated—as is the notion of the "press" to whom that information is released. Organizations that had once relied on media outlets to tell ...