Promising Practices

A forum for government's best ideas and most innovative leaders.
By Katherine Archuleta
April 24, 2015
We know from the Office of Personnel Management's research that federal employees are well-educated and many hold multiple college and university degrees. They love to learn and often don't consider their educations complete just because they work for the federal government. That is why I am excited to announce a new educational partnership for our workforce.
Beginning this summer, an OPM partnership with Champlain College will help federal employees, their spouses and legal adult family members pursue online post-secondary education in such high demand fields as business, health care and technology.
We know programs like this one work. One year ago, we initiated a partnership with University of Maryland University College. UMUC's results are encouraging. More than 1,200 federal employees enrolled in UMUC programs, including nearly 100 spouses and dependents. Together, they have saved nearly $765,000 in tuition. And we know that federal employees across the country are taking interest. UMUC enrolled students from 42 states and the District of Columbia and from more than 100 federal agencies.
Our work with UMUC and our new partnership with Champlain College are win-wins.The additional knowledge and skills that federal workers get through these courses will help ...
By John Salamone
April 23, 2015
Last week, the Government Accountability Office presented testimony during an employee engagement hearing before the House Subcommittee on Government Operations. GAO suggested that the short cycle time between one annual Federal Employee Viewpoint Survey and the next compresses the action planning process, which may actually inhibit the ability to produce the results necessary for organizational change.
GAO's finding raises the specter that we may be reaching a critical juncture where the importance of action planning is supplanted by the benefits of a steady, focused and longer cycle of implementation.
To get to the root of this issue, senior government officials should ask one simple question: Does it seem like your agency is stuck in a perpetual cycle of action planning, leaving little or no time to implement employee engagement programs?
If the answer is no, please feel free to stop reading because your agency is one of the lucky ones. If the answer is yes, please continue on.
An affirmative answer to the first question, then begs a second. What steps is your agency taking to instill confidence that FEVS will be used to make improvements in the workplace?
Unfortunately, the survey does not yield positive results in this ...
By Dannielle Blumenthal
April 22, 2015
It occurs to me that I shouldn't be giving away all my secrets. But I am betting that a rising tide lifts all ships. So that my doing so will show I am a valuable asset by being selfless and helpful. That's lesson 1.
Here are the rest:
2. Travel with a posse. It makes you look important.
3. Delegate. Repeat that a hundred times.
4. Help people—give them credit—promote them—and maintain good relationships for life.
5. Ask for help. This is not the same as delegating. Find resources.
6. Overcommunicate, and collaborate genuinely.
7. Work around red tape. Do not fight it.
8. Be quietly effective most of the time, but know when to be loud.
9. Don't make enemies if you can help it.
10. Be nice to everyone, no matter what.
11. Don't take it personally.
12. Understand when something is a lost cause. Walk away.
13. Remember what's really important and go home on time.
14. Also remember it's all a game.
15. Be passionate about excellence. That's not just a line.
16. Have a clear competitor in mind. This is not the same thing as ...
By Anna Remington
April 22, 2015
Microsoft has announced its intention to hire more autistic people—not as a charitable enterprise but because, as corporate vice-president Mary Ellen Smith said: "People with autism bring strengths that we need at Microsoft." Employing autistic people makes good business sense.
Microsoft is not the only firm to reach this conclusion. More and more companies are beginning to seek employees from the pool of autistic talent. Specialisterne is a consultancy that recruits only autistic individuals. Originally based in Denmark it now operates in 12 countries worldwide and is currently working with Microsoft.
In recent years Vodafone and German software giant SAP have also launched recruitment drives to find more autistic employees, and to provide better support for them in the workplace. Both companies state that this is due to the competitive edge it gives, with SAP executives reporting increased productivity.
This is testament to the excellent work that many autistic people and their supporters have done to raise awareness of the strengths and abilities associated with autism, as well as the better-known difficulties with social communication and interaction. But what are these strengths?
Highlighting strengths not drawbacks
The three companies above might suggest that benefits come to those working in ...
By Bourree Lam
April 22, 2015
If you can afford it, the ability to enjoy one's elderly years out of the office is ideal. But longer lifespans often mean that retiring at a more traditional age requires workers to save up larger nest eggs and spend dozens of years living on dwindling savings.
Retiring at 65 has long been considered arbitrary, and while the U.S. abolished mandatory retirement in 1986, some countries have only started phasing out compulsory retirement in the last decade. In the U.S., employment of those aged 65 and older doubled between 1977 and 2007 and continues to climb.
---
Employment for Workers 65 and Over (in thousands)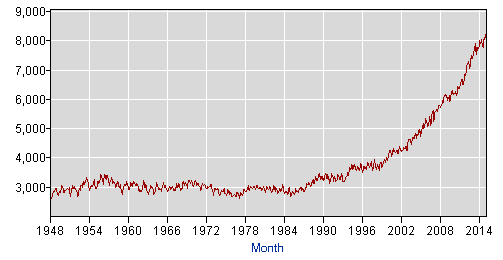 ---
Not only is overall employment for this group trending up, older workers are also increasingly working full-time instead of part-time. In 1995, seniors working full-time overtook their part-time peers. And both sets of workers have seen their numbers rise in the past five years. The Bureau of Labor Statistics projects that the participation rate of workers 65 and older will rise to 23 percent in 2022.
---
Workers 65 and Over, by Work Schedule (in thousands)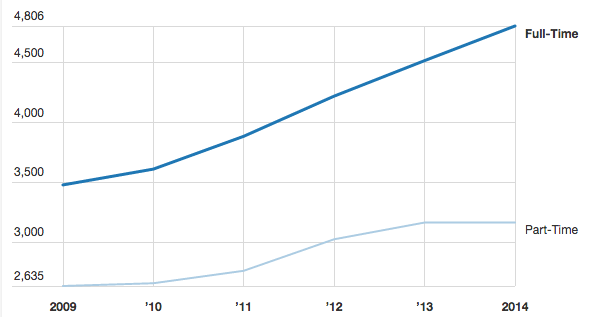 ---
The aging population is perhaps already starting to show its impact in the labor market ...