Promising Practices

A forum for government's best ideas and most innovative leaders.
By Mark Micheli
May 20, 2013
The demand for STEMM talent (aka science, technology, engineering, mathematics and medical field professionals) is increasing. According to a new report issued by the Partnership for Public Service and Booz Allen Hamilton, entitled, The Biggest Bang Theory: How to Get the Most out of the Competitive Search for STEMM Employees, one-fourth of all federal employees (some 500,000) are in jobs requiring STEMM skillsets.
The below infographic, provided by the Partnership for Public Service, shows which agencies have the most number of STEMM employees, as well as the age and geographic distribution of these employees. The ten agencies with the highest proportion of STEMM employees in its workforce are as follows:
National Aeronautics and Space Administration - 68%
Nuclear Regulatory Commission - 63%
Veteran's Affairs - 56%
Health and Human Services - 50%
United States Department of Agriculture - 48%
Environmental Protection Agency - 44%
Department of Commerce - 42%
Department of the Interior - 37%
Navy - 35%
Department of Energy - 32%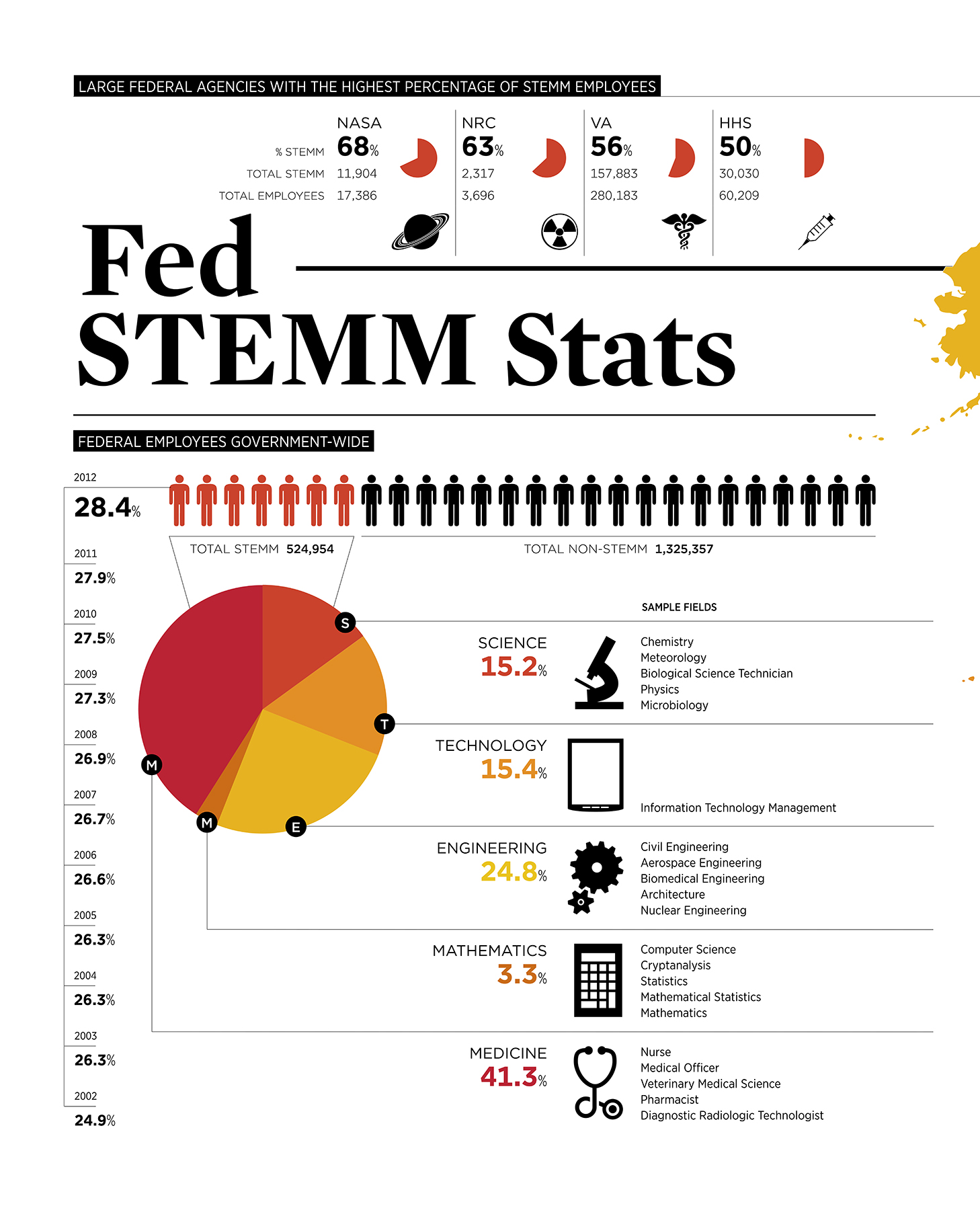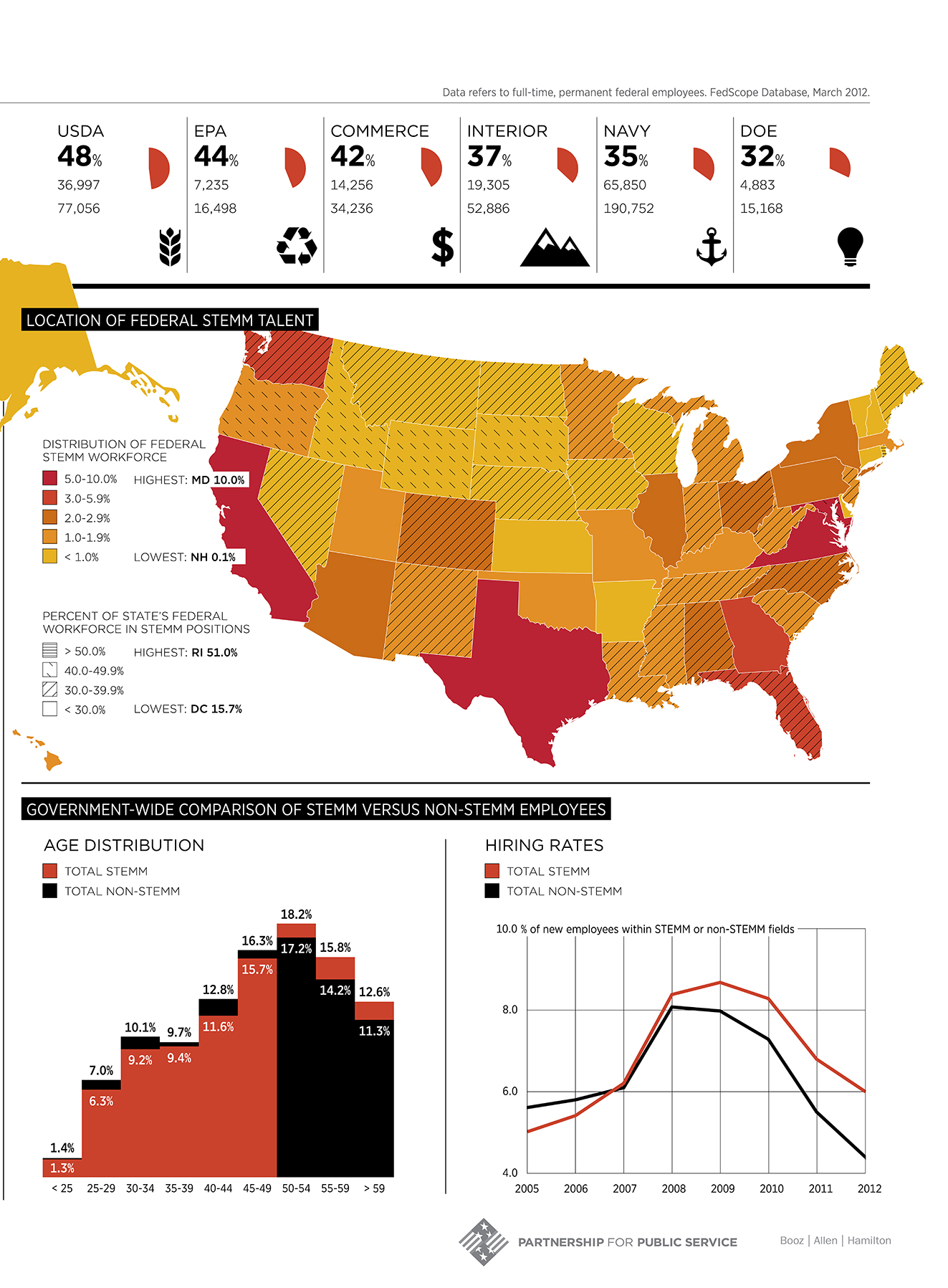 To read or download the full report on the STEMM workforce, please visit ourpublicservice.org.
By Lara Shane
May 17, 2013
Recruiting highly sought after STEMM talent, that is professionals in the science, technology, engineering, mathematics or medical fields, is hard and getting harder. The demand is growing, but the number of college students who have selected STEMM majors so far is staying flat.
Federal agencies may find it difficult to compete with the private sector on entry-level salaries for talented graduates or the workplace intangibles like free food, Ping-Pong tables or a T-shirt and shorts culture. But the need is great. Today, about one-fourth of all federal employees—more than 500,000—are in jobs requiring STEMM skills, and that number will increase over time.
Many agencies have taken creative steps to attract skilled employees that federal recruiters can replicate. Outlined below are just a few of the innovations the Partnership for Public Service and Booz Allen Hamilton uncovered in their research collaboration, The Biggest Bang Theory: How to Get the Most out of the Competitive Search for STEMM Employees.
1. Build relationships early. While it's important to reach and recruit STEMM college majors, determined agencies start even earlier. Many successful agencies have recruiting and hiring programs that reach potential STEMM talent when they are still in high school ...
By Conor Friedersdorf
May 17, 2013
Almost everyone agrees that the IRS behaved badly when it singled out conservative activist groups for extra scrutiny. As Ezra Klein put it, "because the Internal Revenue Service holds so much private data, and because it can make people's lives absolutely miserable, it is of paramount importance in our political system that it both is, and is perceived as, an apolitical entity." But Klein also believes that the IRS ought to be scrutinizing all 501(c)4 groups more closely. Kevin Drum agrees. "What's really unfortunate about all this is that it will probably put an end to any scrutiny of 501(c)4 groups, and that's a shame," he writes. "The IRS should be scrutinizing them."
So how can the IRS fulfill its duty to police groups wrongfully claiming tax exempt status without getting abusive?
John Podhoretz suggests the timing of the enforcement matters.
"Didn't the IRS need to ensure that groups applying for non-profit status would conduct themselves properly once they had received it?" he asks. "The answer, actually, is no, not really. The IRS's enforcement power has to do with misconduct following the granting of tax-exempt status. It should not presume lack ...
By Eric Schnurer
May 16, 2013
"Government" is, everywhere, an industry in serious trouble. Not only do its consumers constantly complain, but some also are finding alternatives. Its products are failing the tests of quality and innovation, and it costs more than users want to pay. If governments were private firms, they'd be facing the prospect of either a takeover to "rescue" them or death in the competitive marketplace as their customer base migrates to newer alternatives.
Don't buy the government-business comparison? In fact, governments today face precisely those challenges. Start with takeover threats. Many governments -- from a variety of municipalities in the United States (Governing maintains anonline list and map citing at least 31) to several member countries of the European Union -- have been forced to accept one form or another of outside supervision of their fiscal affairs. The Tea Party openly offers the usual corporate raider's solution: dismemberment and liquidation of the hostile takeover target -- in this case, "government" generally.
Look at competitive challenges to governments today: not just a range of alternative public-sector models, from the autocratic to state failure, but also a growing host of private-sector challengers in the provision of every sort of "governmental" service, from the ...
By Norm Ornstein
May 16, 2013
The theme of presidential leadership is a venerated one in America, the subject of many biographies and an enduring mythology about great figures rising to the occasion. The term "mythology" doesn't mean that the stories are inaccurate; Lincoln, the wonderful Steven Spielberg movie, conveyed a real sense of that president's remarkable character and drive, as well as his ability to shape important events. Every president is compared to the Lincoln leadership standard and to those set by other presidents, and the first 100 days of every term becomes a measure of how a president is doing.
I have been struck by this phenomenon a lot recently, because at nearly every speech I give, someone asks about President Obama's failure to lead. Of course, that question has been driven largely by the media, perhaps most by Bob Woodward. When Woodward speaks, Washington listens, and he has pushed the idea that Obama has failed in his fundamental leadership task—not building relationships with key congressional leaders the way Bill Clinton did, and not "working his will" the way LBJ or Ronald Reagan did.
Now, after the failure to get the background-check bill through the Senate, other reporters and columnists ...