Promising Practices

A forum for government's best ideas and most innovative leaders.
By Robinson Meyer
October 2, 2015
With every new release of Hillary Clinton's emails, Americans have gotten a better sense of what working in the U.S. State Department is actually like. The center of our national diplomacy is a place where people lose sunglasses, get stuck on the tarmac, and struggle with official phone trees.
The State Department has been revealed, in other words, to be a professional American workplace, though, of course, an unusually powerful one. And like other offices, it's one where employees struggle to balance their work and home life.
In early December 2009, Anne-Marie Slaughter, then the State Department's director of policy planning, emailed Huma Abedin, a long-time aide to Clinton.She asked that Abedin take off some of the days before Christmas, to set an example so that other employees would know it was okay to be home for celebrations. The email said:
This is probably entirely inappropriate, but I had gathered you were thinking possibly of taking off on Dec 21. I would urge you to — for your own sake. The pace is absolutely killing and you deserve it. But it would also mean that a lot of folks who would like to take some time...
By Howard Risher
October 2, 2015
Efforts to improve government management typically focus on proven practices in the private sector. To be sure, there are differences between the business and the government executive -- compensation is the most obvious -- but both are the front line for planning and management of their organizations. Both are accountable for the performance of the operations they lead. Federal executives have less discretion to redirect staff and budgeted funds, but they are accountable for delivering expected results.
The foundation for planning, managing and evaluating executive performance in business has not changed in decades. The core practice is based on individual performance goals that align with and contribute to organizational goals. I managed the executive pay and performance system in a large conglomerate in the 1970s -- I was a tenderfoot -- and again for a hospital management company a decade ago. The differences were minor. A subtle change is the recognition that goal management should be responsive to events throughout the year.
An Amazon search on "executive performance management" produced 1,097 books. When I added the phrase "in government" the list dwindled to 58, and the titles suggest the focus is on organizational, not executive, performance. No one apparently has focused on the...
By Jenny Anderson
October 2, 2015
"At the current pace of progress, we are more than 100 years away from gender equality in the C-suite."
That's Sheryl Sandberg's sobering conclusion based on a new survey(pdf) of 30,000 employees at more than 100 companies in the US, run by LeanIn.Org, the organization founded by the Facebook executive, and consultancy McKinsey. As Sandberg adds, "if NASA launched a person into space today, she could soar past Mars, travel all the way to Pluto and return to Earth 10 times before women occupy half of C-suite offices."
The "glass ceiling" is real, and progress in promoting more women to positions of power is glacial, at best. But the survey adds some noteworthy nuance to the debate.
Women are not quitting their jobs at higher rates than men. In fact, at almost every rung of the corporate ladder, turnover is higher for men than women:
But if that's the case, why are there fewer women in senior positions?
Maybe it's this: although three-quarters of company representatives say that their CEOs prioritize gender diversity, far fewer rank-and-file employees (particularly women) think this is the case:
Or, there's this problem, which is that a...
By Shelley H. Metzenbaum
October 1, 2015
Well-designed small-scale testing can help government achieve greater impact not only at a lower cost but also in more fair, understandable ways. Government should embrace "test marketing" as a business-as-usual management practice, not an exceptional event.
When I was a kid, for reasons that now escape me, you often heard people ask, "Will it play in Peoria?" Peoria, Illinois, once seen as the prototypical American city, was used to "test market" new theater acts and new products before rolling them out across America. If a show, product or marketing pitch did not sell well in Peoria, a company knew not to waste money investing on a large scale.
Peoria no longer reigns supreme as the prototypical test market and many companies have grown increasingly sophisticated, testing different products and marketing pitches in different media for different demographic groups. They run small-scale experiments in which randomly selected consumers are exposed to different products and marketing pitches to compare, for example, how similar groups of people react to one message compared to alternate ones, or to receiving no message at all. The Internet has multiplied opportunities for this sort of comparison; off-the-shelf software now enables any website to concurrently test and compare...
By Eric Jaffe
October 1, 2015
Joseph Kane and Adie Tomer at Brookings break down the latest Census data release to bring us a map of where telecommuting is on the rise among U.S. metros. The short answer is basically everywhere (except Omaha):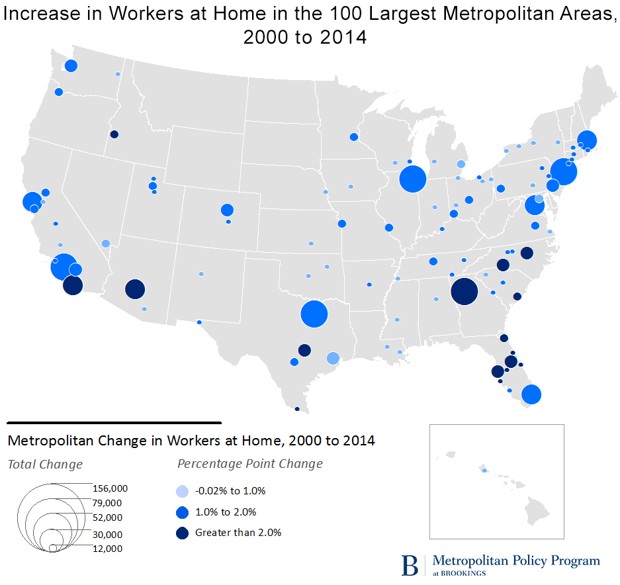 No commute mode has grown in popularity more than telecommuting in recent times. The share of telecommuters has roughly doubled since 1980—up from 2.3 percent then to 4.5 percent in 2014 (according to the new Census release). Kane and Tomer add that about 13 percent of all new commuters between 2000 and 2014 are telecommuters; here's their big-picture context:
This pattern is nearly universal across the country. With the exception of Omaha, all metro areas experienced a gain since 2000 in the share of people working from home, topped by Raleigh, Boise, and Austin, which each realized a jump of 3 percentage points or more. There's a bit of a regional pattern to the growth, too, with the largest gainers primarily in the South or West.
Among all commute travel modes, the national share of telecommuting remains slightly below that of public transportation—4.5 percent to 5.2 percent, respectively, via the 2014 American Community...