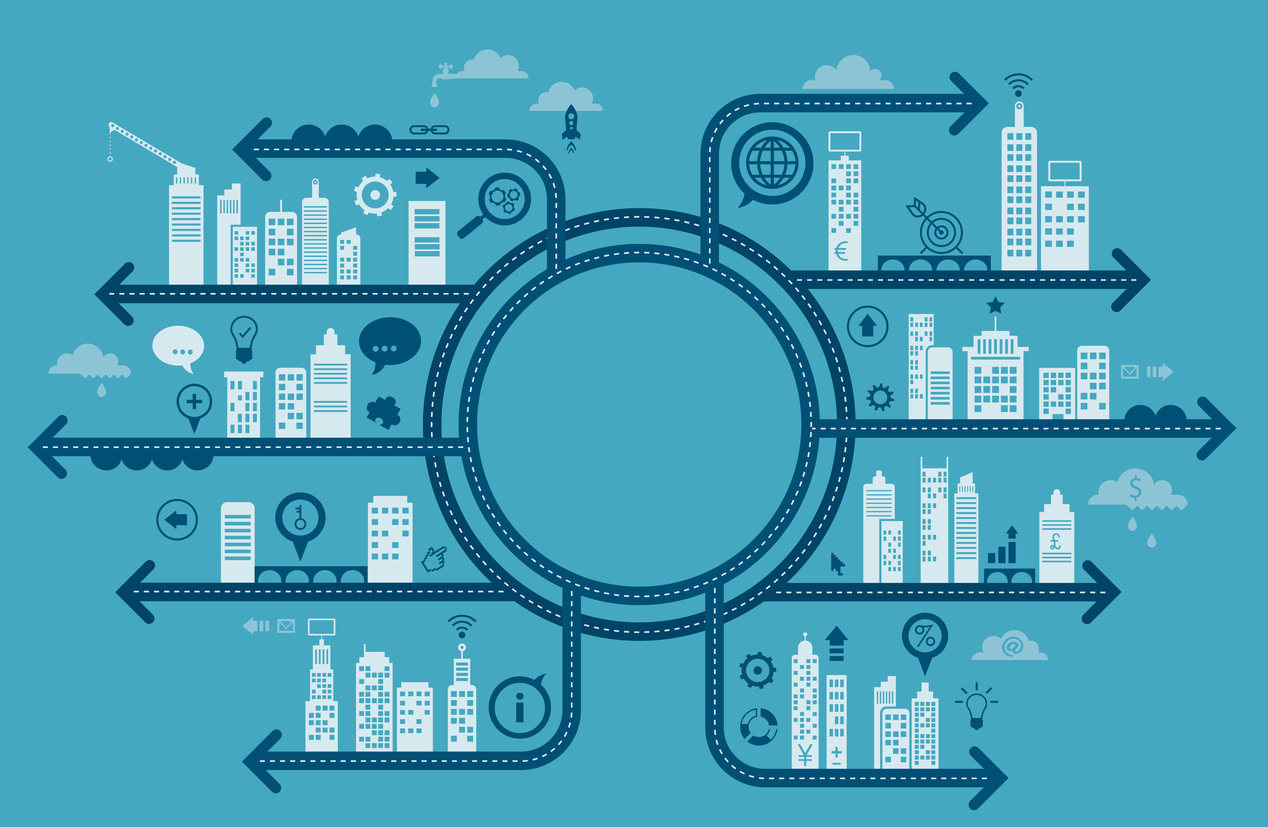 Mobility and
Access for All
A Candid Survey on Unified Communications and Collaboration in the Federal Workforce
As technology advances, our boundaries lose dominion. Whether it's the ability to videoconference a colleague thousands of miles away, book a business flight with a handheld device, or even access Wi-Fi on a plane 39,000 feet above sea level, many of us have embraced this new mobile world — and we increasingly expect the workplace to follow suit.
But has it?
For those charged with safeguarding and serving the public, the question is worth exploring. Even as the federal government makes strides to modernize and connect its workforce, many wonder if existing infrastructure can support such changes and resolve long-standing challenges unique to the federal space.
To understand the current 'mobility' landscape across government and the challenges impeding such an effort, Government Business Council (GBC) on behalf of Black Box and Avaya undertook an in-depth research study of federal employees in November 2017.
Research Methodology
GBC deployed a survey to a random sample of government respondents in November 2017. 539 senior leaders responded, with 56% holding positions at the GS/GM-13 level or above (including members of the Senior Executive Service). Respondents represent a variety of job functions, with highest input from program/project managers, technical/scientific specialists, and administrative officers. At least 53% are supervisors who oversee one or more direct reports.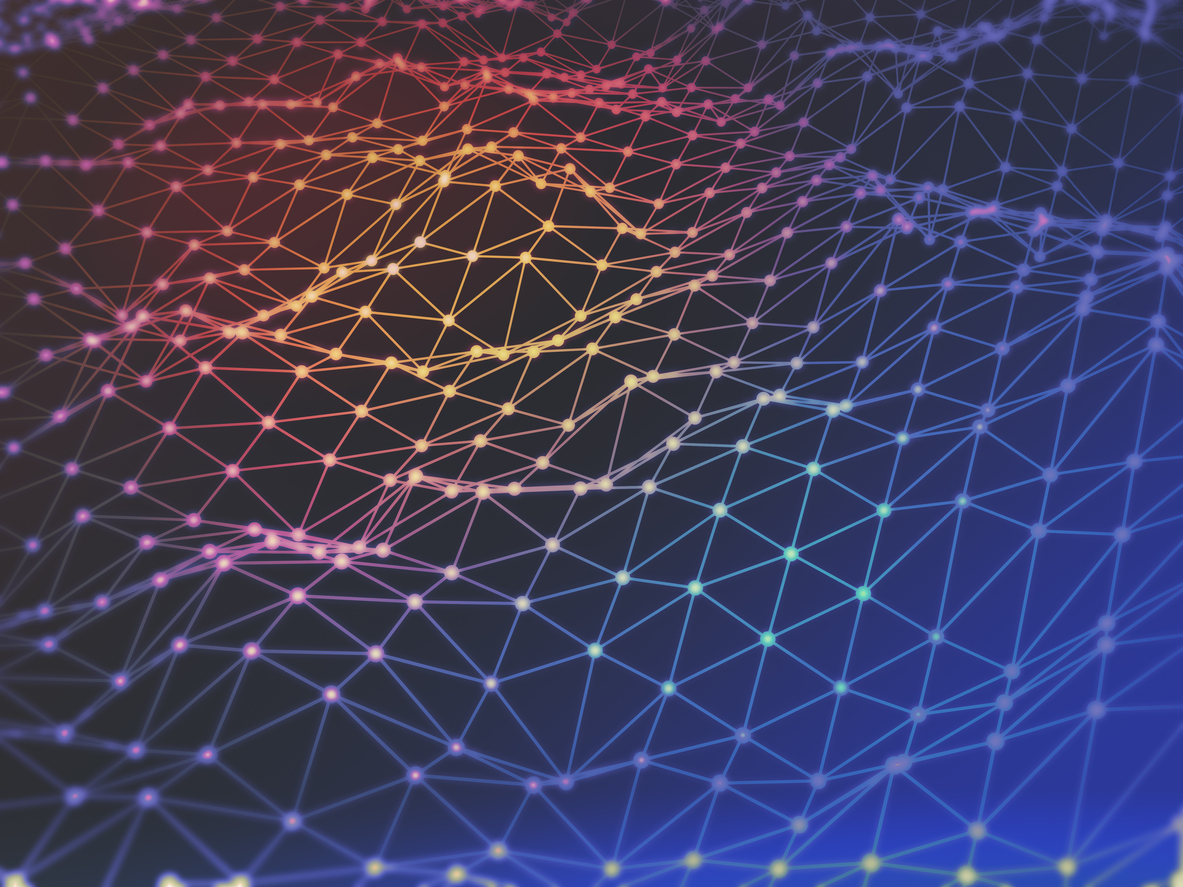 Mission demands are increasingly mobile, but digital infrastructure needs to catch up
47% of respondents say they need to collaborate daily with colleagues who are stationed in other locations, and 52% acknowledged needing an online connection to do work beyond their regular office space at least once a week. However, a plurality (40%) are dissatisfied with the mobile access provided by their agency, and 38% have little to no confidence that current infrastructure can support recent advancements in collaborative tech.
Limited budgets and security fears challenge efforts to unify office technology
The potential to improve productivity (46%) is a leading incentive for investing in collaborative technology, with employee satisfaction and faster delivery of results not far behind. However, a limited budget (52%) and external security threats (39%) impede this growth.
Telework and mobility gain acceptance; priorities for collaboration vary agency to agency
70% say their agency allows telework, either encouraging such opportunities or remaining open to the practice when it justifies greater productivity. At the same time, respondents are split on the extent to which their department views technology designed for collaboration as a top priority: while 37% feel their agency prioritizes such applications, an equal number feel the issue does not receive the appropriate attention.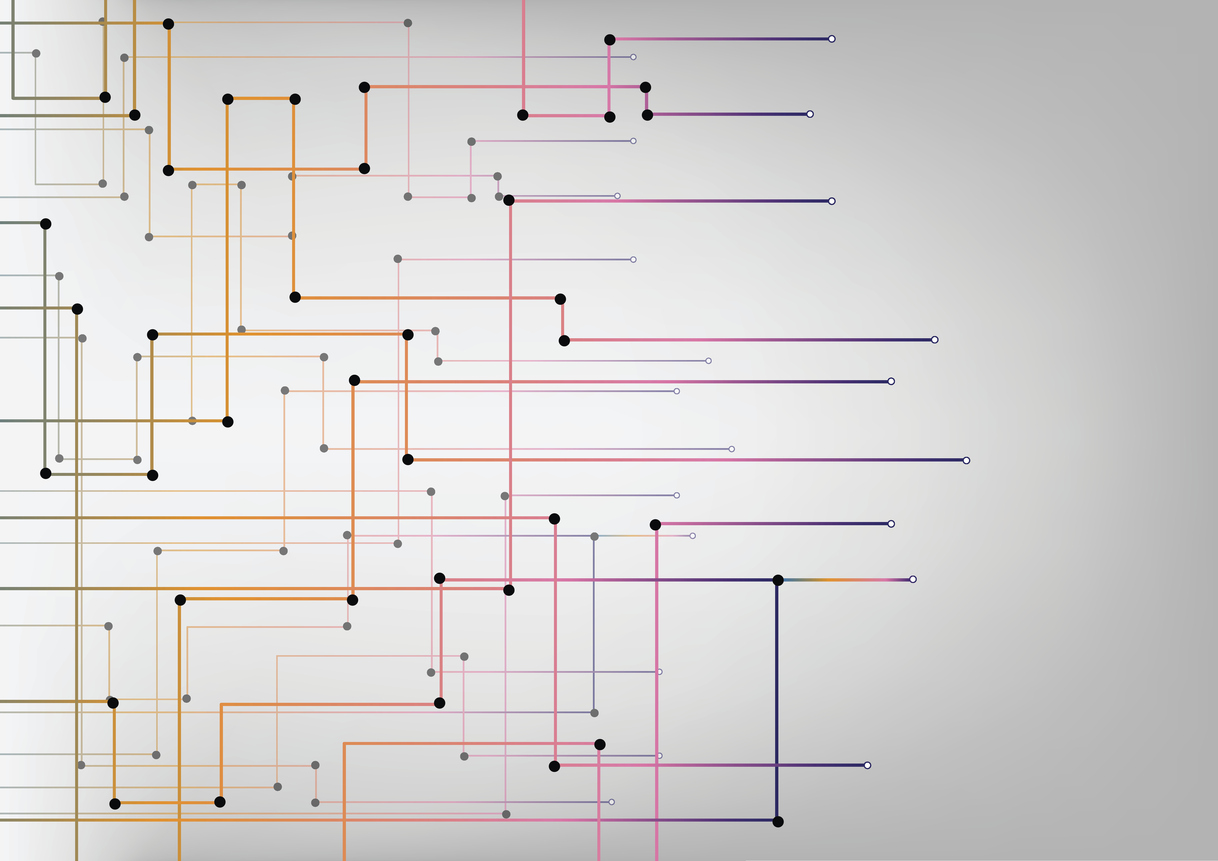 Many federal employees are dissatisfied with office mobility
40% of respondents are disappointed with the level of mobility provided in their office work environment— 27% are dissatisfied, and 13% are very dissatisfied with the ability to conduct work seamlessly across multiple devices and locations.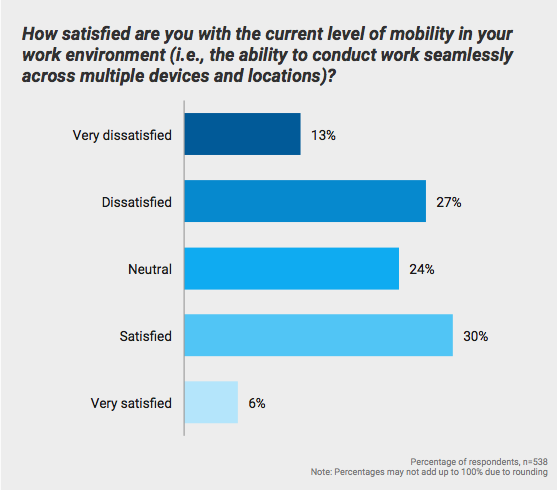 How do office environments factor into these findings?

While a majority say their office layout incorporates a mix of open and closed spaces, the number of those who report predominately closed offices (20%) slightly outnumber those with predominately open offices (16%).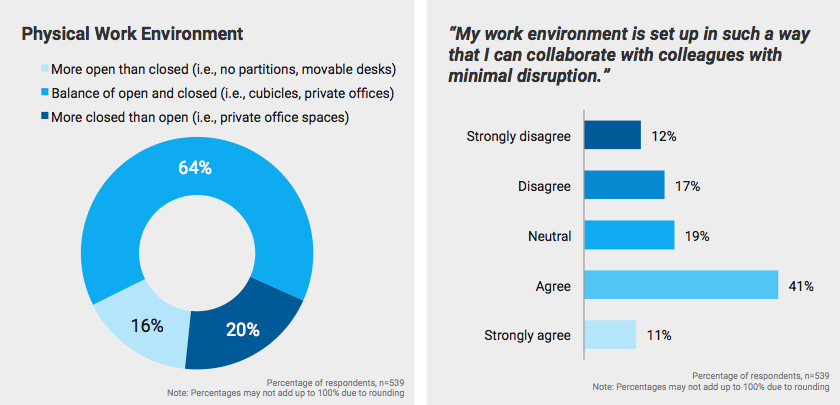 Overall, a majority of respondents (52%) agree that they can collaborate with colleagues without experiencing significant disruption or distraction. Conversely, 29% say such disruption is unavoidable in the office, at least when attempting to work with others. 
 
Over half of respondents require connectivity on at least a weekly basis to conduct work beyond the office
52% of respondents report needing a remote connection for work purposes at least once a week or more: of this group, 27% find themselves needing to connect outside the office on a day-to-day basis. That's more than a quarter of federal respondents who say mobile access is in constant demand throughout the week.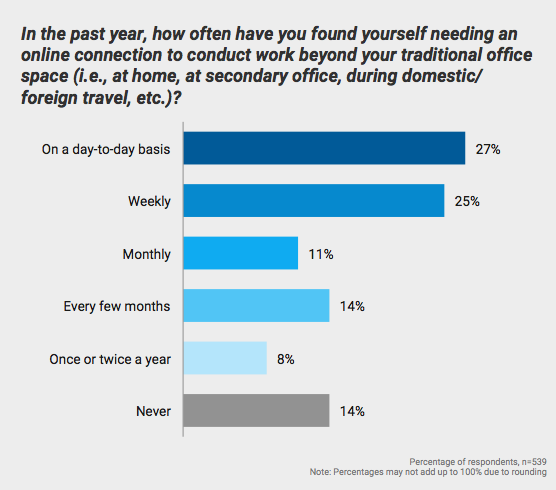 Significant majority must regularly collaborate with colleagues stationed in other locations
When asked how often they need to work with members of their team stationed in geographically separate locations, close to three-quarters of respondents describe it as a daily (47%) or weekly occurrence (25%) in their jobs. By contrast, just 11% say long-distance connections are rarely required in their regular line of duties.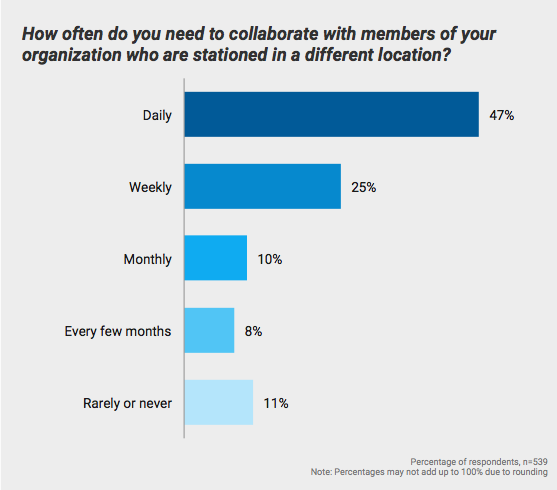 Aware of these demands, some government entities have been more aggressive than others when it comes to expanding mobility for employees.
In late 2016, the Federal Transit Administration announced $8 million in funding for Mobility on Demand public transportation projects, integrating tools like smartphone apps and widespread data connectivity to support greater individual mobility.
Workplace Evolution is an initiative within the Federal Aviation Administration to reimagine communication, movement, and connectivity for a 21st-century workplace.
18F is assisting agencies with new management models centered around mobility, data-sharing workflow, documentation, and team connectivity regardless of location.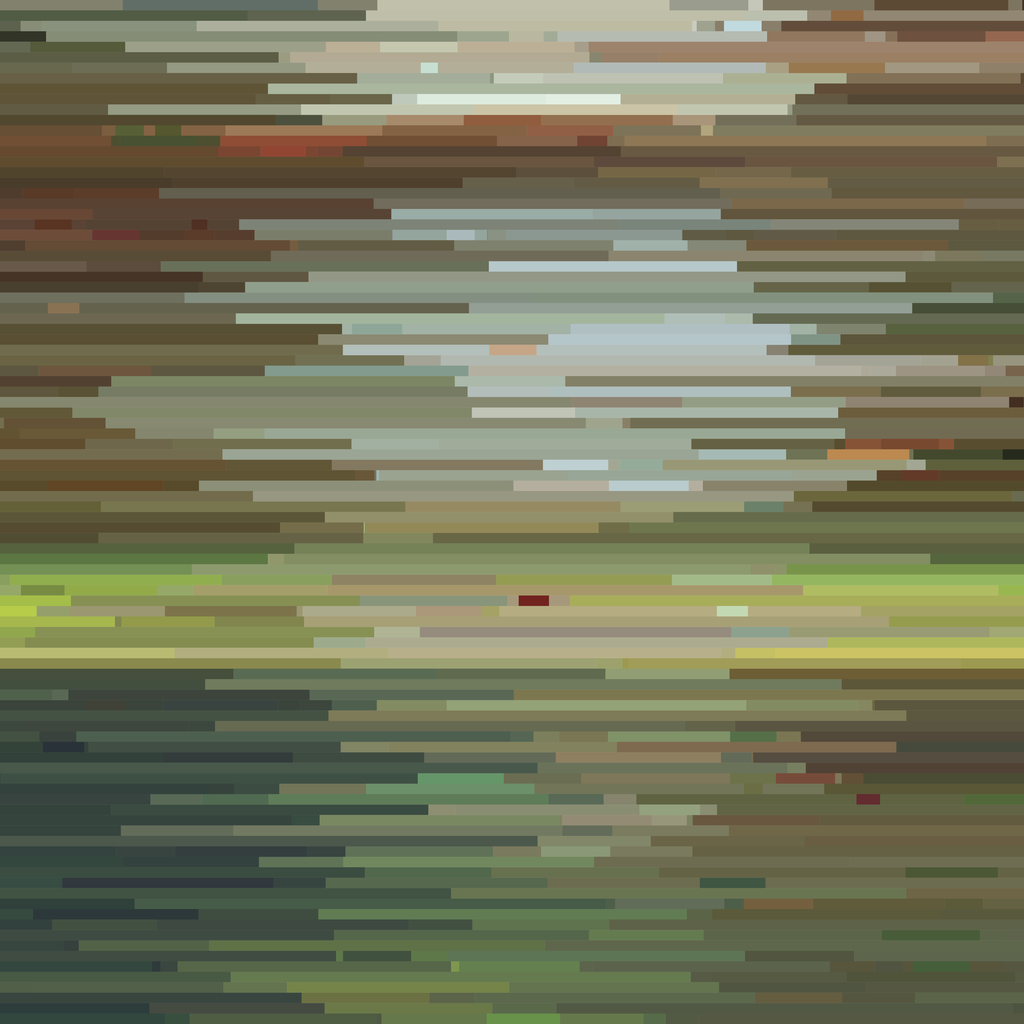 Not all agencies put collaborative technology front-and-center 
Respondents are split right down the middle when evaluating their agency's focus on collaboration-boosting technology: 37% disagree or strongly disagree that their organization prioritizes apps which aid collaboration, versus 37% who agree or strongly agree with this assertion. 27% are neutral.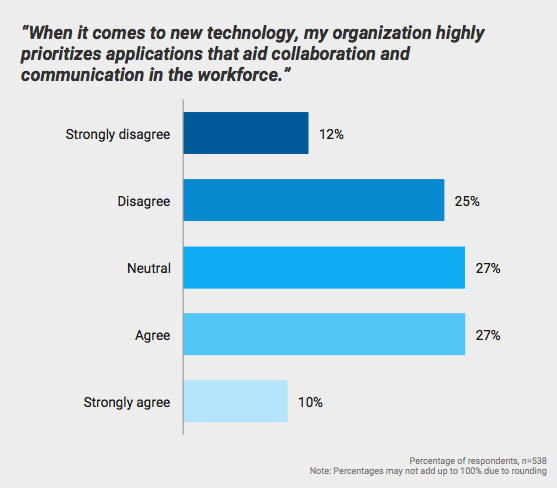 Technology is changing faster than our organization can keep up. Right now we are using at least three platforms for meetings, and each has different quirks so that there are compatibility issues when running multiple applications. Survey Respondent
Email leads list of collaborative technologies
Email is by far the most common tool used to connect with colleagues in other locations, but voice-only teleconferencing (73%) isn't far behind on the list. A sizeable contingent also use video-conferencing apps (47%), office chat services (45%), and screen sharing tools (40%) on a growing basis.
Meanwhile, document-sharing services like Google Drive receive less attention. As one respondent said of their agency, "a huge problem is the inability to share large files or documents externally. We are restricted—due to security concerns—from using Dropbox or similar services; but that makes collaboration very difficult."
A huge problem is the inability to share large files or documents externally. We are restricted—due to security concerns—from using Dropbox or similar services; but that makes collaboration very difficult. Survey Respondent
Greater productivity is top incentive for unifying office communications.
Nearly half of all respondents (46%) believe higher levels of productivity and more efficient use of time is driving their agency to improve office connectivity. By removing communication barriers and coordinating decision-making processes, agencies see collaborative tools as a viable way to raise workforce effectiveness. Over a third also believe such tools can alleviate pain points and facilitate an improved user experience for employees, not to mention significantly faster delivery of results.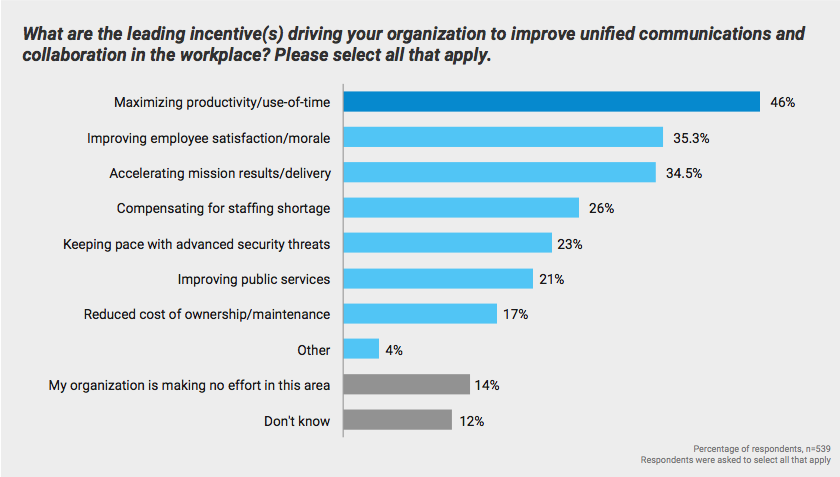 The benefits to connecting the workforce are extensive, and many respondents favor smart integration of such technology in their own work places. One participant put it this way: "Computing devices should be enablers, and in today's digital world [such devices] are becoming a must-have to maintain any competitive advantage."

But do government agencies have the digital infrastructure in place to accommodate these advancements?
    
We're the federal government, and we're stuck with legacy systems right out of the 1970s. Come on, it's the 21st century. Survey Respondent
Many have little confidence that infrastructure can integrate new IT
Asked whether their department's current digital infrastructure could integrate the latest advancements in collaborative technology, a plurality of respondents are skeptical, expressing either little confidence (28%) or no confidence (10%) on this front. Conversely, less than a third of respondents overall (30%) show any level of confidence in their agency's capability to incorporate such tools.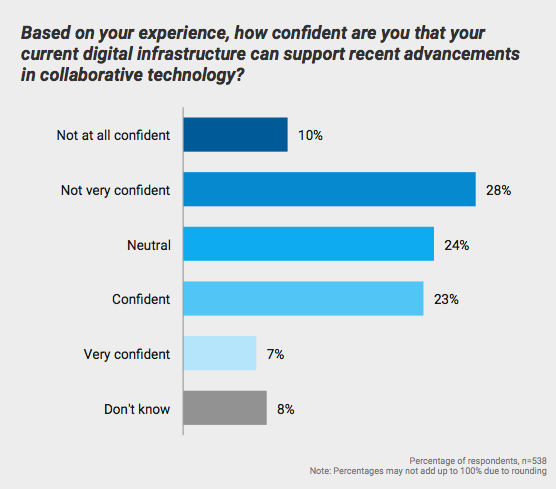 Respondents' concerns aren't misplaced: as research by Congress and Government Accountability Office (GAO) have shown, much of the government's current IT woes stem from a surplus of outdated technology:
At least 10 computer systems currently in use by federal agencies date back 40 years or more. The U.S. nuclear arsenal alone takes its commands from a 54-year old system, and the system used to track benefit claims at Veterans Affairs turns 52 this year.
In 2016, agencies required 3,427 IT staff just to maintain systems run by legacy-programming languages now considered defunct.
Maintenance of these systems costs the federal government a whopping $80 billion every year.  
Some lawmakers have recognized the need for an upgrade and proposed legislation to address the problem. The Modernizing Government Technology Act (MGT Act) is the latest, most visible campaign.
What's it do? According to Nextgov, the law "creates a $500 million central modernization fund over two years through which agencies can borrow against to update aging, unsecure systems." With bipartisan input from Rep. Will Hurd (R-Texas), Sen. Jerry Moran (R-Kan), and Sen. Tom Udall (D-N.M),  the bill signals a step in the right direction.
Budget constraints, security, and legacy systems are most common headaches
More than half of all respondents point to budget limitations as a reason for lackluster expansion of collaborative technology. Even as the MGT Act looks poised to alleviate this handicap in part, the current administration's focus on cost-cutting measures will likely keep financial considerations top of mind for many going forward.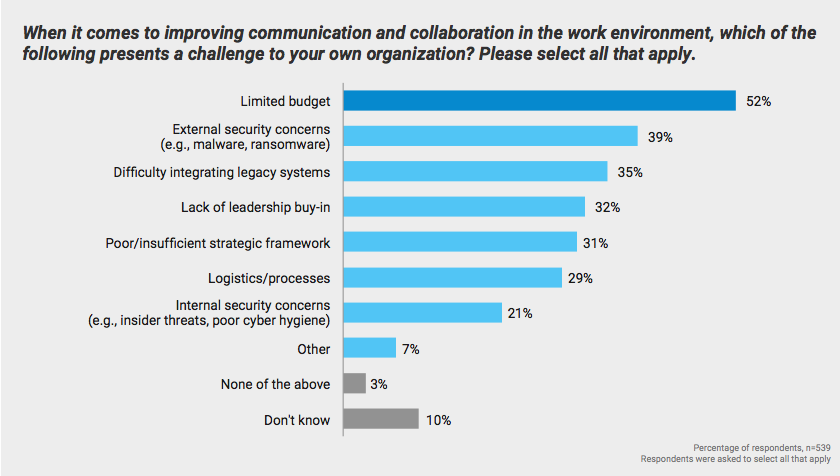 Security concerns, expecially threats from the outside, also present a significant obstacle, according to 39% of respondents. Given high-profile cyber attacks perpetrated at major institutions in the last year alone, federal employees are more sensitive than ever now to the potential vulnerabilities introduced by connected endpoints and mobile devices. 

Many respondents say their agency struggles to reconcile the need for greater security while ensuring receptivity to new IT. According to one participant, "security dominates all decisions, but I am not sure constant internal barriers are making anyone safer."

Another writes: "Trust is a huge factor after the data breach several years ago. However, old systems, complacency, and compartmentalization of departments cause redundancies in productive work. As a taxpayer, it's hard to justify the waste in resources."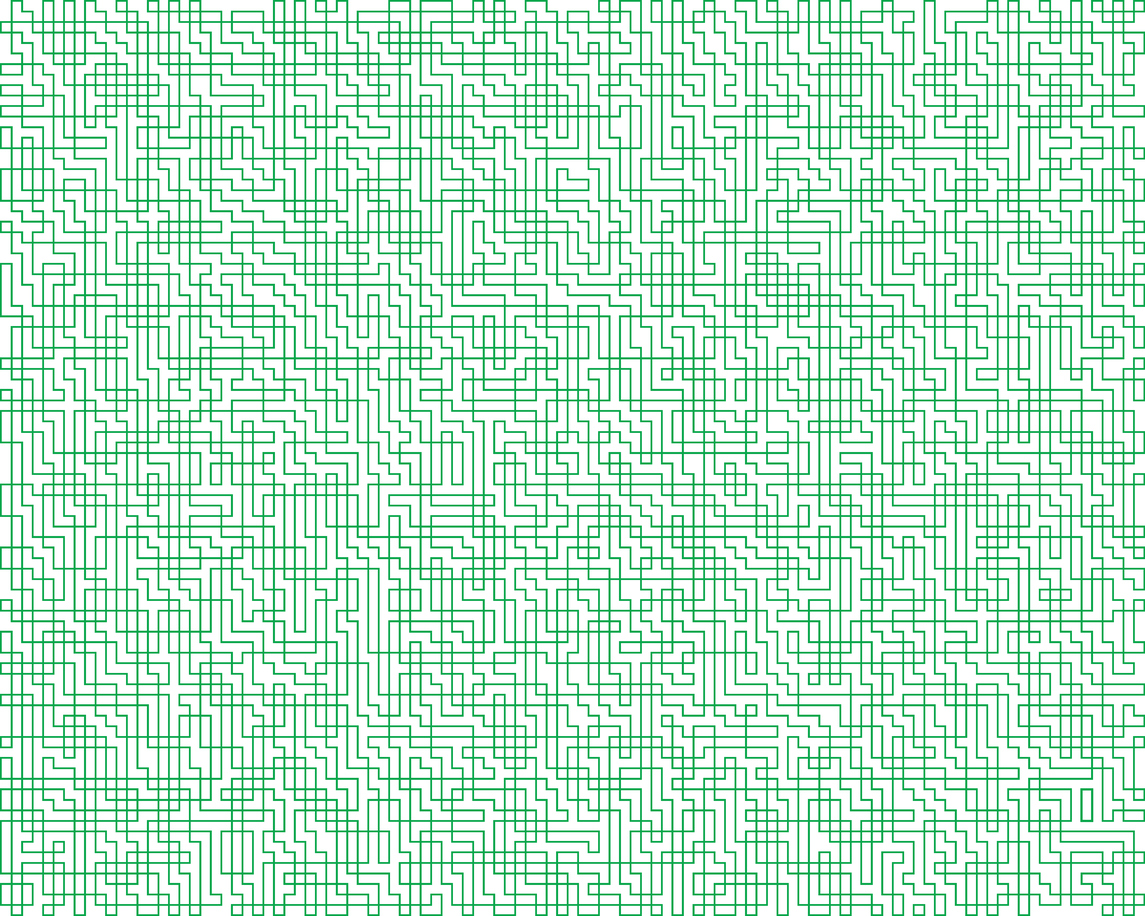 3 in 4 respondents say telework is allowed by their agency
A significant majority of those surveyed say that telework, the practice of working from home (while having access to the Internet and email), is a viable option given by their agency. Comparatively, 26% say their employer largely prohibits working remotely.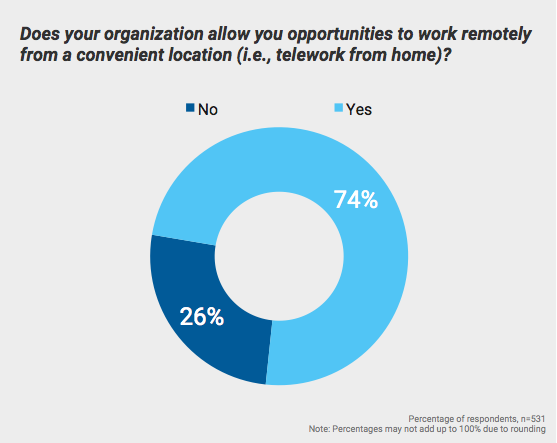 Looking closer, we find that agencies differ on the leniency issued toward telework practices.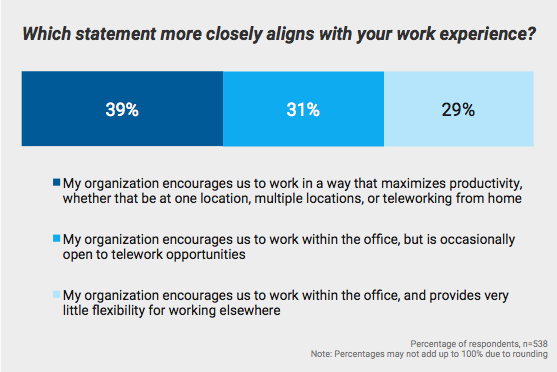 Opinions vary when it comes to policies governing collaborative IT in the workplace
A plurality of respondents (33%) are neutral when asked to evaluate their employer's policies governing unified communications tools; 28% are dissatisfied to some degree, and 34% are satisfied by the same token.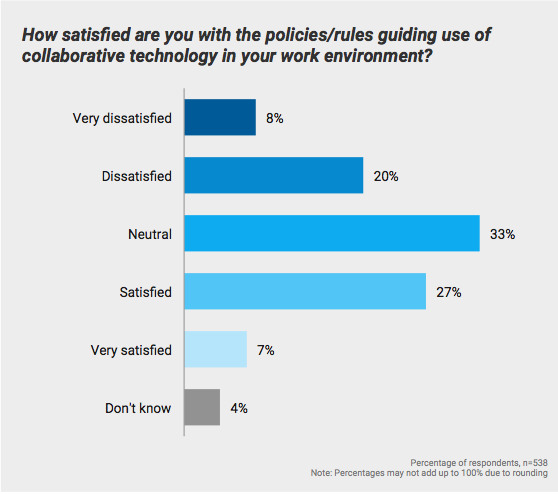 Risk and opportunity need to be balanced. IT security and policies are allowing the 'tail to wag the dog' in many instances, creating a non-permissive environment where we are losing our ability to effectively communicate at the speed and depth required to remain competitively agile and flexible. Survey Respondent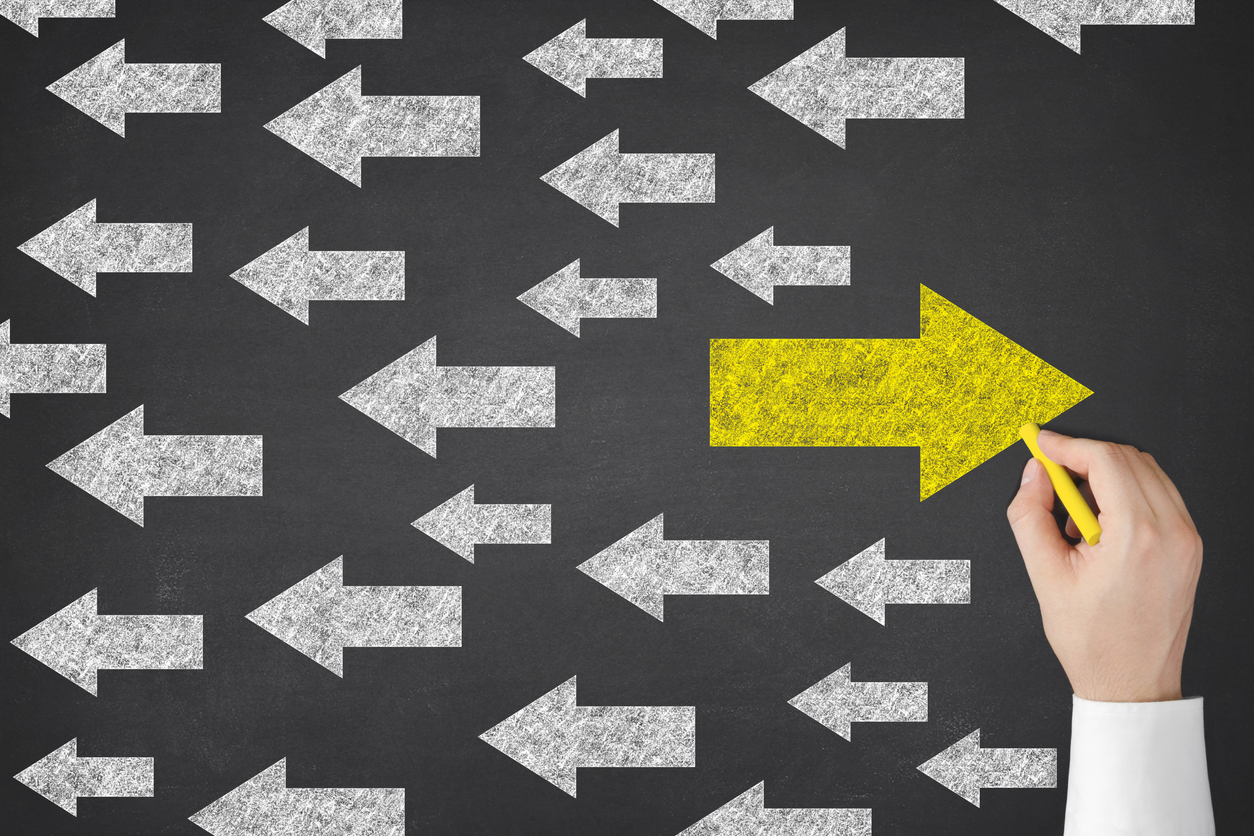 Mission mobility is critical for today's public servants 
Respondents share widespread consensus in their view of the mission environment today. Either once a week or more often:
72% collaborate with colleagues stationed in other locations
52% require an online connection to conduct work beyond their traditional office space
However, 40% are not satisfied with the level of mobility given to conduct such communications. And for those who claim their agency prioritizes collaboration-aiding IT, there is an equal contingent who feel just the opposite is true — that leadership has not given sufficient attention to integrating collaborative tech where it is most needed.
Going forward, more agencies need to prioritize how they connect employees in the mobile mission space. 
Building the unified infrastructure brick by brick
Consider just a few of the comments voiced by survey respondents:
"The government has many conflicting instructions regarding technology and makes it difficult to develop a strong working program."
"When most or all persons within an organization use technology seamlessly, it can be very frustrating when a specific entity within the work environment refuses to do so."
"Business and US culture seem to be changing faster than government is able to keep up at times. A thoughtful approach is needed to meet upcoming challenges without sacrificing programs that have proven to be successful."
What respondents want going forward is a comprehensive plan for unifying workforce communication while satisfying baseline security needs. In spite of budget limitations, agencies can begin taking small steps in this direction by crafting policies that not only cohere with mobile mission demands, but respect cyber accountability and information security in the workplace. 

About Government Business Council
As Government Executive Media Group's research division, Government Business Council (GBC) is dedicated to advancing the business of government through analysis, insight, and analytical independence. An extension of Government Executive's 40 years of exemplary editorial standards and commitment to the highest ethical values, GBC studies influential decision makers from across the federal government to produce intelligence-based research and analysis.
Report Author: Daniel Thomas
Underwritten by: Black Box
Black Box (NASDAQ: BBOX) is the trusted digital partner. With more than 40 years of experience connecting people and devices, we are dedicated to helping clients embrace the intelligent edge and enable their digital transformation. Our award-winning products and extensive service connect you with your customers, your team, and the world.  Every day, our customers trust us to design, deploy, and manage their digital needs including retail IoT solutions, healthcare, and mission-critical control room infrastructures across commercial enterprise and governmental organizations. With a global presence and extensive team of technical experts, we make digital transformation possible whether at one location or hundreds.
Underwritten by: Avaya
Avaya is a leading global provider of next-generation business collaboration and communications solutions, providing unified communications, real-time video collaboration, contact center, networking and related services to companies of all sizes around the world. Avaya helps our customers bring people together with the right information at the right time in the right context, enabling business users to improve their efficiency and quickly solve critical business challenges.