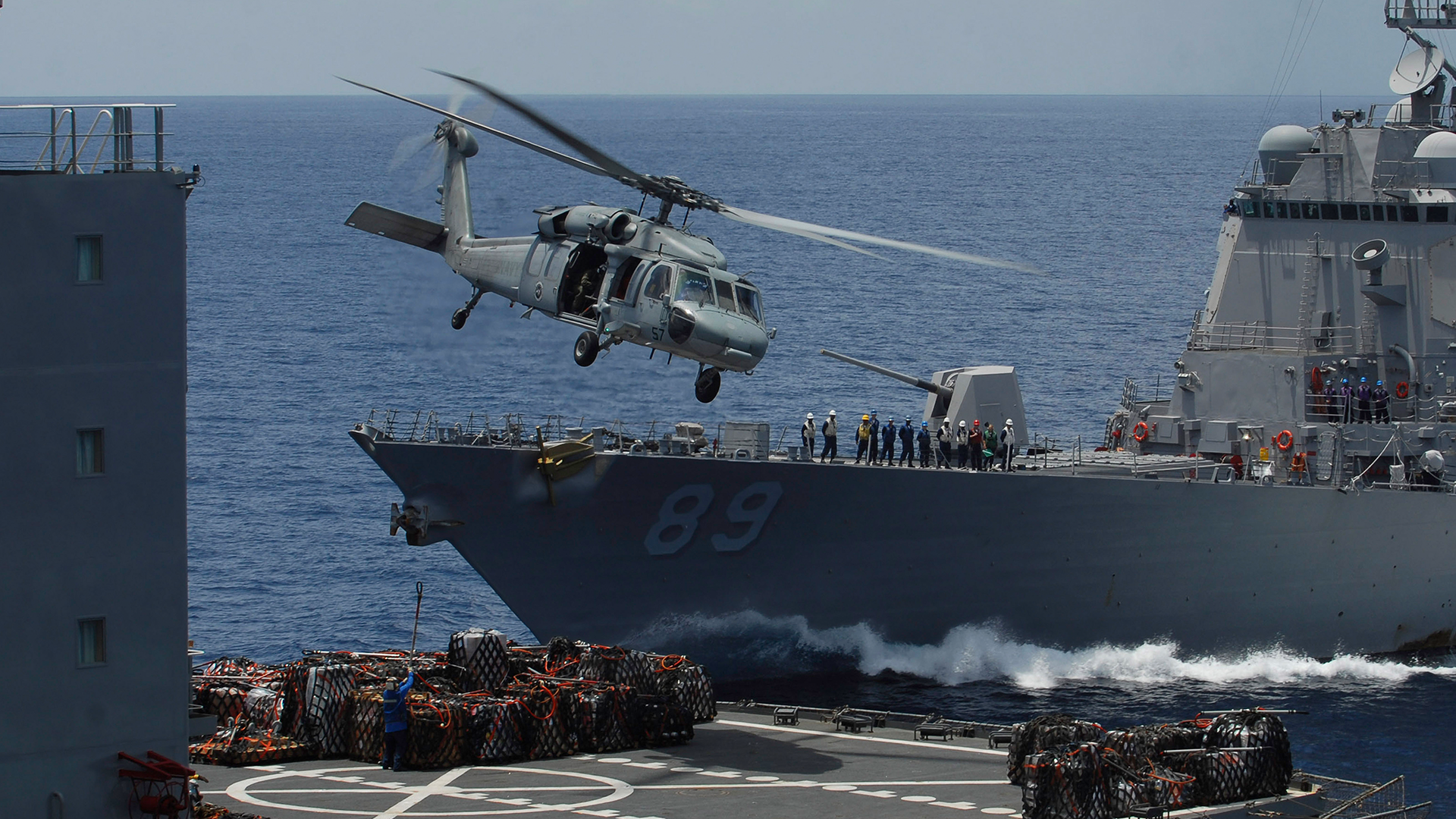 CANCELLATION
The health and well-being of our employees, customers, partners, and communities are top priorities for SAP and we have continued to monitor the coronavirus (COVID-19) outbreak closely.

In full alignment with all SAP leadership, we have collectively made the decision out of an abundance of caution to cancel all SAP in-person events for the month of March 2020. This includes the Defense Supply Chain Summit in Washington, D.C., on March 26, 2020.

Your interest in the Defense Supply Chain Summit is highly appreciated! Please look for further communications as we finalize alternative plans for the Summit, as our goal is to reschedule it in the fall.

While we regret any inconvenience that our decision may cause, we are committed to limiting the spread of this virus and safeguarding the health of our communities.
ABOUT
Our government and military have never been called upon to do more, and in more places. Mission success depends on getting the right tools and equipment in the right hands at the right time and place.

While advancements in technologies such as cloud, big data, and artificial intelligence are transforming business processes, the convergence of digital and physical domains also introduces new complexity into the scope of supply chain management. How can defense and civilian agencies optimize their supply chain processes to do more with less?

On March 26, hear from defense, civilian and industry leaders who are embracing digital strategies to integrate supply chains and supporting logistics to improve readiness and lethality. Through inspiring keynotes, in-depth panel discussions, and interactive roundtable workshops, you will learn key approaches to leveraging the modern supply chain and achieving the mission.
8:00 AM

Networking Breakfast

8:30 AM

Welcome & Opening Remarks

Dan Frick, Vice President, Department of Defense, SAP Public Services

8:35 AM

Opening Keynote

Technology is transforming defense supply chains and introducing new risks. Featuring a market expert, this future-focused keynote will explore these trends, forecast top challenges supply chain leaders at the Department of Defense will face in the next 2 - 5 years, and deploy market analysis to explain how officials can approach these issues

John E. Gronager, Ph.D., Director, Special Enterprise Capabilities, MITRE Corporation

8:55 AM

United States Navy and its Journey to Cloud

This session will focus on Navy ERP's migration to the cloud.

9:15 AM

Case Study Presentation

This session will highlight how Colgate-Palmolive transformed its supply chain for a digital world using SAP. Hear from Colgate-Palmolive's former Director of Strategy & Systems about his role in supply chain strategy, manufacturing systems, planning processes, IT portfolio management and change management principles.

Mark Vollrath, President, Supply Chain Acumen LLC

9:40 AM

NS2 Serves: Training the Veteran Workforce

Dedicated to equipping veterans with valuable skills for today's high-tech world, NS2 serves is committed to training and placing 700 veterans in new careers by 2025. This panel will share NS2 Serves' story and explore how to build the workforce of tomorrow.

General (Retired) John F. Campbell, Chairman, NS2 Serves
Laura Carmack, Vice President, Recruitment and Assessment, NS2 Serves

10:00 AM

Networking Break

10:15 AM

Integrated Logistics Panel

With the ability to eliminate silos, reduce costs, and increase efficiencies, supply chain technology is transforming how to get the right supplies to the right place at the right time through integrated end to end solutions. This panel of government industry experts will explore the implications of integrated logistics for managing operational readiness with agility.

Moderator: Dan Miller, SAP Solutions Architect, SAP

10:50 AM

Roundtable Workshops

These roundtable discussions will feature leading questions about the biggest trends and opportunities around cloud based supply chain management applications, integrated logistics, warehousing for aviation support, and maintenance and depot production. Led by SAP experts, SAP partners, and government leaders, the roundtables are an opportunity for in-depth conversation and problem-solving around how to leverage a modern supply chain to achieve the mission.

Roundtable: Integrated Supply Chain

Demand and Supply Planning
Inventory Balancing and Optimization
Supplier Collaboration

Roundtable: Integrated Line Maintenance and Depot Production

Organizational Level Maintenance
Depot Operations
Benefits of a single material readiness picture

Roundtable: Integrated Logistics

Warehousing and Transportation
In-transit visibility

Roundtable: Transforming User Experience to Improve Enterprise Readiness

Logistics and supply chain visibility in government systems are critical components of enterprise readiness. Users include citizens seeking information and services as well as employees seeking analytical visibility into critical logistics factors in their jobs, which predictively influence decisions that impact readiness. This workshop will discuss customer experience best practices and user-centered design process in support of supply chain visibility.

Roundtable: Blockchain's role in Supply Chain Management

Government agencies are now well along the path to adoption of commercial cloud technologies and are moving towards new emerging technologies. This workshop will focus specifically on how Blockchain and Cloud Computing are inherently related and how they are beginning to impact supply chain processes to provide more visibility, trust, profitability, traceability and better decision making.

11:30 AM

Closing Keynote: Firing the Shots That Killed Osama bin Laden and My Years as a SEAL Team Warrior

Rob O'Neill is one of the most highly-decorated combat veterans of our time and the author of the New York Times best-selling memoir The Operator: Firing the Shots That Killed Osama bin Laden and My Years as a SEAL Team Warrior. A former SEAL Team Six leader with the Naval Special Warfare Development Group, he deployed more than a dozen times and held combat leadership roles in more than 400 combat missions in four different theaters of war. A highly-trained Navy SEAL, he led the military's most elite and was involved in our nation's most important campaigns.

Robert O'Neill, Former SEAL Team Six Leader, Naval Special Warfare Development Group

12:30 PM

Closing Remarks

12:35 PM

Lunch
Advantaged Solutions, Inc. (ASI) is a minority owned Small Disadvantaged Business designed to enable our customer's technology investments and requirements through proven life cycle management methodologies and techniques. Established in 2005, we have over fifty years in government contracting and project implementation experience. Our team experience averages over 20 years of technical and management skills which has resulted in numerous mission critical, globally deployed, highly complex information management systems implemented within the U.S. Government.
Amazon Web Services' cloud platform offers over 165 services including compute, storage, databases, networking, analytics, machine learning (MI), artificial intelligence (AI), Internet of Things (IoT), security, and application development from 66 Availability Zones (AZs) across 21 geographic regions. Millions of active customers trust AWS—including the fastest-growing startups, largest enterprises, and leading government agencies—to power their infrastructure, become more agile, and lower costs. To learn more about AWS, visit https://aws.amazon.com.
IBM Federal provides innovative solutions to help the government solve their greatest challenges. We add value through a broad portfolio of capabilities, products, cutting edge solutions and industry expertise to help agencies achieve their mission. To learn more, visit ibm.com/federal
Carahsoft is The Trusted Government IT Solutions Provider® and a top GSA Schedule and SEWP contract holder, supporting an ecosystem of manufacturers, resellers, integrators and consulting partners who serve the public sector. Carahsoft proactively markets, sells and delivers VMware, Amazon Web Services, Palo Alto Networks, Symantec, Veritas, Dell, Adobe, F5 Networks, Google Cloud, ServiceNow, Open Source, Micro Focus Government Solutions, SAP, Salesforce, Splunk and Innovative and Intelligence products and services, among others. Carahsoft is recognized by its partners as a top revenue producer and is listed annually among the industry's fastest growing and largest firms by CRN, Inc., Forbes, Washington Technology and Washington Business Journal. For more information go to www.carahsoft.com.
HPE is the leading provider of Hybrid IT solutions for SAP deployments. As the #1 SAP HANA market share leader, HPE offers the expertise, infrastructure, and services to enable successful SAP migrations and deployments. HPE's unique mission critical and secure solutions are the ideal foundation for modernizing your digital core.For more information please visit, https://www.hpe.com/us/en/solutions/sap-hana.html.

Copyright © 2019 Government Executive Media Group. All rights reserved.