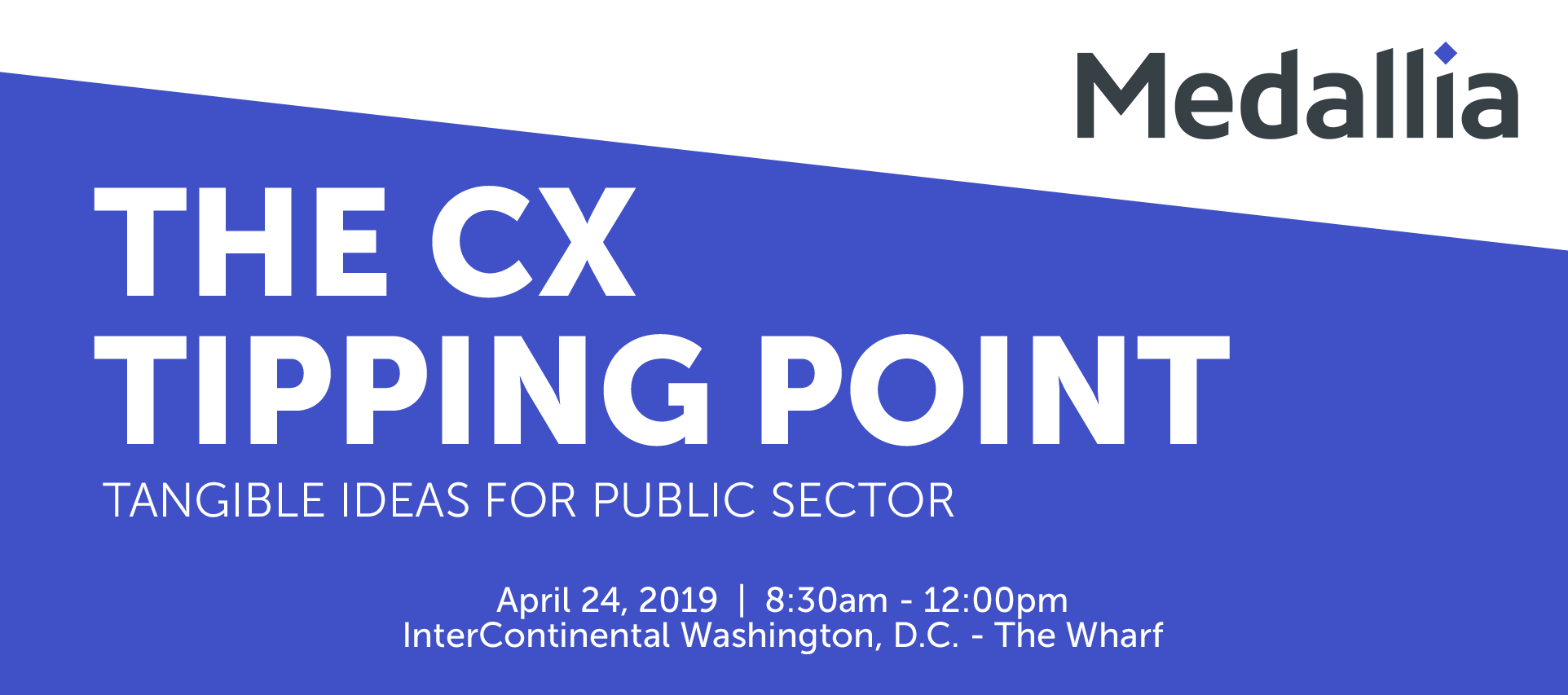 2018 was a landmark policy year for government customer experience. With new legislation passed by Congress, clarifying guidance issued from OMB, and strong priorities set by the President, providing great experiences has never been more important in government. But with all these visions in place, how do federal leaders actually achieve tangible results around CX?
Join Medallia on April 24 for a special half-day summit dedicated to the craft of customer experience. We'll dive into the new policies and what they may mean for your agency, but also go deeper and provide practical advice on improving experiences for citizens and employees alike. You'll learn how to go beyond CX compliance, leveraging these mandates to transform the way your agency delivers services and meets mission needs. Explore how to harness the benefits of great customer experiences from industry experts and connect with government colleagues to share common challenges and best practices.
Don't miss this opportunity to make 2019 the year your customer journey truly begins.
8:00am - 8:45am

Registration & Networking Breakfast

8:45am - 9:00am

Medallia Keynote: 2019 Government CX - What's Next?

In 2018, A-11 and COE's became part of the common vernacular for government and real progress began with regards to laying the groundwork for the future of CX. In 2019, these concepts shift into practice. What does that mean, look like and what are the potential impacts?

Brian Michael, VP & GM, Public Sector, Medallia

9:00am - 9:40am

ROI of Customer Experience

Investing in CX has meaningful impacts across the board. We should not overlook the mission alignment aspect and "doing the right thing", but ROI is not just soft impact. In fact, there are demonstrable, varied and evergreen impacts to critical KPI's. We'll dig in on what those are, how to achieve them and where there's still room to evolve our thinking here.

Dawn Banks, Chief Customer Experience Officer, Office of Mission Support, U.S. Environmental Protection Agency
Polly Hall, Strategy Lead, Procurement Innovation Lab, U.S. Department of Homeland Security
Lisa Pearson, Assistant Director, U.S. Government Accountability Office
Moderator: Brian Michael, VP & GM, Public Sector, Medallia

9:40am - 10:10am

VOC 101 - A Quick Start Guide with a Long Term Vision

So you want to get started with a CX initiative but don't want this to be a multi year science project before you start to see results? Tired of attending events that focus on the conceptual when what you're really after is the tactical? You've come to the right place. Learn how you can start a VOC program right away in order to maximize impact while also achieving compliance and, just as importantly, building in a way that positions you for future/continued evolution - something you don't need to rip out when you're ready to take that next step

Chelsea D'Angona, Administrator of Customer Experience, U.S. Patent and Trademark Office
Brian Andrews, Senior CX Principal, Medallia; Former Chief Customer Officer for Sprint and Intuit
Moderator: Audrey Vaughn, Principal, Public Sector, Medallia

10:10am - 10:20am

Networking Break

10:20am - 11:05am

Quick Hit Case Studies

CX initiatives can start anywhere. Too often, teams can get wrapped up in trying to find the perfect fit or holistic solutions. In reality, there are endless areas that can benefit from listening to your customers. Not only does it help in that specific scenario but also creates a pull within the organization for more CX once success is recognized. Hear a few stories about just how some agencies decided to dip their toe in.

Randy Reeves, Under Secretary for Memorial Affairs, U.S. Department of Veterans Affairs
John Leonard, Executive Director, Trade Policy and Programs, U.S. Customs and Border Protection
Garey Rice, ReImagine HHS Lead, U.S. Department of Health and Human Services
Moderator: Drew Howell, Principal & Co-Founder, Public Sector, Medallia

11:05am - 11:35pm

The Challenges You'll Face

What are the biggest hurdles that agencies face as they begin their CX transformation journeys? We let you, the customer, share your thoughts. This session will present the results of this brief study and then feature speakers who will share perspectives on those most pressing challenges and how to overcome them.

Martha Dorris, Founder, Dorris Consulting International (DCI)
Rick Parrish, Principal Analyst Serving Customer Experience Professionals, Forrester
Moderator: Zac Trojak, Principal and Co-Founder, Public Sector, Medallia

11:35 - 12:05

Feedback is a Gift - Tying it All Together

Whether it be focusing on the metrics that matter, engaging employees in a customer experience transformation or reforming processes that hinder customer experience, feedback from your customers is the critical underpinning that helps tie it all together. Learn more about the importance of this seemingly simple concept and how you can leave today's event with a plan for immediate action.

Linda Verba, Chief Experience Officer, Flipt & Former EVP of Service Strategy for TD Bank
Moderator: Brian Michael, VP & GM, Public Sector, Medallia