NEED TO KNOW MEMO
Big Data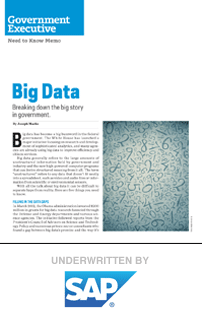 Big data has become a big buzzword in the federal government. The White House has launched a major initiative focusing on research and development of sophisticated analytics, and many agencies are already using big data to improve efficiency and citizen services.
Big data generally refers to the large amounts of unstructured information held by government and industry and the new high-powered computer programs that can derive structured meaning from it all. The term "unstructured" refers to any data that doesn't fit neatly into a spreadsheet, such as video and audio files or information from scientific or environmental sensors.
With all the talk about big data it can be difficult to separate hype from reality. Here are five things you need to know.
Underwritten by SAP
IMPORTANT NOTICE Any information you supply is subject to our privacy policy. Access to this report is available to registered members at no cost. In order to provide you with this free service, the Government Executive Media Group may share member registration information with underwriters and partners.