Remember the Time Fidel Castro Asked FDR for $10?
Obama has sent the first direct mail between Cuba and the U.S. in five decades. But it's not the first historic letter between the countries.
Earlier this week, just ahead of making the first visit by a sitting American president to Cuba in 88 years, Barack Obama cultivated a very special pen pal. Sitting at the Resolute desk in the Oval Office, he wrote a note to Ileana Yarza, a 76-year-old retired economist in Cuba who had sent him several letters over the years, often arguing for the lifting the U.S. embargo against her country, a blockade that has been in place most of her adult life. In her latest message, Yarza described the embargo as a "black page on American history and geopolitics," invited the president and the first lady for Cuban coffee at her home in Havana during their visit next week, and expressed her eagerness to meet a "charming president whose open smile wins hearts."

 Obama responded

, in a letter that was then loaded onto the first flight transporting direct mail from the United States to Cuba since the 1960s—one 

consequence

 of the recent restoration of U.S.-Cuban diplomatic and commercial relations. (Like all things U.S.-Cuban, this subject is contentious: There's 

debate

 over when precisely postal service was suspended. Some claim the suspension resulted from a raft of U.S. measures to isolate Cuba in the early 1960s, while others say it stemmed from a letter bomb sent from New York to Cuba in 1968. Before this week, mail was 

typically routed

 through third-party countries like Canada and Mexico.)
Dear Ileana:

Thank you for your kind words. I appreciate your support over the years, and I hope this note—which will reach you by way of the first direct mail flight between the United States and Cuba in over 50 years—serves as a reminder of a bright new chapter in the relationship between our two nations.

I am looking forward to visiting Havana to foster this relationship and highlight our shared values—and, hopefully, I will have time to enjoy a cup of Cuban coffee.

Sincerely,

Barack Obama
For a letter 50 years in the making, Obama's is rather underwhelming and formulaic (and sooo noncommittal—"hopefully, I will have time to enjoy a cup of Cuban coffee" should give Ileana no assurance that he'll be enjoying that cafecito with her). But it's historic nonetheless.
It's also a poignant reminder of the extent to which the dysfunctional U.S.-Cuban relationship has been mothballed all these years, and must still be modernized. Note that the White House is trumpeting its first direct-mail letter, not its first Snapchat, to the Cuban people. Pictures like the one above, of Yarza holding a print-out of Obama's message as she awaited opening the real thing, only underscored the disconnect between the state of bilateral communications and communication technologies, between 90 miles of separation and 56 years of stubborn isolation.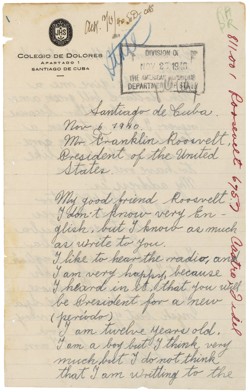 Poignant too is the fact that Yarza wrote her letters in the first place. She learned her English in American-run schools, theAssociated Press reports, before Fidel Castro's 1959 revolution tore the intimate ties between Cuba and the U.S. asunder.
Fidel himself wrote a letter to the United States in 1940, around the time that Ileana Yarza was born. He addressed it to, of all people, the president of the United States, Franklin Delano Roosevelt. Identifying himself as a 12-year-old Cuban with bad English (he may actually have been 14), he asked FDR for a $10 bill and offered to provide access to his country's iron mines to help construct American ships.
Here's what the future Cuban president and American archenemy said, in part (misspellings included):
Mr. Franklin Roosvelt, President of the United States.

My good friend Roosvelt: I don't know very English, but I know as much as write to you.

I like to hear the radio, and I am very happy, because I heard in it, that you will be President for a new (periodo)

I am twelve years old.

I am a boy but I think very much but I do not think that I am writing to the President of the United States.

If you like, give me a ten dollars bill green american, in the letter, because never, I have not seen a ten dollars bill green american and I would like to have one of them. …

I don't know very English but I know very much Spanish and I suppose you don't know very Spanish but you know very English because you are American but I am not American.

(Thank you very much) Good by. Your friend,

Fidel Castro

If you want iron to make your ships I will show to you the bigest (minas) of iron of the land. They are in Mayarí, Oriente Cuba.
Fidel never received a personal response from the U.S. president, let alone $10 (he did get a reply from the U.S. embassy). His correspondence with America, you might say, was only just beginning, and would soon take a much darker tone. Seventy-six years later, Fidel's country will be receiving the U.S. president himself.