GOVERNMENT EXECUTIVE MAGAZINE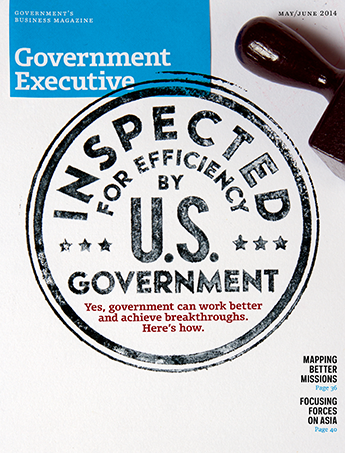 Government Executive : Vol. 46 No. 3 (May/June 2014)
ISSUE:
May 09, 2014 – Vol. 46, No. 3
FEATURES
By Aneesh ChopraHow a small group of entrepreneurs transformed key government services.
By Charles S. ClarkThe Commerce Department takes an entrepreneurial approach to setting its strategic targets.
By Donald F. KettlPresident Obama's legacy is at risk if he doesn't make government work better.
EDITOR'S NOTEBOOK
By Tom Shoop In the end, federal leaders are judged on how well they make government work.
BRIEFING
By Jackson NickersonHow to lead them off the path of least resistance and inspire innovative thinking.
By Eric Katz, Kellie Lunney, Charles S. Clark and Patrick TuckerSpidey's speedy delivery, states and their federal money, weather forecasts months in advance.