GOVERNMENT EXECUTIVE MAGAZINE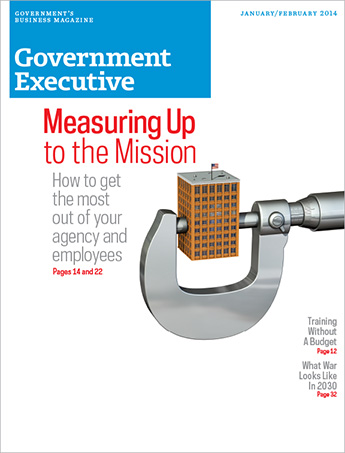 Government Executive : Vol. 46 No. 1 (Jan/Feb 2014)
ISSUE:
Jan 21, 2014 – Vol. 46, No. 1
BRIEFING
By Eric Katz and Brittany BallenstedtSequestration relief, why feds aren't teleworking, big data saves lives.
By Jackson NickersonNo training funds? Don't despair. There are other ways to beef up your team's expertise.
EDITOR'S NOTEBOOK
By Tom Shoop As times change in the government and media world, so does this magazine.
FEATURES
By Charles S. ClarkWhat makes effective agencies tick.
Former political appointees share management insights.
By Kellie LunneyToday's successful career federal executive defies the stereotype of the paper-pusher of the past.