GOVERNMENT EXECUTIVE MAGAZINE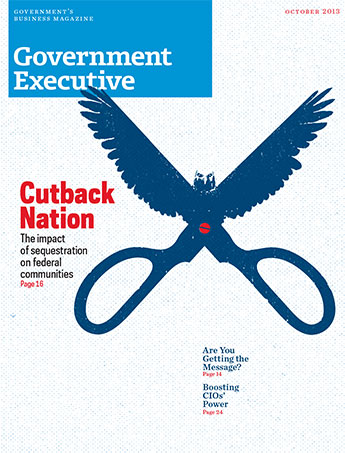 Government Executive : Vol. 45 No. 7 (October 2013)
ISSUE:
Oct 01, 2013 – Vol. None, No. None
BRIEFING
By Charles S. ClarkPolicy directives and other communications travel a labored path down through the ranks.
By Aliya SternsteinDHS and Congress rethink surveillance gear along the U.S.-Mexico border.
Feds go to bat, military families on food stamps, NASA's Viking spirit.
NEXTGOV
By Bob BrewinThe Blue Button technology tool is revolutionizing the doctor-patient relationship.
Tunnel vision, Navy's one-stop app, online ID.
EDITOR'S NOTE
By Tom Shoop What Uncle Sam provides, he also can take away.
FEATURES
By Joseph MarksLawmakers want to plot a different course for federal chief information officers. That won't be easy.
By Kellie LunneyWashington's budget cuts have been felt in federal communities far and wide. And the pain could be just beginning.
ANALYSIS
By Stephanie Gaskell, On DefenseAs al Qaeda's power dwindles, the Taliban and criminals could capitalize on instability in the region.