GOVERNMENT EXECUTIVE MAGAZINE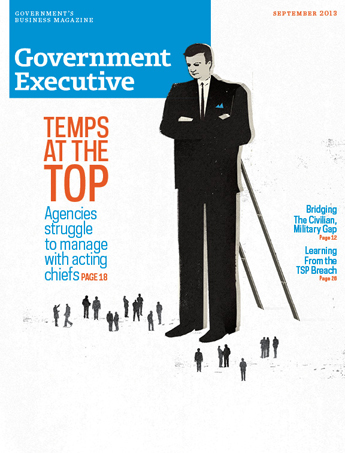 Government Executive : Vol. 45 No. 6 (September 2013)
ISSUE:
Sep 01, 2013 – Vol. 45, No. 6
FEATURES
By Charles S. ClarkA gridlocked presidential appointments process leaves many agencies operating with acting chiefs.
By Aliya SternsteinThe Thrift Savings Plan bounces back from the theft of personal data on thousands of beneficiaries.
NEXTGOV
By Aliya Sternstein, Bob Brewin and Joseph MarksGhost viruses, ID iris scans, lagging IT reform.
By Joseph MarksBeta website simplifies the contracting process.
EDITOR'S NOTEBOOK
By Tom Shoop How to be effective even under today's trying conditions.
BRIEFING
By Charles S. ClarkCongressional tip line lends an ear to whistleblowers whose complaints have gone unanswered.
By Rebecca Carroll, Susan Fourney and Eric KatzGI films, STEMM jobs, David Walker on waste.
By Kellie LunneyIt's time for vets and civilians to really get to know each other.
DEFENSE
By Kevin Baron, DefenseGen. Martin Dempsey's next mission is to balance global strategy with fiscal reality.