GOVERNMENT EXECUTIVE MAGAZINE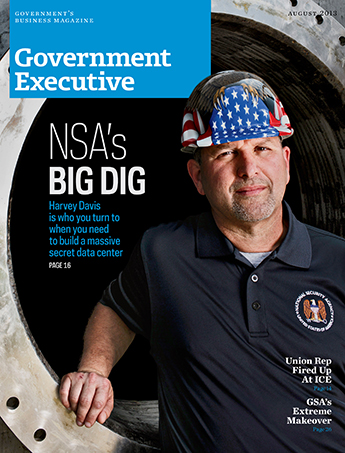 Government Executive : Vol. 45 No. 5 (August 2013)
ISSUE:
Aug 01, 2013 – Vol. 45, No. 5
FEATURES
By Charles S. ClarkGSA's Dan Tangherlini has launched an extreme makeover to push the agency out of its scandal-tainted ...
By Aliya SternsteinIt's no secret that Harvey Davis has a sensitive job building massive spy data centers.
BRIEFING
By Eric KatzA federal labor leader breaks from his customary role to protest immigration legislation.
By Kellie LunneyAs Congress debates how to fix sexual assault in the military, bills could make it easier for victims to obtain ...
By Kellie Lunney, Joseph Marks and Eric KatzDecoding rap and regs, playing to strengths, salary gaps and the sexes.
EDITOR'S NOTEBOOK
By Tom Shoop A new publication for a new era in national security.
NEXTGOV
By Aliya SternsteinContractors seeking FedRAMP certification encounter hurdles.
By Bob Brewin, Joseph Marks and Kedar PavgiAmazon's advantage, a social State Department, paperless VA.