GOVERNMENT EXECUTIVE MAGAZINE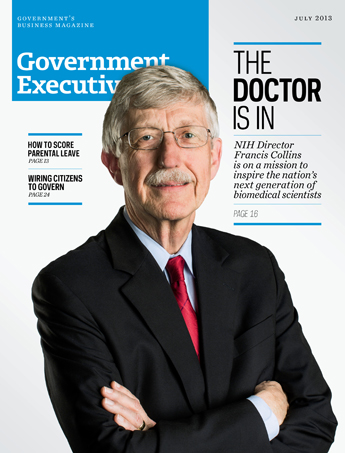 Government Executive : Vol. 45 No. 4 (July 2013)
ISSUE:
Jul 01, 2013 – Vol. 45, No. 4
BRIEFING
By Kellie LunneyThe government's parental leave policy is limited, but it's more flexible than some realize.
By Charles S. ClarkHomeland Security's training institute seeks to mold a smarter acquisition workforce.
By Charles S. Clark, Chawndese Hylton, Susan Fourney, Eric Katz and Kedar PavgiDebating the draft, help for feds in Oklahoma, the perils of personal email.
NEXTGOV
By Aliya SternsteinDHS is caught up in a decade-long struggle to secure port facilities with biometrics.
By Aliya Sternstein, Bob Brewin and Joseph MarksBoosting access to federal data, securing mobile devices, the joint health record mess.
EDITOR'S NOTEBOOK
By Tom Shoop A shortsighted decision to shut down a senior executive bonus program.
FEATURES
By Mark Micheli, FeaturesNIH's Francis Collins isn't afraid to take risks in his fight for the future of biomedical research.
By Joseph Marks, FeaturesAgencies used to broadcast their messages through social media; now citizens are talking back.