GOVERNMENT EXECUTIVE MAGAZINE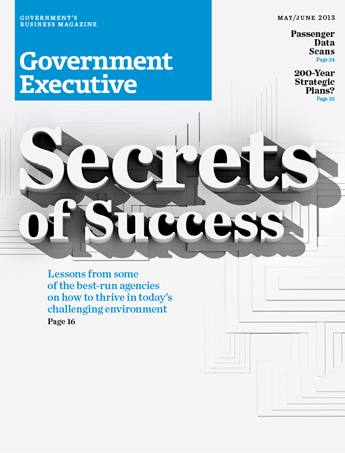 Government Executive : Vol. 45 No. 3 (May/June 2013)
ISSUE:
May 28, 2013 – Vol. 45, No. 3
BRIEFING
By Charles S. ClarkA little-known agency deploys teams to find faulty regulations after chemical disasters.
By Eric KatzTo reduce costs, USPS is partnering with local businesses to offer retail services.
By Charles S. Clark, Chawndese Hylton and Kedar PavgiVA's oldest beneficiaries, agencies going solar and pricey portraits.
NEXTGOV
By Aliya SternsteinThe Army wants to protect brand-name smartphones and tablets on the front lines.
By Aliya Sternstein, Bob Brewin and Joseph MarksTransparency moves, TRICARE budget shift and CIOs for IT reform.
EDITOR'S NOTEBOOK
By Tom Shoop Striving for high-performance government under trying circumstances.
ADVICE AND COMMENT
By John KamenskyFor many agencies, it's a good idea to look beyond the next three or four years.
By Jessica Herrera-Flanigan Outgoing DHS deputy Jane Holl Lute sheds light on the changing dynamics of countering threats.
By Kedar PavgiOpen communication and strong relationships are central to Scott Horvath's social media success.
FEATURES
By Kellie Lunney, FeaturesManaging through tough times is a challenge, but crisis creates opportunity too.
By Aliya Sternstein, FeaturesSA wants data aggregators to screen airline passengers, but digital records can be unreliable.