GOVERNMENT EXECUTIVE MAGAZINE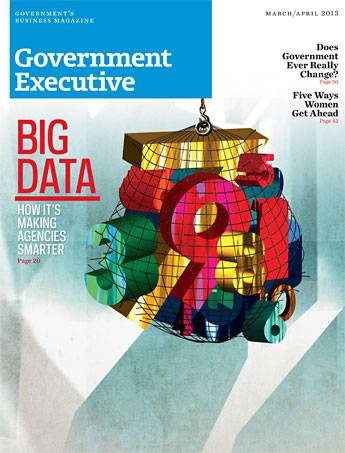 Government Executive : Vol. 45 No. 2 (March/April 2013)
ISSUE:
Apr 01, 2013 – Vol. 45, No. 2
BRIEFING
By Kellie LunneyMany take advantage of their agencies' transportation subsidies, but not everyone receives the same parking or ...
By Charles S. ClarkSpecial IG John Sopko faces trouble head on to pull Afghanistan reconstruction contracts back on track.
By Kellie Lunney and Kedar PavgiHold the fries at USDA, tapping official time and protecting ex-presidents.
FEATURES
By Charles S. ClarkTwo decades ago, Al Gore set out to remake government. How did that work out?
By Joseph MarksThe government's big investment in big data is changing what we know and how we know it.
EDITOR'S NOTEBOOK
By Tom Shoop What sequestration means for government operations.
NEXTGOV
By Aliya SternsteinAfter a trial run, ICE issues Apple devices for work and personal use.
By Bob Brewin and Joseph MarksRebooting IT, replacing a contracting dinosaur and averting scandal.