GOVERNMENT EXECUTIVE MAGAZINE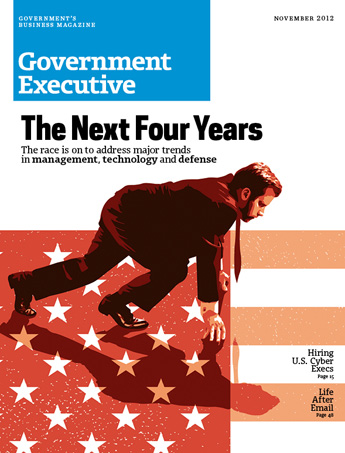 Government Executive : Vol. 44 No. 12 (11/1/12)
ISSUE:
Nov 01, 2012 – Vol. 44, No. 12
FEATURES
By Dan TaylorAs the Pentagon shifts its attention to the Asia-Pacific region, strategists look for ways to absorb funding cuts and ...
By Joseph MarksFederal IT is tipping the balance of power.
By Charles S. ClarkTo keep up, executives must tackle four important trends.
EDITOR'S NOTEBOOK
By Tom Shoop The disappointing debate over the role of government.
NEXTGOV
By Joseph MarksThe National Nuclear Security Administration aims to stop the barrage of useless emails with a workplace social network.
By Aliya Sternstein, Bob Brewin, Joseph Marks and Dawn LimReforming IT purchasing, a worm-proofing app and predicting suicides.
ADVICE AND COMMENT
By Elizabeth Newell Jochum, Management Matters - Advice And CommentDaily chats can help employees grow—so they don't go.
By Timothy B. Clark, PerspectivesIn support of our worldwide military presence.
By Bryan Klopack, Thinking AheadNIH's Lynne Mofenson took a bold approach to wiping out mother-to-child transmission of HIV.