GOVERNMENT EXECUTIVE MAGAZINE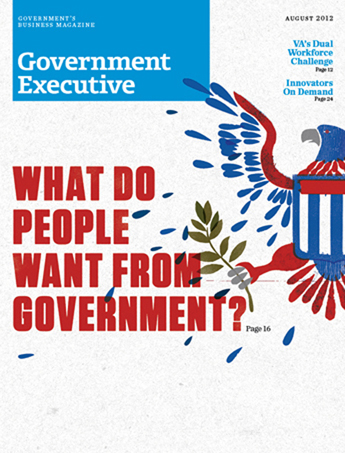 Government Executive : Vol. 44 No. 8 (8/1/12)
ISSUE:
Aug 01, 2012 – Vol. 44, No. 8
FEATURES
By Joseph MarksChief Technology Officer Todd Park taps industry's risk-takers to unleash creative solutions in government.
By Timothy B. ClarkMany Americans say they want smaller government. We're about to find out if they really mean it.
BRIEFING
By Charles S. ClarkRetiring National Park Service historian Harry Butowsky leaves behind a trove of artifacts online.
By Amanda PalleschiVA boosts veteran recruiting, but the specter of job downgrades could complicate the effort.
By Charles S. Clark, Amelia Gruber, Rebecca Carroll and Eric KatzConvention delegates beware, Peace Corps Vets, uniform taboos and record drug busts.
NEXTGOV
By Andrew LapinThe State Department's obliquely worded e-reader contract offers a lesson in diplomacy.
By Aliya Sternstein, Bob Brewin and Joseph MarksEyeing employee emails, passing on PCs and the data center energy drain.
ADVICE AND COMMENT
By Bob Brewin, Thinking AheadManaging White Sands Missile Range, which spans five counties, has taught Brig. Gen. John Ferrari how to keep the ...
By Shane Harris, Intelligence FileWhen is a secret no longer a secret? It depends on who's talking.
By Elizabeth Newell Jochum, Management Matters - Advice And CommentContract award debriefings provide a unique opportunity to build credibility with industry.