GOVERNMENT EXECUTIVE MAGAZINE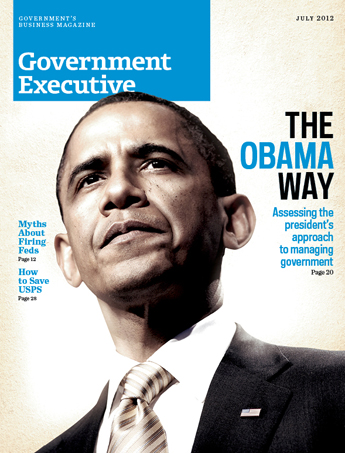 Government Executive : Vol. 44 No. 7 (7/1/12)
ISSUE:
Jul 01, 2012 – Vol. 44, No. 7
FEATURES
By Amanda PalleschiAs the U.S. Postal Service struggles under its own weight, some are looking across the pond for answers.
By Charles S. ClarkHow President Obama's management style has evolved.
BRIEFING
By Aliya SternsteinHomeland Security cyber chief Mark Weatherford joins the FBI and Defense Department in the fight against hackers.
By Kellie LunneyFiring a fed is not easy, but it's not mission impossible either.
By Charles S. Clark, Andrew Lapin and Bob BrewinBattle of the blaze, game spirit, counting plum jobs and the invisible war.
EDITOR'S NOTEBOOK
By Tom Shoop From candidate of change to federal CEO.
NEXTGOV
By Bob BrewinHuman processes, not technology, will be the biggest challenge for developers of the Defense-VA electronic health record.
By Katherine McIntire Peters, Aliya Sternstein, Bob Brewin and Joseph MarksNetwork defense, the cloud takes off and the rat factor.
ADVICE AND COMMENT
By Andrew Lapin, Thinking AheadDeborah Temkin takes bullying to heart and is leading the Education Department's campaign against it.
By Elizabeth Newell Jochum, Management Matters - Advice And CommentGroup mentoring meets a variety of needs where one-on-one programs fall short.
By Timothy B. Clark, PerspectivesEmbassy visit shines a light on the diverse roles of U.S. diplomacy.