GOVERNMENT EXECUTIVE MAGAZINE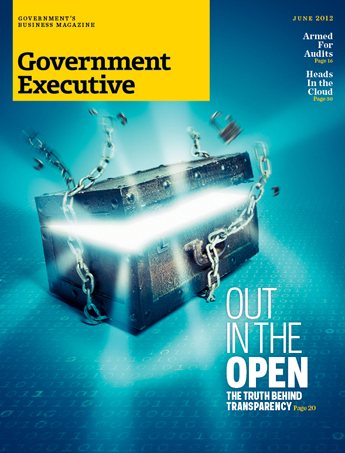 Government Executive : Vol. 44 No. 6 (6/1/12)
ISSUE:
Jun 01, 2012 – Vol. 44, No. 6
FEATURES
By Brittany BallenstedtA floating workforce on demand, much like Web-based computing services, could revolutionize the way government works.
By Joseph MarksIn a world where open data doesn't always mean open government, progress is tough to gauge.
BRIEFING
By Charles S. ClarkFor Pentagon comptroller Robert Hale, the ultimate battle is straightening out the military services' financial statements.
By Kellie LunneyThe Office of Personnel Management is finally chipping away at its 50,000-plus backlog of retirement claims, but ...
By Andrew Lapin, Aliya Sternstein and Jean FogartyVeterans back in the saddle, upward mobility and trip tips.
EDITOR'S NOTEBOOK
By Tom Shoop Talking past each other in the debate over transparency in government.
NEXTGOV
By Aliya SternsteinDHS and the Pentagon are providing first responders with geographic data to locate critical roads, levies and power ...
By Aliya Sternstein, Bob Brewin and Joseph MarksCrime stopper, VA backlog backlash, CTO clout and conduct unbecoming.