GOVERNMENT EXECUTIVE MAGAZINE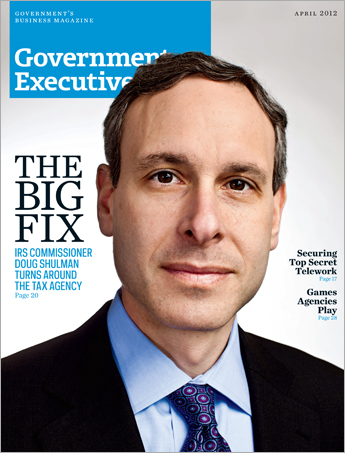 Government Executive : Vol. 44 No. 4 (4/1/12)
ISSUE:
Apr 01, 2012 – Vol. 44, No. 4
FEATURES
By James R. ThompsonDoug Shulman is reaping the returns on his campaign to turn around one of government's biggest modernization efforts.
By Dawn LimUsing high-tech puzzles that reward ingenuity and play, federal agencies are tapping crowds for answers to problems they ...
EDITOR'S NOTE
By Tom Shoop The genuine issues behind its slow adoption in government.
NEXTGOV
By Bob BrewinTop Army commanders rely on soldier evaluations to refine battlefield network gear.
By Aliya Sternstein, Bob Brewin and Joseph MarksSolyndra's silver lining, DHS' exit plan and pulling the plug on the iPad.
ADVICE AND COMMENT
By Joseph Marks, ViewpointGray Brooks weeds out the clutter on FCC.gov to help visitors find vital information, reports and regulations.
By Elizabeth Newell Jochum, Management Matters - Advice And CommentManagers can make or break health programs.
By Shane Harris, Intelligence FileBefore drones take off, we might want to think about our future.