GOVERNMENT EXECUTIVE MAGAZINE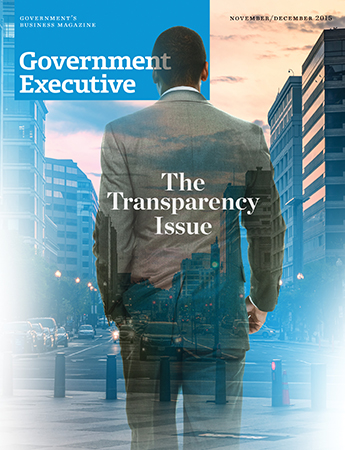 Government Executive : Vol. 47 No. 6 (Nov./Dec. 2015)
CURRENT ISSUE:
Nov 17, 2015 – Vol. 47, No. 6
ANALYSIS
By Eric KatzA broken budget system casts a dark shadow over federal spending.
By Mohana RavindranathCIA staffers take to Twitter to shed light on the agency's mission.
By Charles S. ClarkThe concept of openness hasn't accelerated the response to Freedom of ...
BRIEFING
GAO's Gene Dodaro and David Powner see progress and potential to improve visibility across government programs.
By Marcus WeisgerberForeign defense firms want a cut of U.S. business.
By Timothy B. ClarkAs we bid farewell to the printed page, we look forward to a digital future.
EDITOR'S NOTEBOOK
By Tom Shoop The last print edition of Government Executive.
FEATURES
By Kellie LunneyGovernment public affairs offices have a responsibility to share information with the public, but they also ...
By Aliya SternsteinPresident Obama's push for transparency into government spending may have run out of steam.