Fedblog

Government Executive Editor in Chief Tom Shoop, along with other editors and staff correspondents, look at the federal bureaucracy from the outside in.
In the annals of American government, Charles Lyman is little more than a footnote. But he holds the distinction of not only being a central figure in the creation of the modern civil service, but an exemplar of dedication to a career of high-ranking service in the federal government at a time when such a thing was exceedingly rare. During this Public Service Recognition Week, it's worth taking note of his accomplishments.
Lyman was born in Bolton, Connecticut in 1843, according to a 2008 biography by the town historian. He fought in the Civil War at Antietam, Fredericksburg and Chancellorsville. Then "he began the active work of life in 1864, by entering the government service in Washington, District of Columbia, as a clerk in the Treasury Department," reads an entry on Lyman in the 1906 collection, Men of Mark in America.
He rose through the ranks at Treasury, winning appointments as a civil service examiner and then chief examiner. In 1886, he was named to the Civil Service Commission. In 1889, Lyman was appointed president of the commission, and was joined on the panel by an energetic reformer named Theodore Roosevelt.
"While Mr. Roosevelt's work and attention were...
By Tom Shoop
April 17, 2019
In this, the 50th anniversary year of Government Executive, we're taking an occasional look back at some of our most influential articles. We'll start with the cover story of the October 1989 issue of the magazine, "Hollow Government."
The piece sounded the alarm about the "incapacitating consequences of continuing austerity" for federal agencies. "Pervasive shortfalls in funds for the basic infrastructure costs of providing government services—personnel, computers, training, capital equipment—have compromised the ability of almost every government entity to accomplish its traditional mission," wrote the article's author, Mark L. Goldstein.
He included several examples, which will sound familiar to those in and around the world of government management:
"The Department of Veterans Affairs has such a shortage of doctors and nurses that many of its hospitals can only accommodate critical care patients. … Patients may wait hours for help in hallways or unmade beds."
"While attendance at national parks increased by 62 million between 1980 and 1988, full-time staff at the National Park Service remained fairly flat."
"The IRS, even with new computers, has seen the percentage of tax returns it audits every year drop almost in half between 1978 and 1987."
"The recent generic drug...
By Charles S. Clark
April 16, 2019
Washington Metro riders, who presumably include ambitious young career seekers who speak foreign languages, this month began encountering an unusual display at the Foggy Bottom metro station.
Bedecking the upper platform of the metro stop just blocks from the State Department is an array of recruiting posters from the normally secretive CIA.
"There's a whole world of opportunities to use your foreign language skills at the CIA," proclaims the blue banners outfitted with the CIA's official seal and website address (www.cia.gov/careers.). Perhaps as an initial screening, mysterious headlines appear in Arabic, Russian and other languages.
"As an intelligence service, languages are critical to CIA's work, and Director [Gina] Haspel has made foreign language excellence a priority," CIA media spokesperson Nicole de Haay told Government Executive. "CIA's workforce collectively speaks about 80 languages, and we're actively seeking individuals with foreign language skills to help us meet national security challenges. Advertising for foreign language positions is just one of many ways we're connecting talented people with an array of career opportunities at the agency."
The agency has also taken the message to Twitter:
Did you know that your language abilities can make America...
By Tom Shoop
April 8, 2019
Click here for more information and to nominate someone
This year marks the 50th anniversary of Government Executive, and in honor of that landmark, we're introducing a new awards program to honor distinguished federal managers and executives and industry leaders for outstanding achievement in delivering on government's promise to serve the American people.
The Theodore Roosevelt Government Leadership Awards and Government Hall of Fame will bring much-needed focus on high-achieving managers and executives who are meeting unprecedented challenges.
The Leadership Awards program will annually recognize an all-star team in the following categories:
Visionaries: For those who have developed promising new approaches to solving government's biggest challenges
Directors: For excellence in managing people, programs and policy implementation
Pathfinders: For innovation in bringing advances in information technology to government
Defenders: For distinguished achievement in national security, homeland security and international affairs
Masters: For noteworthy accomplishments in science-related endeavors in areas such as space, health, environment, energy and agriculture
Partners: For private-sector allies whose support and guidance of government initiatives was key to their success
In addition to the Leadership Awards, the Government Hall of Fame will enshrine the best of the best: those who have demonstrated sustained achievement and...
By Eric Katz
March 29, 2019
Searching for this summer's hottest new look? The U.S. Postal Service is hoping to deliver.
The mailing agency has partnered with the clothing outlet Forever 21 to put classic USPS logos on a new line of tube tops, belts, jackets and more. The USPS collection launched earlier this month features postal designs from the 1970s through the 1990s.
The line is officially licensed through the Postal Service and will generate royalty revenue for the cash-strapped agency, according to Dave Partenheimer, a USPS spokesman. It will also "build brand awareness among a younger audience," he said.
» Get the best federal news and ideas delivered right to your inbox. Sign up here.
Shoppers can pick up tube tops that say "PRIORITY," joggers with a retro "EXPRESS" logo, a windbreaker with barcodes on it or a sweatshirt with a postal receipt on the back.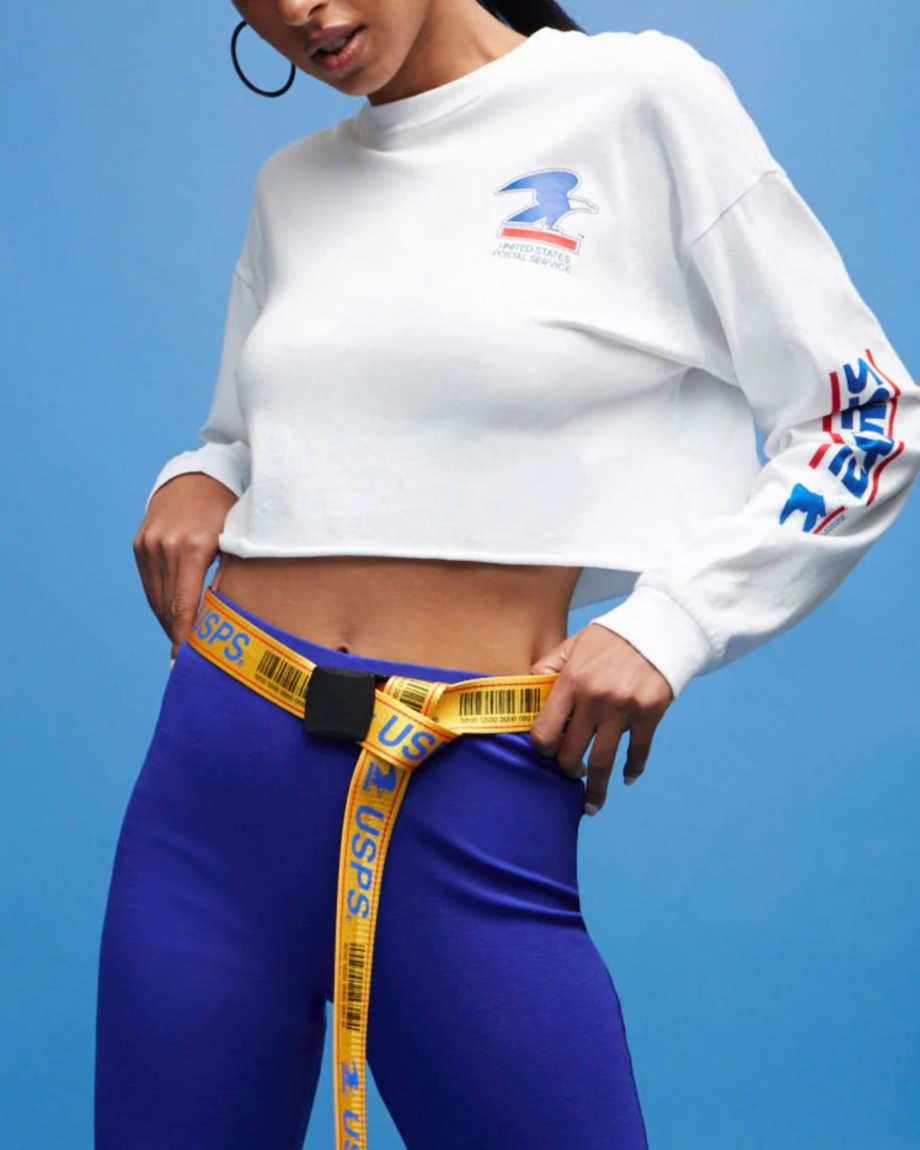 Postal employees will not be asked to wear the new threads.
"This collection is not part of the official USPS uniform and will not be worn by postal employees while on duty," Partenheimer said.
There could be one catch for the Postal Service, which has lost billions of dollars over the last decade and is...