Environmental Protection Agency Administrator Scott Pruitt made news on April 13 when he visited coal miners at the Harvey Mine in Sycamore, Pa., where he announced a new "Back to Basics Agenda" for the agency. Within days, a poster showing Pruitt with the miners went on display in the lobby of EPA headquarters in Washington's Federal Triangle with the new agenda: "Protecting the environment; engaging with partners; and creating sensible regulations for economic growth."
The new battle plan "means returning EPA to its core mission," Pruitt said at the Pennsylvania rally. "The coal industry was nearly devastated by years of regulatory overreach, but with new direction from President Trump, we are helping to turn things around for these miners and for many other hard working Americans."
Though few EPA employees would be surprised by the post-election shift in focus—Trump wants to cut the agency's budget by 31 percent and lay off 3,200 employees—the poster hasn't exactly raised morale among staff, according to insiders.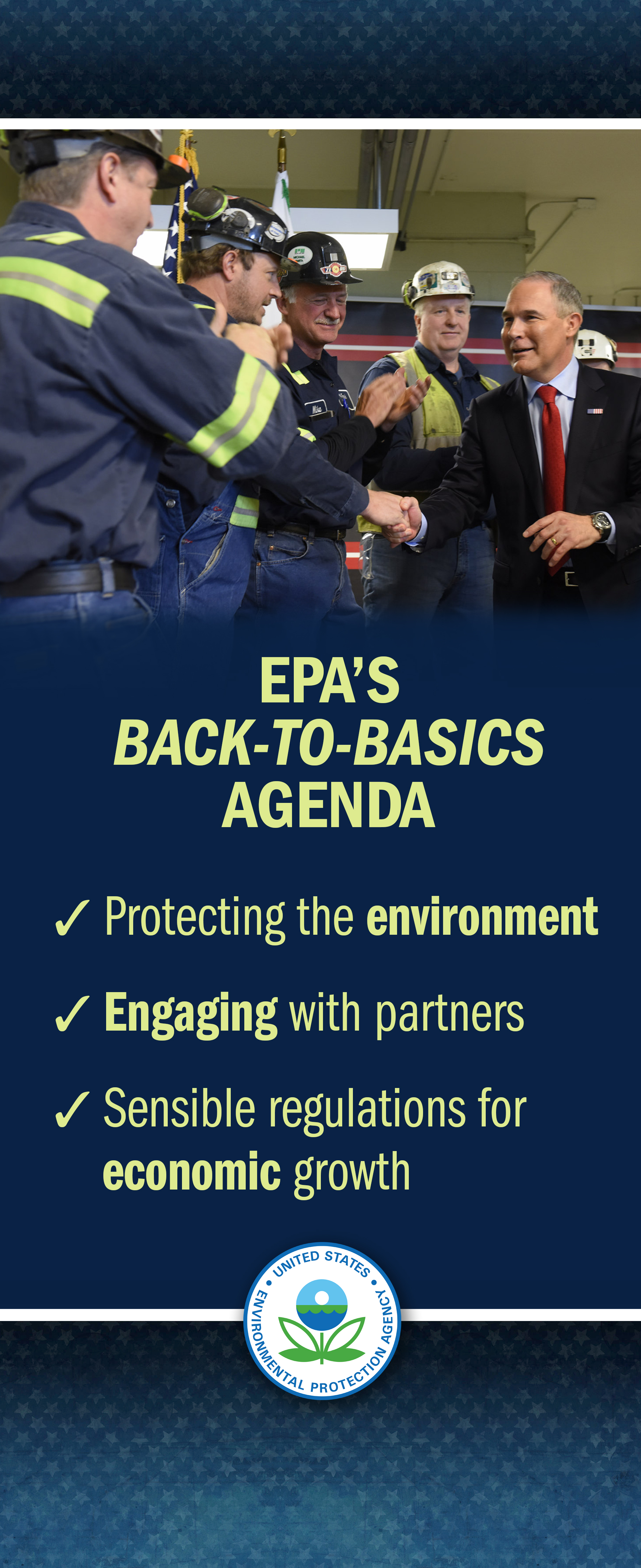 The notion that EPA would be bringing jobs back to the coal industry—a major pollutant in decline largely because of competition from natural gas—is tough to stomach for people who've devoted their careers to protecting air and water.
A look at the agency's founding documents shows goals with a very different emphasis. The 1969 National Environmental Policy Act, which then-President Richard Nixon used to reorganize the government and create the new agency by executive order, said the government's role was "to declare a national policy which will encourage productive and enjoyable harmony between man and his environment; to promote efforts which will prevent or eliminate damage to the environment and biosphere and stimulate the health and welfare of man; to enrich the understanding of the ecological systems and natural resources important to the nation."
The first EPA administrator, William Ruckelshaus (appointed by both Presidents Nixon and Gerald Ford), said on Dec. 16, 1976, that the agency had "a broad responsibility for research, standard-setting, monitoring and enforcement with regard to five environmental hazards; air and water pollution, solid waste disposal, radiation, and pesticides."
EPA did not respond to Government Executive queries for comment on the poster.