A new computer system was supposed to speed up immigration processing
and reduce fraud, but it hasn't worked out as planned.

By Aliya Sternstein
If there's one thing politicians of all stripes can agree on, it's this: The immigration system is broken. What's less obvious is the extent to which that's physically true. An online system that was supposed to automate the processing of green cards and other immigration benefits has struggled to function properly since at least 2009. When President Obama in November 2014 announced a series of executive actions that would expand the population of immigrants eligible to remain in the United States, he placed a highly vulnerable technology program center stage in a major policy fight.
Welcome to the Electronic Immigration System, or ELIS, a nod to America's gateway. Originally slated to cost $536,000 and be completed by 2013, the program designed to improve immigration processing has ballooned to a price tag of $2.6 billion and isn't expected to be fully operational until 2018 or 2019.
The long-delayed website has burned through more than a billion dollars, mainly from refugees, asylum seekers and other foreigners who fund the system through application fees. It now faces an influx of more than 5 million petitioners under Obama's executive actions on immigration—if ELIS ever becomes capable of handling the relevant forms. Today, casework is mostly paper-based. An estimated 13,000 full-time officers and 5,000 contractors process about 6 million immigration benefit applications annually. ELIS, run by the Homeland Security Department's U.S. Citizenship and Immigration Services, currently handles only a few types of applications. The agency is attempting to accelerate the rollout of the system through cloud computing and by building features in stages, rather than turning on a potentially dysfunctional system all at once.
Those approaches might eventually do the trick, say former agency personnel, lawmakers and the Homeland Security inspector general. But what's been lost during multiple redesigns are fraud checks and cohesion, critics say. Consequently, field offices continue to rely on their own incompatible systems, some of which are decades old. And perhaps most troubling to everyone involved, paper files have proved more efficient than ELIS as it currently operates.
"Transitioning to an electronic system would improve USCIS' search capability, help it analyze for patterns, and share information on an interagency basis," says a staffer on the Senate Homeland Security and Governmental Affairs Committee. The panel in February held a hearing to examine the executive actions, which are anticipated to delay the removal of millions of undocumented individuals brought to America as children and parents of lawful permanent residents.

It's all about going faster, coding faster, making the decisions faster—but no one is making sure that they are the right decisions. Former USCIS manager
ELIS was conceived to help caseworkers expedite cases like these with fraud curbs and document sharing, and the public-facing website aimed to provide applicants with better customer service.
But it doesn't seem to be offering anyone much help right now. ELIS was not equipped for the expanded Deferred Action for Childhood Arrivals (DACA) program when USCIS began accepting applications in February.
Senate staffers say they were told ELIS should be ready for immigrants to request so-called Deferred Action for Parents of Americans (DAPA) by that program's May target date. If personnel at the USCIS Fraud Detection and National Security Directorate do not have access to ELIS for parental applicants, "then the benefits to the system are greatly diminished," the staffers say. But they're skeptical that will happen.
29 PUZZLE PIECES
ELIS is key to USCIS' Transformation program, which intends to turn fragmented, paper-based processes into a centralized, electronic adjudication system. But a July 2014 inspector general report found it actually takes twice as long to close a case using ELIS as with paper documents. The 100 to 150 clicks required for moving between sublevels and opening documents are one reason for the lag time. "USCIS has been limited in its ability to make changes to ELIS because of challenges with the existing architecture," Richard Harsche, acting assistant IG for the DHS Office of IT Audits, said in the report. "The architecture consists of 29 commercial software products, which are difficult to integrate." 
Most modifications were to take place by the end of 2014, during a transition to a more flexible architecture. USCIS and Homeland Security officials declined to comment on whether tweaks were made. 
Over the past two years, USCIS has built an entirely new ELIS system," agency press secretary Shin Inouye says. Over the next several months and years, USCIS will transition other application types to this platform, continuously improving as the agency, public and other stakeholders gain experience with the system.
Aside from bringing the immigration system into modernity, ELIS, like many Homeland Security programs, was devised to keep out terrorists. There are questions as to whether ELIS can deliver on that promise, too. 
"The biggest problem is that the holes that were in the system that allowed the terrorists to come in—for 9/11, the Times Square bomber, all of those people—came through USCIS" and the flaws in the system remain, says a USCIS manager who departed within the past year and requested anonymity for fear of retaliation that could affect future employment. "They don't have any real-time validation of any of the documents" from banks and higher education schools. 
The former manager points to one individual who slipped through the cracks. Faisal Shahzad was naturalized as a U.S. citizen in 2009. His home was foreclosed upon that year, despite the fact that between 1999 and 2008 he had declared tens of thousands of dollars in cash following various trips overseas. About a year after obtaining citizenship he attempted to detonate explosives in Times Square. 
"The reason why verification and validation is important is because you would be able, if you could do it in real time, to see that whatever [applicants] have sent you historically is accurate and that it is still true to this day," the former official says. "With the Times Square bomber, had they had real-time verification, they would have known that he had traveled in and out of the country 13 times with $80,000 but yet still wasn't paying his mortgage." 
USCIS' Inouye says the new iteration of ELIS uses modern technology, industry-leading security and privacy practices, and "real-time connections into other systems across USCIS, DHS and other government agencies to ensure that every application is properly reviewed for eligibility, fraud, national security, and  criminality concerns."  

The holes that allowed the terrorists to come in came through USCIS. Former USCIS manager
The system, which as of February was processing three kinds of transactions, does not yet have the functionality to handle full-blown comprehensive immigration reform. Through the system, users can electronically file I-526 or I-539 forms for applying for a green card as an entrepreneur or extending a stay as a nonimmigrant, respectively. People also can pay USCIS immigrant fees.  Plus, U.S. commercial ventures can exchange documents with immigrant entrepreneurs seeking legal residency, via ELIS' Regional Center Document Library. In addition, for 72 hours in the fall of 2014, ELIS accepted the I-90 form for replacing a green card, which requires submitting fingerprints in person. USCIS called the planned experiment a "limited introduction."
The full launch will occur "in the coming months," Inouye says.
The White House stepped in to help with the green card replacement project for two weeks in June 2014, according to an Obama administration official. The assist was part of the administration's "Smarter IT Agenda" to enhance online services governmentwide, including Obamacare website HealthCare.gov. Ultimately, this work led to the creation of Obama's geek squad, the U.S. Digital Service, in August. The ELIS stint, according to the official, produced a successful "digital services pilot at USCIS to enhance Transformation's digital capacity."
At a July 2014 House Judiciary Committee hearing, USCIS Director Leon Rodriguez acknowledged the agency's IT systems had room to improve. "In many cases, the systems we have are either paper systems or legacy electronic systems that really are not enabling us to operate—we're operating very well, as much as anything else due to the ingenuity and work ethic of our people," he said. "But we could be operating better if we had a modern information system."
PUMP UP THE VOLUME
A revamp of ELIS that involves open source software and, ultimately, cloud services is underway. "The new architecture supports rigorous and ongoing performance and end user testing before deployment," Rodriguez testified. The thinking is that Web-based services will provide increased bandwidth, should more of the country's approximately 12 million undocumented foreigners need to use the system. "This will eventually allow for expansion should workload increase," Rodriguez said.
Former personnel do not see the website being capable of shouldering that burden. "They had enough capacity to run Wall Street," says Dave McDougall, a USCIS chief infrastructure solutions architect who left the agency in 2011, but continued working as a consultant for the agency in 2012. "They just aren't using it well. The system integration itself hasn't really moved along." 
In February, the Government Accountability Office placed the project on its biennial list of high-risk programs throughout the government, calling out its escalating cost and inability to demonstrate that it can meet "any" system requirements with the new approach.
"If one of the forms that ELIS can process is a form that is necessary in the DACA adjudication, then ELIS will slow it down," says former USCIS IT senior executive Harry Hopkins, who last saw internal USCIS plans in March 2014 while doing consulting work for an agencycontractor. "ELIS, having that many requests, would not be able to handle that type of volume," he says. 
It's not hard to fathom a scenario like HealthCare.gov, with a surge in demand. Yet unlike users of the online insurance marketplace, ELIS visitors might be more willing to put up with system freezes. Already accustomed to the real-world broken immigration system, they have patience. "It's the fraud thing that I'm worried the most about,"  McDougall says. The electronic system's persistent challenges "are going to create more risks as far as the ability of the system to keep up—but more importantly for the business process to keep up and still be safe for the country."
These are not hypothetical risks. 
In 2011, a former USCIS contractor received a five-and-a-half-year prison sentence for falsifying files to help illegal immigrants obtain "legal" passports. Richard Abapo Quidilla, 39, of Pico Rivera, Calif., pleaded guilty to computer fraud, among other charges. He deleted the names, birth dates, and other personal data of naturalized citizens in a database and swapped in the corresponding information for undocumented immigrants. 
There are some good reasons USCIS is a paper-based agency, the Senate aide says. It might be easier for immigration officers to verify the authenticity of physical documents. With the electronic system, agency officials "are more worried about speed of decision than accuracy," the former manager says. "It's all about going faster, coding faster, making the decisions faster—but no one is making sure that they are the right decisions."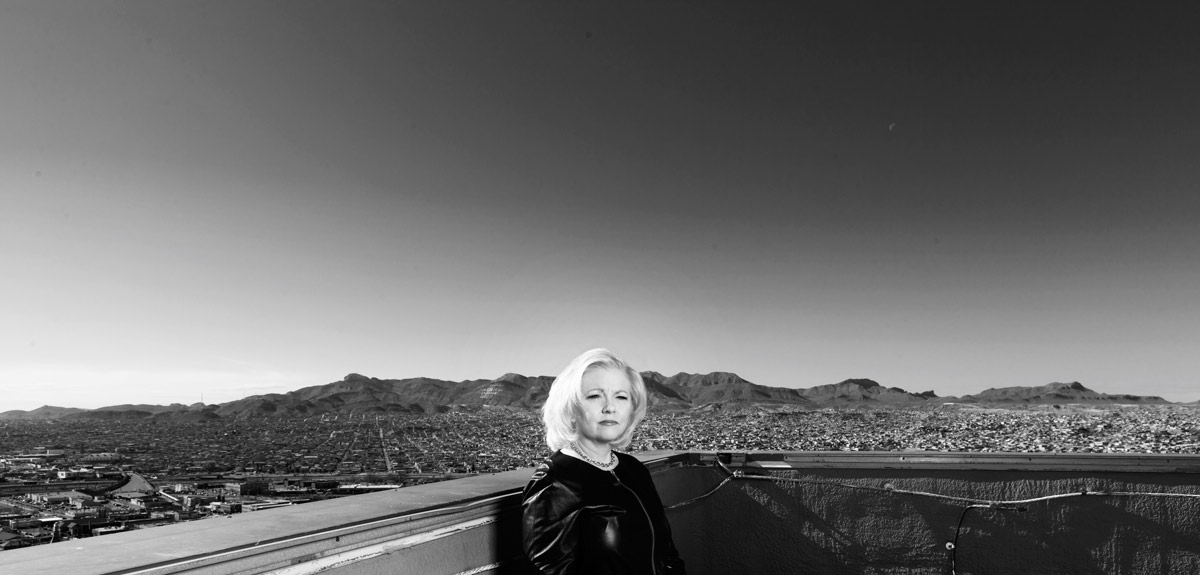 The result is this?
This is more secure? Kathleen Walker,
Immigration Attorney
CUSTOMER SERVICE
Immigration lawyers, who say cataloging requests in a searchable database would strengthen national security, are seething over project delays.
"After 9/11 we decided, yes, this immigration stuff really is important but yet when we create a Department of Homeland Security, the result is this? This is more secure?" says Kathleen Walker, an immigration attorney and chairwoman of the Committee on Border Relations for the city of El Paso, Texas. ELIS is funded mostly with fees collected from applicants, not with taxes. It gets little attention on Capitol Hill. "It makes me really angry that we can't focus on the security issue. If we think it's a security threat, don't you think we'd [appropriate] money versus rely upon fee-based [funding] alone? At least have security-based supplemental funding" from Congress, Walker says.
Lawmakers grappling with immigration reform are aware of the system's travails.
Rep. Bob Goodlatte, R-Va., chairman of the House Judiciary Committee, which oversees ELIS, had expected immigration processing to be brought into the 21st century by now. Counting the earliest blueprints, "nearly a decade has passed since USCIS began working on computerizing the immigration benefits application system, and it still has problems," he says. "Controls to spot fraud and potential terrorist ties" are crucial, yet, "unfortunately, under the Obama administration we've seen a lack of commitment to ensuring quality control at USCIS and a virtual rubber-stamping of immigration benefit applications." Goodlatte adds that his committee will "examine this problem and look for solutions.
Agency officials say they are dedicated to getting the project right.
The move from paper to digital applications "is a priority for USCIS," Inouye says. "We will continue to engage with stakeholders, members of Congress, and interested individuals as we build a system that will transform the way USCIS accesses information and processes cases, while maintaining our commitment to ensuring the integrity of America's immigration process." 
Senate Judiciary Committee Chairman Sen. Chuck Grassley, R-Iowa, who requested a 2010 GAO audit of ELIS, is not yet satisfied. He laments the state of the system five years later: "It looks like ELIS is typical of many of the federal government's computer systems. It's never lived up to the expectations to allow executive branch employees to be more efficient and effective for the American taxpayers."
Nor effective for aspiring American taxpayers either, apparently. "The part that's most heartbreaking, when you think about it, is they are not wasting taxpayer money. They are wasting refugee, asylee and immigrant money," the former USCIS manager says. "Literally the people on the planet who can least afford it, who are running for their lives."

Aliya Sternstein reports on cybersecurity and homeland security systems. She's covered technology for more than a decade at such publications as National Journal's Technology Daily, Federal Computer Week and Forbes. Before joining Government Executive, Sternstein covered agriculture and derivatives trading for Congressional Quarterly. She's been a guest commentator on C-SPAN, MSNBC, WAMU and Federal News Radio. Sternstein is a graduate of the University of Pennsylvania.