In the wealthy suburbs of Los Angeles, coyotes follow a varied, though strictly low-carb diet. Rabbits and rodents account for the bulk of their protein intake, while native berries and fallen backyard fruit add a dash of antioxidants. On special occasions, a wayward cat makes a fine dish.
Those were the findings (albeit in more scientific terms) of a National Park Service study from 1996 and 2004 in northern L.A. County, where homes are spread out on ruddy hillsides covered in chaparral. There, coyotes traipse readily between wild and urban settings.
But what about coyotes that live with fewer open spaces and more concrete, cars, and people? There are plenty of them, but very little scientific evidence that shows what they consume—which may or may not be similar to what their suburban counterparts eat. (More Kogi tacos?) National Park Service researchers are now preparing to study that question in L.A.'s denser, more urban areas. And they're looking to enlist volunteers to join their Coyote Scat Team, a no-experience-required effort to collect and examine the animals' poop from sites citywide.
Citizen scientists must attend a training on June 4, and will then perform monthly walking surveys of 30 key locations (ideally near their homes), including Boyle Heights, East L.A., Echo Park, El Sereno, Lincoln Heights, Hollywood, Los Feliz, Beverly Hills, and Westlake. Angelenos can also volunteer to help analyze scat contents.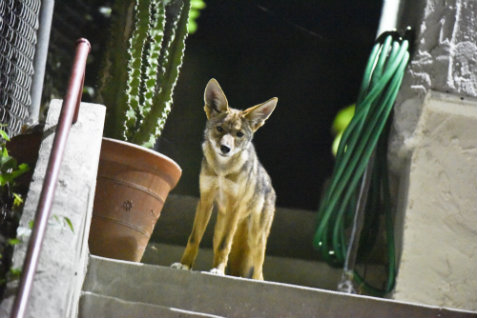 "We hear plenty of anecdotal evidence about what coyotes eat, but it's actually never been studied in L.A. before," Justin Brown, an NPS biologist who leads coyote field research for the Santa Monica Mountains National Recreation Area, said in a statement. "This study should yield basic ecology information about the urban coyote, which we hope will assist residents and policymakers in making informed decisions on coyote management."
It's all part of a larger effort by the NPS, launched in May 2015, to understand L.A.'s coyote population. For more information on volunteering, shoot an email to the Santa Monica Mountains National Recreation Area.
(Image via Flickr user Kent Wang)