NEED TO KNOW MEMO
Mobile Government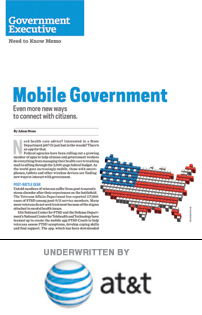 Need health care advice? Interested in a State Department job? Or just lost in the woods? There's an app for that.
Federal agencies have been rolling out a growing number of apps to help citizens and government workers do everything from managing their health care to tracking mail to sifting through the 2,000-page federal budget. As the world goes increasingly mobile, those with smartphones, tablets and other wireless devices are finding new ways to interact with government.
Underwritten by AT&T
Any information you supply is protected by our privacy policy.
Access to this report is available to registered members at no cost. In order to provide you with this free service, the Government Executive Media Group may share this member information with report underwriters. When you download a research document, your information may be shared with the sponsors of that document.