NEED TO KNOW MEMO
Mobile Apps Could Transform Health Care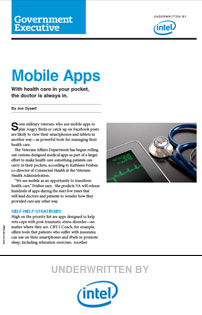 With health care in your pocket, the doctor is always in.
The Veterans Affairs Department has begun rolling out custom-designed medical apps as part of a larger effort to make health care more accessible.
Ultimately, the introduction of mobile apps could transform the way doctors and patients interact, and dramatically change the health care system as it exists today.
Download this report to learn more.
Underwritten by Intel
Any information you supply is protected by our privacy policy.
Access to this report is available to registered members at no cost. In order to provide you with this free service, the Government Executive Media Group may share this member information with report underwriters. When you download a research document, your information may be shared with the sponsors of that document.