TOP 5 LISTS
The Doctor Is In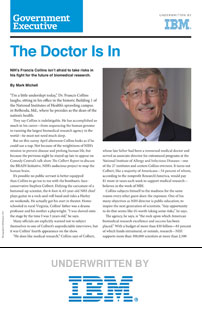 As sequestration sinks in across government, the United States could be falling behind as a leader in scientific research. Although biomedical research returns $2 to the economy for every taxpayer dollar invested, the National Institutes of Health's budget dropped by $1.71 billion this year.
NIH Director Dr. Francis Collins explains the unseen impact on American science and health in this editorial report.
Underwritten By
Any information you supply is protected by our privacy policy.
Access to this report is available to registered members at no cost. In order to provide you with this free service, the Government Executive Media Group may share this member information with report underwriters. When you download a research document, your information may be shared with the sponsors of that document.