NEED TO KNOW MEMO
Best Dates to Retire 2014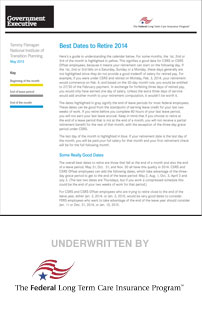 If you're thinking about retiring in 2014, this calendar is designed to help you pick the most advantageous date.

The calendar highlights dates at the beginning of the month (which is generally good for those under the Civil Service Retirement System), the end of the month (which is often good for those under the Federal Employees Retirement System) and the end of a leave period (which can maximize payouts for almost any employee). The calendar also includes more detail on the really good dates next year that take into account the whole range of factors affecting retirement income.

If you're both financially and mentally ready to set a date for next year, fill out the form on this page to download your copy of the calendar.
Underwritten by the Federal Long Term Care Insurance Program
Any information you supply is protected by our privacy policy.
Access to this report is available to registered members at no cost. In order to provide you with this free service, the Government Executive Media Group may share this member information with report underwriters. When you download a research document, your information may be shared with the sponsors of that document.