GOVERNMENT EXECUTIVE MAGAZINE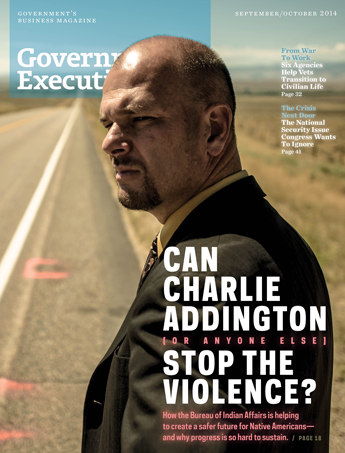 Government Executive : Vol. 46 No. 5 (Sept./Oct. 2014)
CURRENT ISSUE:
Sep 09, 2014 – Vol. 46, No. 5
Print Subscription
Subscribe to the Print Magazine
FEATURES
By Kellie LunneyA federal program reduced violent crime on four Indian reservations. Now comes the hard part.
By Charles S. ClarkA multiagency effort is helping veterans make the transition to civilian life.
It may or may not take a village to raise a child, but it does usually take a crack management team to get anything done in the ...
EDITOR'S NOTEBOOK
By Tom Shoop The perils of taking an arms-length view of government management.
BRIEFING
By Charles S. Clark , Aliya Sternstein and Patrick TuckerBraving bureaucracy, malware magnets, building brain hacks.
By Katherine McIntire PetersFew people know more about performance metrics than Harry Hatry, director of the Public Management Program at the Urban ...
Building an intelligence cloud Personally, I believe the bigger success is how CIA transformed their acquisition process from a . ...
BACK ISSUES
This year
Older issues