GOVERNMENT EXECUTIVE MAGAZINE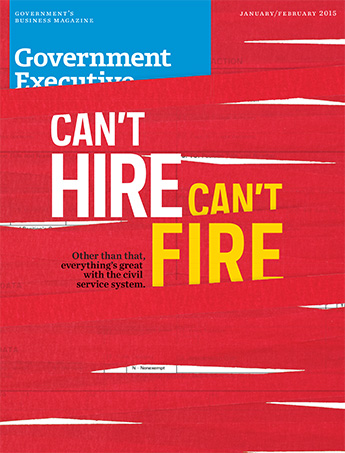 Government Executive : Vol. 47 No. 1 (Jan./Feb. 2015)
CURRENT ISSUE:
Jan 21, 2015 – Vol. None, No. None
Print Subscription
Subscribe to the Print Magazine
BRIEFING
By Katherine McIntire PetersBeware the manager who says people are his most important resource, and other words of wisdom from a federal personnel ...
By Eric Katz, Patrick Tucker and Charles S. ClarkWhat's in and out in 2015, warfighting eel bots, working better at GPO.
FEATURES
Having the right people with the right skills is fundamental to every agency's mission. But just as important is the ...
By Kellie Lunney and Eric KatzOther than that, everything's great with the civil service system.
EDITOR'S NOTEBOOK
By Tom Shoop It's time to take a fresh look at rule-bound hiring and firing processes.