GOVERNMENT EXECUTIVE MAGAZINE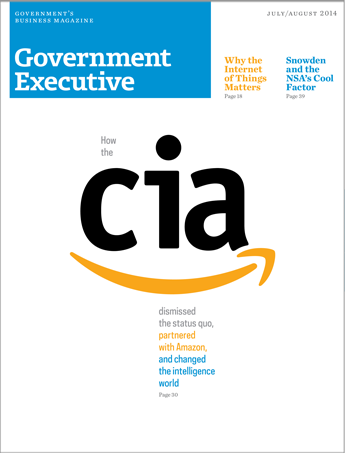 Government Executive : Vol. 46 No. 4 (July/Aug. 2014)
ISSUE:
Jul 09, 2014 – Vol. 46, No. 4
FEATURES
The Internet of Things alters the behaviors of citizens and creates challenges for the governments who serve them.
By Frank KonkelAmazon is building a cloud for the intelligence community under a plan to upend the status quo.
By Patrick TuckerThe Internet of Things is ushering in a new era of proactive citizenry.
EDITOR'S NOTEBOOK
By Tom Shoop Seeking out oft-overlooked advances at all levels of government.
BRIEFING
By Jackson NickersonTrying to convince others to implement your plan might not be the best approach.
By Kellie Lunney, Charles S. Clark and Eric KatzNarrowing the gender gap, the people problem, gay rights at work.