GOVERNMENT EXECUTIVE MAGAZINE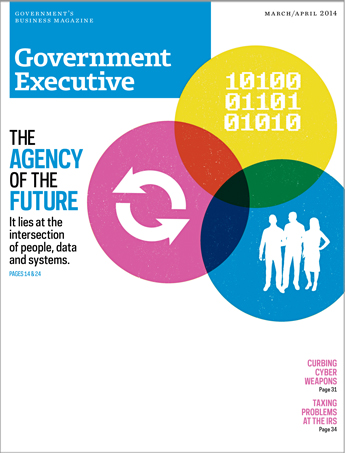 Government Executive : Vol. 46 No. 2 (March/April 2014)
ISSUE:
Mar 28, 2014 – Vol. 46, No. 8
NEXTGOV
By Aliya SternsteinCongress wants agencies to stop the proliferation of war worms, but lawmakers haven't yet defined what those are.
EDITOR'S NOTEBOOK
By Tom Shoop Building the government of tomorrow.
BRIEFING
By Kevin Baron, Eric Katz and Chawndese HyltonSecuring the Arctic, OPM turns the other cheek, tomorrow's warhorse.
By Jackson NickersonThree strategies for keeping the peace when staff members are passed over for promotion.
FEATURES
By Charles S. Clark, FeaturesA decade from now, the federal workforce will be dominated by tech-savvy, collaborative millennials impatient to make their ...
By Joseph Marks, FeaturesIn a data-driven world, agencies can't afford to go it alone anymore.