GOVERNMENT EXECUTIVE MAGAZINE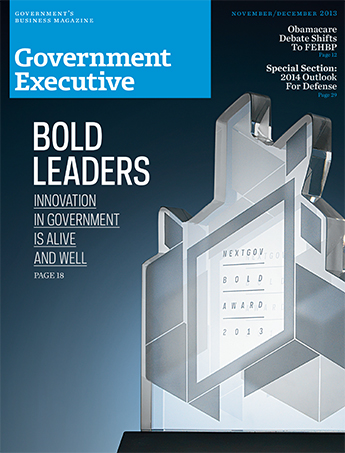 Government Executive : Vol. 45 No. 8 (Nov/Dec 2013)
ISSUE:
Nov 15, 2013 – Vol. 45, No. 8
Print Subscription
Subscribe to the Print Magazine
BRIEFING
By Rebecca Carroll and Charles S. ClarkThe next big quake, debating the open office, navigating space junk.
By Kellie LunneyThe Federal Employees Health Benefits Program helped shape the Affordable Care Act. Now the question is whether the ...
By Eric KatzCharities brace for fewer donations to the Combined Federal Campaign after pay freezes, benefit cuts and a ...
EDITOR'S NOTE
By Tom Shoop Real leaders keep government moving forward under trying circumstances.
By Kevin Baron Exploring the future of national defense.
NEXTGOV
By Joseph Marks , Aliya Sternstein and Bob BrewinApps that teach, the cyber training slide, CMS' testing troubles.
BACK ISSUES
This year
Older issues